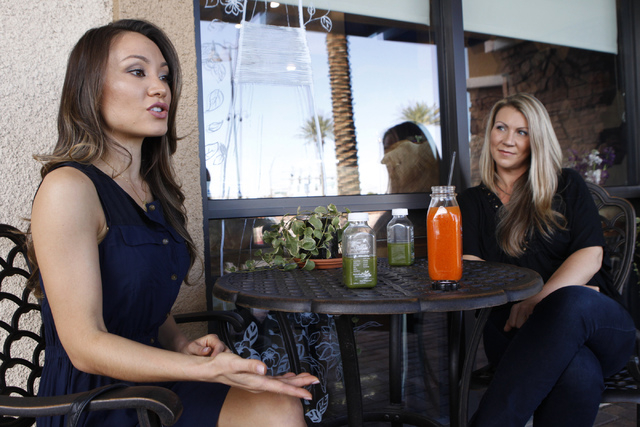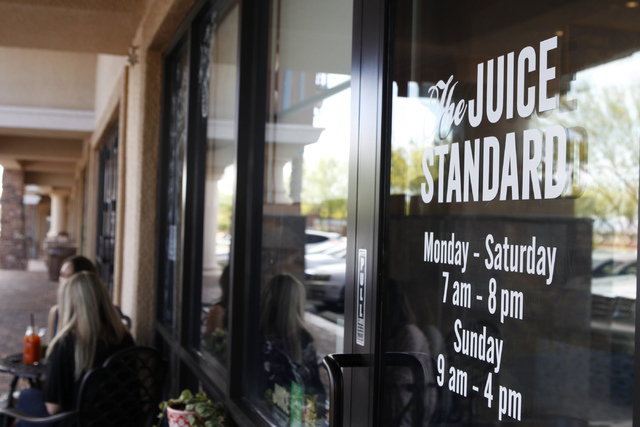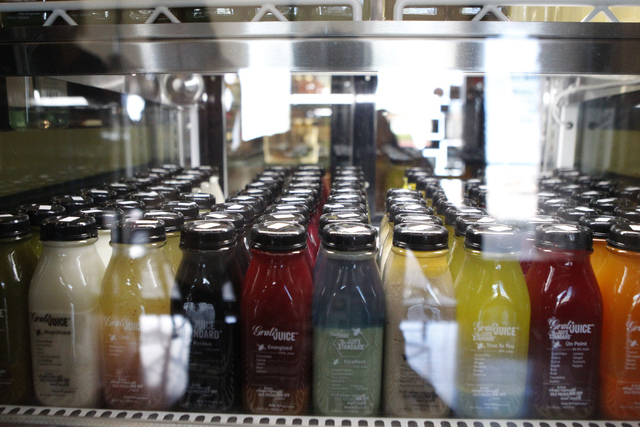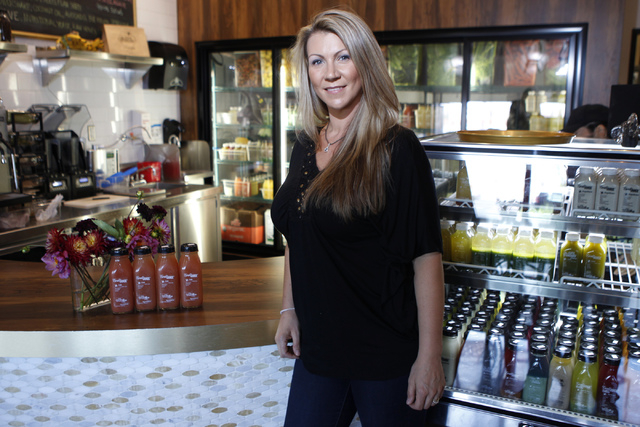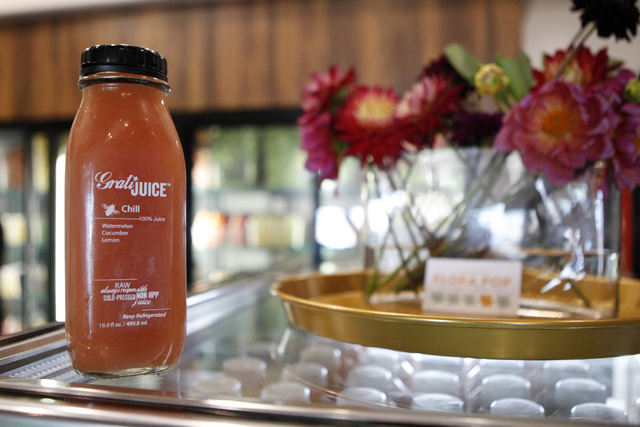 Throughout October, several businesses are offering a number of specials to promote breast cancer awareness.
While some businesses are raising money for research with a pizza, a T-shirt or a bracelet, one local business is trying to point your health out of cancer's way.
The Juice Standard, on 4555 S. Fort Apache Road, #144, near Flamingo Road, is promoting their "pink watermelon lycopene juice" to recognize breast cancer awareness month. One bottle of the sweet and tangy juice, made of watermelon, lemons and cucumber, costs from $9 to $13, depending on the size.
Though the Juice Standard will not be donating any of the proceeds to breast cancer research, co-owners Jamie Stephenson and Marcella Melnichuk, do encourage people to do what they can to support the cause. Most importantly, they wish to educate people to take the time to be a little more health-conscious.
Phytonutrients is key, both owners agree. These include a number of fruits and vegetables including kale, spinach, watermelon, broccoli and carrots.
Watermelons are rich in the lycopene antioxidant and anything that is full of antioxidants is beneficial to fighting cancer, according to Dr. Rupesh Parikh, a medical oncologist at the Comprehensive Cancer Center.
Lycopene is an antioxidant commonly found in tomatoes, watermelons, grapefruit and red bell papers. It gives off the red pigment seen in the foods. Antioxidants work to protect cells from damaging, a precursor to developing cancerous cells.
Parikh assures that "lycopene deficiency" is not a medical condition. If people want to reduce their cancer risk, he suggests pursuing a healthier lifestyle. Eating foods high in antioxidants, fiber and increasing fruit and vegetable intake will help reduce the risk of cancer, as will avoiding processed foods or any red or nonorganic meats.
Parikh also warns that a sedentary lifestyle and a high alcohol intake have also been linked to breast cancer.
The Juice Standard, which opened in March 2014, promotes a healthier lifestyle, through juicing. As part of the juice trend that has since taken off in Las Vegas in the past few years, the business promotes extending a person's life expectancy by offering some fruits and vegetables that may not be regularly eaten.
"It doesn't have to painful to be healthy," Stephenson said.
The conception of the Juice Standard was inspired by Stephenson's own connection to cancer. When her stepfather, Walter, was diagnosed with colon cancer, her mother was set on improving their way of living, starting with their diet.
Walter lived an extra five years despite a doctor's prognosis of only having a few months to live.
"I'm so grateful that my mother had the courage to explore the options outside of human radiation," Stephenson said
Though Walter died in April 2007, Stephenson believes that those extra years are a result of the kinds of foods he ate, most importantly fruits and vegetables.
Contact reporter Cassandra Taloma at ctaloma@reviewjournal.com or 702-383-0381. Find her on Twitter: @CassandraTaloma.