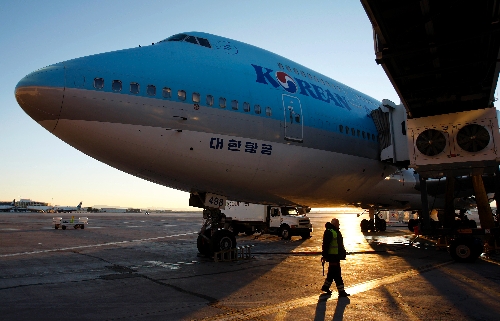 As attendance at the International Consumer Electronics Show topped 150,000 earlier in the decade, show organizers decided to rein it in.
With a boost from recession, the city's largest convention overshot its goal. In 2009, attendance dropped to 113,000, while the number of exhibitors and square footage they rented dropped in tandem.
But this year, if projections hold, all three benchmarks could rise in tandem for the first time since 2007.
"The show reflects an industry that is doing well compared to a lot of others," said Gary Shapiro, president and CEO of the Consumer Electronics Association, the nonprofit trade group that stages CES. "The economy in general has also started to improve."
As CES formally opens today, what Shapiro calls a "conservative" projection shows 126,000 attendees who will buy a pass to see 2,700 booths covering 1.6 million square feet in the Las Vegas Convention Center.
"We very consciously decided to be a smaller show because we did not want to overtax Las Vegas," he said.
To keep the show small, organizers raised pass prices and closely checked people's professional affiliations to let in serious buyers and screen out tech geeks who regarded CES as a vacation. Last year's attendance of 126,641 was "about ideal," Shapiro said.
"We made a very conscious decision to be a smaller show because we didn't want to overtax Las Vegas," he said.
In past years, the show has covered more than one venue and people had to go as far as Mesquite to find a place to stay. But with city's room count having risen by 15,000 in the past five years, some of the hotel owners are more than willing to be overtaxed for a change.
This year, the Strip has largely sold out this year for today and Friday, at rates that averaged from 50 to 100 percent higher than a year ago, a survey by Hudson Securities shows. Some hotels that had unused rooms that were designated for CES put them on the market at rates 10 times higher or more than what will be charged weeks from now.
Among locals and smaller, nongaming hotels, however, vacancy rates remain roughly flat.
Shapiro has also taken steps to bring in more people, formally rolling out on Tuesday the convention center's designation as a World Trade Center. CEA purchased the World Trade Center licenses to expand its reach to potential international customers. With the economy in the United States expected to grow more slowly in the next few years than economies in other parts of the world, particularly the Asia Pacific region, Shapiro wants to raise the show of foreign attendees from the current 20 percent, but he did not provide a target.
The show has also branched into areas not normally associated with consumer electronics, with exhibit floor sections devoted to home appliances and health care.
Some of the splashiest innovation in consumer electronics has recently come from Apple, which unveiled products such as the iPhone and iPad through in-house events rather than trade shows. But CES has set up a section devoted to ancillary products that tie into Apple gadgets.
Contact reporter Tim O'Reiley at toreiley@reviewjournal.com or 702-387-5290.
FOLLOWING CES
WEDNESDAY: The convention sends room rates sharply up
TODAY: How attendance shapes up for 2011.
FRIDAY: What's new, cool and hot.
SATURDAY: Disruptive technologies force changes.
SUNDAY: Does the convention reveal that better times lie ahead?
AND: Follow Al Gibes blog online at
lvrj.com/onlineguy