Manager of The Market has smorgasbord of experience
November 8, 2014 - 3:05 pm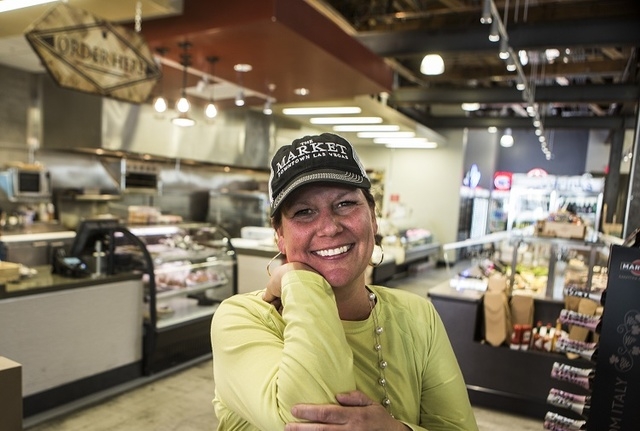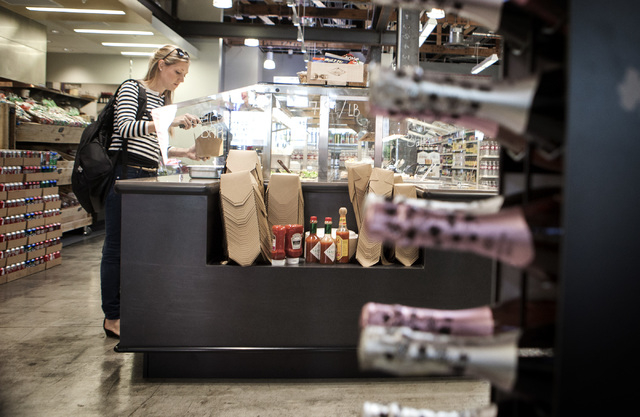 Ellyn Chantos believes she's qualified to run The Market, Downtown Project's new grocery near Container Park in downtown Las Vegas.
She knows food from working at all four Whole Foods stores in the Las Vegas Valley and a family-run market in Cleveland.
She knows customer service from working for Cheesecake Factory in Los Angeles and Rock Bottom Restaurants in Colorado.
And she knows her craft beer from working for Goose Island in Chicago and Gordon Biersch in Columbus, Ohio.
And if anyone acts childish in The Market, she can handle that, too. She's a former kindergarten teacher.
Chantos, 48, general manager of The Market, threw her resume into the Zappos/Downtown Project ring two years ago. At the time, Chantos had no idea that Tony Hsieh's Downtown Project — Hsieh's $350 million initiative to redevelop the East Fremont corridor and invest in small businesses, tech and arts — was going to open a new 6,000-square-foot grocery store, with a 30-seat cafe area at 611 E. Fremont St.
Chantos was born in Danville, Ill., two hours south of Chicago, and studied elementary education at the nearby University of Illinois.
The Market is busy for lunch serving local businesspeople and residents, with tourists sprinkled in through the day, which begins at 7 a.m. daily.
Chantos has lived in Las Vegas since 2007, moving here from Providence, R.I. — one of 11 states she has called home.
Question: How did your experience at Whole Foods prepare you for this job?
Answer: Everything I needed to learn about groceries I certainly learned from working there. I also worked for a family-run market in Cleveland, so between those two I learned everything I could. So much of my experience was also in restaurants, so I am prepared for the customer service side.
And one year teaching kindergarten didn't hurt either.
Question: One of the impressions people had about The Market was that it was going to be upscale and expensive grocery. How do you respond to that?
Answer: When people want to leave comments, I tell them you can talk to me. And the feedback from the first 2½ weeks is overwhelmingly positive regarding price and selection. We priced ourselves intentionally so it would be affordable to all.
Question: How did you know what to offer at the store?
Answer: Anyone who answered the question, 'What do you want?' I listened to. I used what was popular. I know the prepared foods side of the story would be busy. I came from that department. We follow trends and give people what they want.
(A customer then came up to Chantos and said, "I am a customer and want to give you some feedback. I liked this croissant and it was $1.75 and it's $3 in Atlanta. Chantos laughs and says, "I didn't plan that.")
Question: Who's coming through your front door?
Answer: The lunch crowd is busy. It's local businesses and residents. Local residents also are shopping in the early evening and the tourists are sprinkled in from open to close.
Question: How did you get involved in Downtown Project and The Market?
Answer: I reached out to someone who worked for Zappos and hoped the resume would reach the right hand. And two years later it found Doug McPhail, director of retail for Downtown Project. I had no idea there were even going to open a market.
Question: Why did you move to Las Vegas?
Answer: I lived in Colorado and I lived in Los Angeles and I wanted to come West.
Question: How come you left this place if you liked the West?
Answer: This is the 11th state I have lived in since college. I would move because someone asked me for the job. In Los Angeles, I worked with Cheesecaske Factory and I traveled to Atlanta to work with Eatzi's Market and Bakery.
Question: How did you get to Colorado?
Answer: I was riding a ski lift in Copper Mountain (in the Rockies) and a guy riding with me told me he was moving out of Boulder and that his apartment was open. And I said, 'OK, I'll take it,' and I moved there two weeks later. I started with Rock Bottom (Restaurants) and got involved in the restaurant business.
Question: You also have worked in the beer industry?
Answer: I worked with Goose Island when they were just one location in Chicago and they were eventually bought out by Anheuser-Busch. My other brewer experience was with Gordon Biersch in Columbus, Ohio. I was the general manager there. I'm superpassionate about craft beers and it shows in the selection in the store. There's a taste for everyone.
Question: What's your favorite beer?
Answer: I am an IPA drinker. Ninkasi is up there. I also like Wolf Among Weeds. It's female brewed and owned in Los Angeles.
Question: You have lived all over the country. How do you like living in Las Vegas?
Answer: I absolutely love it here. There's something for everyone. I like the attitude of the people and I like the weather. I have also been known to play poker once in a while, so that doesn't hurt. And with what's going on now in downtown, it's perfect.
Question: What part of Las Vegas do you live in?
Answer: I live in Summerlin. We found a condo on Craig's List from Rhode Island and didn't even see it. I took my chances.
Contact reporter Alan Snel at asnel@reviewjournal.com or 702-387-5273. Find him on Twitter: @BicycleManSnel
Name: ​Ellyn Chantos​
Family: ​Partner, Jerrod Toth ​
Work background: ​Upscale casual restaurants and brewery management​
Education: ​Graduate of the University of Illinois, Champaign-Urbana, Ill., bachelor's degree in elementary education
​Most admired business person: Famous: John C. Maxwell. "Personally, my two older brothers and various leaders in my career past. I have very strong mentors in my life and I wouldn't be where I am today without them."
Favorite hobbies: Hiking, swimming, poker. ​
Favorite sports teams: Green Bay Packers, Cleveland Browns, Chicago Cubs​
Favorite movie: "Breakfast at Tiffany's" and "The Shawshank Redemption"
Favorite book: Any cookbook. "I love to learn through taking cookbook recipes and experimenting with flavors to make my own recipes and concoctions."
Favorite music download: Dave Matthews Band, Pitbull, Rusted Root, David Gray, Robin Thicke, The White Stripes, T.I., Ray LaMontagne, Bob Dylan, Big Head Todd and the Monsters, Eminem, Johnny Cash, and Mumford & Sons
Favorite getaway: ​Camping — "Rain or shine. I love it!" ​
On Twitter: @ellynvegas