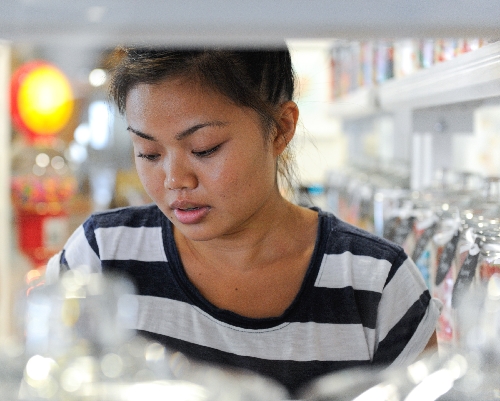 Market LV, while still under construction, is now open with about 80 percent of tenants moved in.
The new 23,000 square-foot retail center within Tivoli Village is patterned on the upscale, eclectic OC Mart Mix in Costa Mesa, Calif.
OC Mart Mix describes itself as "a marketplace for gourmet foods, coffee and wine with over 30 retail shops under one roof and purveyors of all things good a vibrant gathering of owner-operated shops who offer unique products for foodies, fashionistas, home obsessed, eco-warriors, little ones and more."
Market LV is looking for the same urban marketplace vibe.
The first floor, which eventually will be home to the Taste Eatery and Market, still is a blank slate with a gray concrete floor. On the second level, though, many businesses are open.
Shoppers who reach the top of the staircase find B Sweet Candy Boutique filled with old-fashioned glass jars containing gummies, taffy and chocolate confections. Chocolate-covered Twinkies and homemade cotton candy also are available.
Other stores include Chess N Games, Betty Potter Art, Mina Live, Fashion Camp LV and Mugsy & Moxie's Bully Couture. Twenty stores will be housed in Market LV's space, all offering a little something different for Las Vegas shoppers.
Markie Char Jewelry, for instance, was conceptualized by Las Vegas native Faith Lozich and her mother, Carol Lozich. The Lozichs, who formerly exhibited at the Fresh 52 Farmers Markets, have filled their 326 square-foot boutique with unique jewelry designs, including some created by Faith.
Markie Char opened just over a week ago, and so far the women say they're receiving "great feedback" from customers.
"Vegas needs something like this," Faith said of the Market LV concept.
The market's concept revolves around owners Andrea Young and husband Russell renting spaces as small as 200 square feet to as large as 3,000 square-feet, with larger spaces reserved for restaurants and gourmet food shops. Rents begin at $1,000 a month without tenant improvements.
The Youngs are hands-on, and Andrea has come by to check on the Lozichses repeatedly since they opened, Faith said.
"If we're doing well, she's doing well," Faith added.
Across from Markie Char is Era by Ciara, a makeup boutique owned by Ciara Contreras and husband Pierre. With seven employees, the store offers $40 makeup applications and in-store consultation on the Lola Cosmetics, DuWop Cosmetics and Twilight Beauty brands sold. Employees also do makeup on-location. The store opened June 30, and Contreras said sales started out slow but have been building.
Market LV's gray concrete floors, white walls and wood accents give the space an industrial aesthetic outside the stores themselves. The space for The View Wine Bar and Kitchen is still a work in progress, but shoppers seem to be excited to see a piano bar in the mix. Located across from the restaurant will be the View Cheese Shoppe, also under construction.
Tiffani Foote came to Market LV a few weeks ago while shopping at the Fresh 52 Farmers Market. She then brought back a friend and her mother to see the space on a Friday afternoon.
"I think it's a great concept," she said, adding that she's especially excited that a piano bar is planned.
Andrea Young, Market LV owner, said the restaurant and bar should be open Aug. 24. All tenants were handpicked by the Youngs, who wanted to create a unique retail mix for Las Vegas.
Tivoli Village, 440 S. Rampart Blvd., opened in April 2011 with 400,000 square-feet of boutique retail and dining. A second phase under construction is expected to be finished in late 2013. The center was developed by Executive Home Builders and IDB Group USA.
Tonia Chafetz, general manager of Tivoli Village, said that while she can't give specific numbers, the 15 month-old center has seen steady traffic increases.
Chafetz said she doesn't have sales trend information because many tenants haven't been open for a full year. And new businesses are coming: Casa de Havana, a cigar bar, is expected to open in September. Echo & Rig, a steakhouse by widely known Los Angeles chef Sam Marvin, is coming soon.
Nearby, Executive Home Builders plans to develop Las Vegas Renaissance in 2015. The enclosed mall situated on the southeast corner of Rampart Boulevard and Alta Drive will link to Tivoli Village via a walkway over Alta.
Contact reporter Laura Carroll at lcarroll@reviewjournal.com or 702-380-4588.