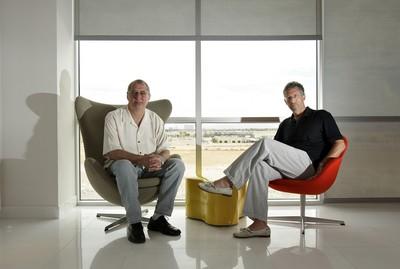 A national publication targeted at small-business owners has recognized several local companies for their rapid expansion.
Six Southern Nevada companies made Entrepreneur magazine's Hot 500, a list of the nation's 500 fastest-growing businesses. The list is in Entrepreneur's August issue, which is on newsstands now.
Among the local companies on Entrepreneur's Hot 500 are Payroll Solutions Group, a human-resources outsourcing business; two construction companies, Pacific Coast Development and Danoski Clutts Building Group; Dollar Loan Center, which provides short-term consumer loans; advertising agency SK+G; and debt-recovery agency Clark County Collection Service.
Executives of the local operations that landed among the Hot 500 credited their inclusion to a combination of the services they offer and the growth Southern Nevada has seen.
Experience with ad agencies in New York City and Los Angeles helped the founders of SK+G, which has a hospitality-heavy client list, deliver materials and product lines featuring major-market quality, managing partner John Schadler said.
Plus, expansion in Las Vegas' resort industry made the city a "great laboratory" for leisure-sector marketing, Schadler said, and SK+G has leveraged its experience in that testing ground into big travel-and-tourism accounts all over the country. The company, whose first client when it opened in 1999 was locally based MGM Grand, today claims national accounts including Trump International, Wolfgang Puck Fine Dining Group and Four Seasons Ocean Residences.
So SK+G, which started with nine employees and $21 million in billings in its first year, now has 155 workers and had $116 million in billings in 2006. The company moved in January from a 15,000-square-foot office it leased to a 75,000-square-foot office building it owns. SK+G is using about half the space, and subleasing out the rest; the additional square footage will allow the business room to grow in coming years.
"This town really has an anything-is-possible mentality, and that has played a role in our success," Schadler said. "And travel and tourism is one of the fastest-growing industries in the country right now. All of those factors have come to bear for us."
Payroll Solutions has thrived through serving what Chief Executive Officer Howard Winters calls the country's "backbone" of growth: entrepreneurs.
The North Las Vegas business monitors human-resources compliance, manages safety and risk functions, coordinates payroll and develops benefit plans for small companies whose owners want to focus less on administration and more on building their businesses. And given the Las Vegas Valley's status as a hotbed for relocating entrepreneurs, Payroll Solutions has had plenty of work since it opened in 1998.
"If we were in another market, it would be hard to achieve the same level of growth, simply because of the dynamics of Las Vegas," Winters said.
"We've done well partly because of the small businesses moving here, but we've also internally surrounded ourselves with talented people and have worked very hard to build our business," he added.
Payroll Solutions recently transferred from about 10,000 square feet of space into an office with just under 20,000 square feet. It's gone from 20 employees five years ago to 54 staffers today, and its annual revenue has risen nearly 200 percent in the last half a decade, to $175 million in 2006.
Even for companies that grow so dramatically, getting on the Hot 500 isn't easy. Entrepreneur's editors started with the Corporate Research Board's database of more than 19 million U.S. businesses, and winnowed the companies down based on four factors: enterprises must have been founded between 1998 and 2002; sales in 2002 had to be at least $100,000, while 2006 sales couldn't exceed $1 billion; businesses must have posted positive job formation between 2002 and 2006; and companies needed to achieve a minimum level of sales growth.
Only 95,000 businesses qualified based on those criteria.
From that smaller crew of companies, entrepreneur contacted businesses with the greatest growth to confirm further eligibility among the Hot 500 based on the company founder's involvement and the company's 2006 sales, which had to be $1 million or more.
Maria Anton, executive editor of Entrepreneur, said the Las Vegas-area businesses on the Hot 500 roster suggest a broad expansion of Southern Nevada's economy.
The commercial-building sector is faring well as new residents move into the city and demand goods and services, while advertising and human-resources companies are thriving thanks to the nonstop creation of new businesses.
"You're seeing general growth in many different segments," Anton said.
The 2006 list included just 100 businesses, and two Las Vegas companies — a tile business and an employment agency — appeared in the issue. Three companies are in 2007's top 100.
No Las Vegas companies were on the 2005 list, Anton said.
Both Schadler and Winters hope that sustained economic expansion in Las Vegas will generate additional opportunities for their businesses.
SK+G is adding product lines in alternative media such as guerrilla marketing and street marketing, and the agency is bulking up its interactive and Internet areas. The company is working with consultants who will help SK+G's resort clients make choices ranging from restaurant lineups to employee uniforms — "all the different brand touch-points that make a difference to the consumer," Schadler said. The company's partners don't have specific goals for future employee counts, but they do plan to open branches in other cities, Schadler said.
At Payroll Solutions, Winters said he expects to add another 20 to 30 employees locally in the next five years, and he also forecasts expansion in the Phoenix area, where Payroll Solutions recently opened a satellite.
But Winters also plans to improve on the less-tangible elements of his business.
"We really want to continue to build on the brand and reputation we've achieved here," he said.
"One of the hardest things to do in Las Vegas is to establish a reputation as a company that is solid, or that is an excellent player. We've done that. Now, it's time to parlay that into relationships with other companies with excellent reputations in the valley, and to show them how we can be a benefit to them," he said.
WATCH 'EM GROW Southern Nevada is home to six businesses that made Entrepreneur magazine's list of the country's 500 fastest-growing businesses: 71. Payroll Solutions Group Ltd. 78. Pacific Coast Development 94. Danoski Clutts Building Group 163. Dollar Loan Center 200. SK+G 467. Clark County Collection Service