McCarran jet fire inquiry focuses on event for which warning had been issued
September 14, 2015 - 4:31 pm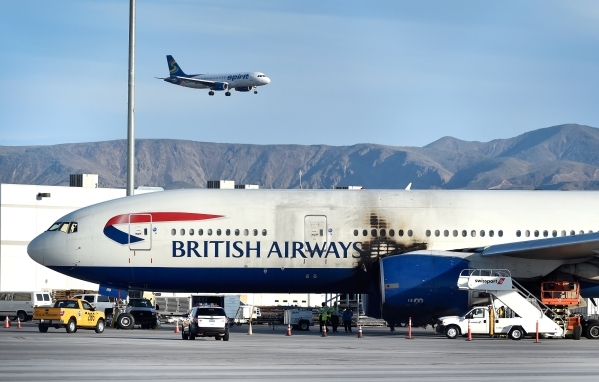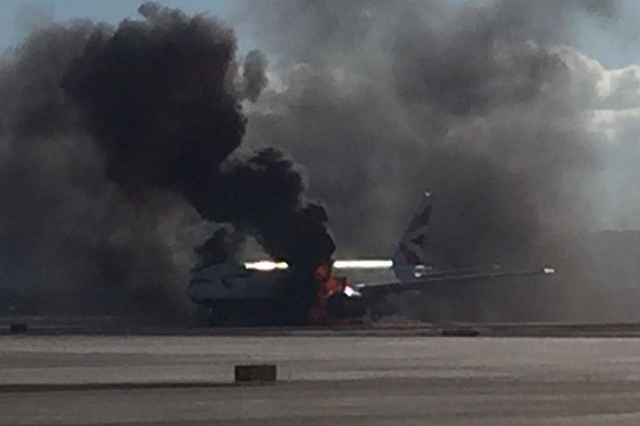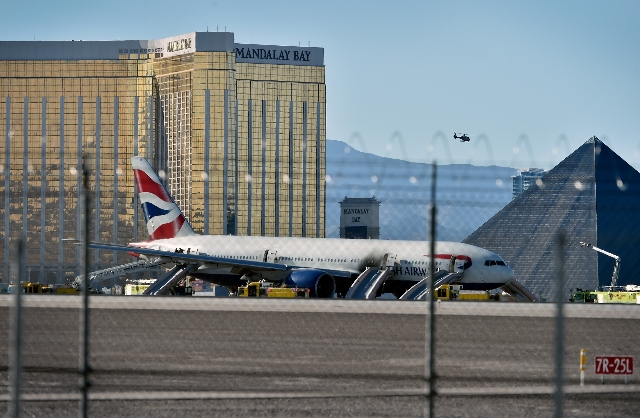 The National Transportation Safety Board's investigation of last week's engine fire on a British Airways flight from Las Vegas to London is focusing on the disintegration of an engine in a circumstance regulators had warned about in a directive issued in 2011.
In an update issued by the board, investigators said they collected several 7 to 8-inch pieces of an engine's high-pressure compressor spool from the McCarran International Airport runway where Flight 2276 aborted a takeoff last Tuesday afternoon.
Several minor injuries were reported to several of the 158 passengers and 13 crew members who escaped from the burning Boeing 777-200ER jet after the incident.
The NTSB, which investigates transportation accidents and incidents, reported collecting the plane's flight data recorder, cockpit voice recorder and quick-access recorder to download into the agency's vehicle recorder laboratory.
On Tuesday evening after the incident that occurred just after 4 p.m., the twin-engine jet was photographed and the runway debris documented by Federal Aviation Administration and airport officials. The plane was then towed to a secure area at McCarran in order to reopen the runway.
The NTSB's initial examination determined that the left engine and pylon, the left fuselage structure and the inboard left wing were substantially damaged by the fire and an examination of the engine showed multiple breaches of the engine case in the area around the high-pressure compressor.
Under study is why the engine housing didn't contain the debris or eject it out of the back of the engine. Modern jet engines are designed to prevent shrapnel from penetrating the cabin or damaging the wings. Incidents like last week's failure are considered extremely rare.
Aviation officials credited fast action by McCarran's fire suppression crews and the speedy evacuation of the jet to averting a major tragedy.
The agency is expected to review maintenance records to determine whether the engine failure was related to conditions noted in an airworthiness directive issued by the FAA in August 2011.
The directive applies to five models of General Electric turbofan engines prompted by cracks discovered in weld points of compressor spools that authorities believed could result in an engine failure and damage to an aircraft.
The directive recommended additional inspections of the engines every 48,000 hours or 6,000 cycles.
The FAA estimated that the directive would affect 33 engines installed on planes with U.S. registry and take about two hours to perform. With an average labor rate of $85 an hour, the agency estimated the cost of the directive to be $5,610 per inspection cycle.
There are currently 422 Boeing 777-200ER jets in service with 33 airlines worldwide.
Contact reporter Richard N. Velotta at rvelotta@reviewjournal.com or 702-477-3893. Find @RickVelotta on Twitter.