MedMen marijuana dispensary quickly expands in Las Vegas
Updated October 8, 2018 - 5:42 pm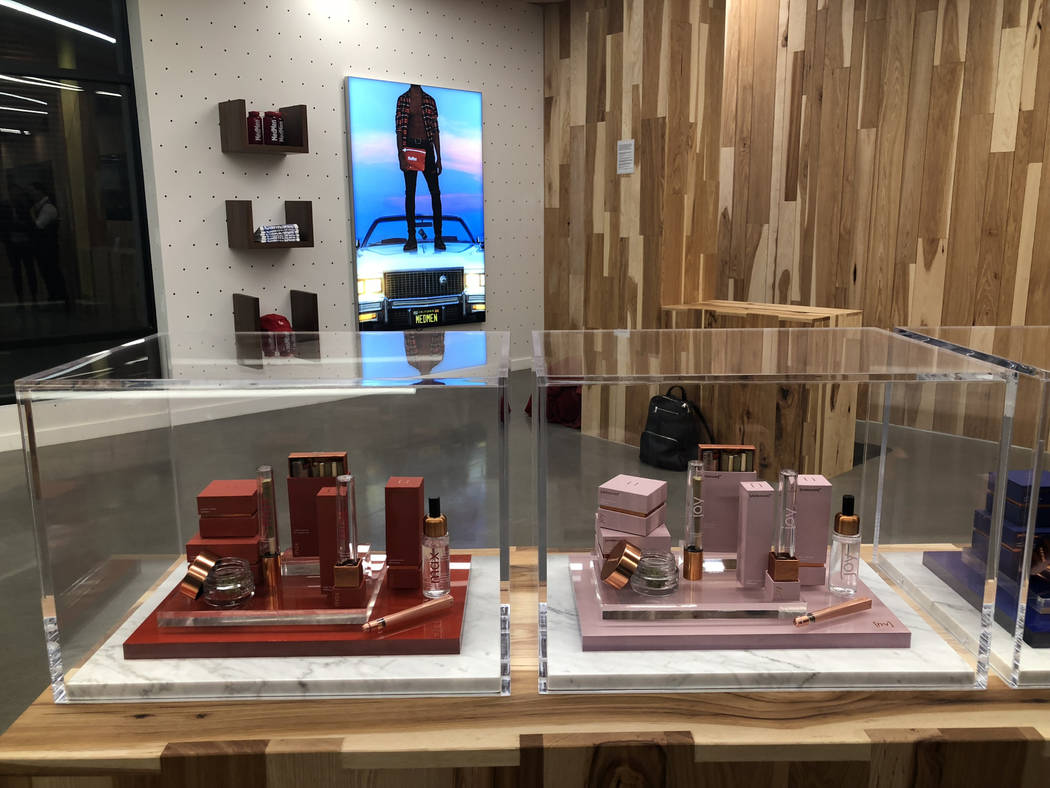 MedMen plans to open its third Las Vegas marijuana dispensary just off the Strip next year as part of an aggressive, $50 million Nevada investment plan.
Daniel Yi, senior vice president of corporate communications, said the MedMen store will be one of its largest locations in the U.S. The company has 14 retail stores in the U.S., including one in Beverly Hills and one on Fifth Avenue in New York City.
MedMen opened its first Las Vegas store earlier this year, and its second opened Saturday. The Los Angeles-based company is rushing to build a significant presence in Las Vegas, which promises to be one of the nation's top marijuana markets for both sales and exposure.
Other leading marijuana brands won't be far behind in jumping into the local market, said John Laub, president of Las Vegas Medical Marijuana Association.
"We are still in the early stages of this trend. MedMen is one of the first to enter Las Vegas, but we will see more brands in the coming years," Laub said.
MJardin, a leading marijuana company based in Denver, is seeking to buy a dispensary license in Las Vegas, Executive Chairman Rishi Gautam told the Review-Journal. MJardin already has a facility for cultivation and production near Nellis Air Force Base.
Publicly traded marijuana companies like MedMen and MJardin will lead the acquisition of expensive Las Vegas licenses because they have raised significant financing from investors, Laub said. A Las Vegas marijuana dispensary can cost as much as $20 million, he said.
Yi said MedMen has raised $325 million since 2016, and the company has a market capitalization of about $1.6 billion, based on the price of its shares trading on the Canadian exchange. MJardin will list its shares in Canada by the end of November.
Nevada market
Nevada dispensaries sold more than $500 million of recreational and medical marijuana in the 12 months ending June 30, surpassing state forecasts. That has created a buzz among U.S. and Canadian cannabis companies seeking new markets.
"What distinguishes Nevada is that you have the perfect combination of a very business-friendly environment and a very progressive attitude toward marijuana. And you have a built-in global audience of people who come here to have a good time," Yi told the Review-Journal.
More than 42 million people from around the world are expected to visit Las Vegas this year, giving dispensary brands located near key tourist thoroughfares the ability to advertise to a diverse audience.
"We hope people will take MedMen (as a shopping experience) back to Minnesota, New York and other places," Yi said about the Las Vegas shops.
MedMen's first Las Vegas store opened in July in the Arts District; its second opened on Paradise Road and Harmon Avenue. MedMen bought the Las Vegas dispensary licenses from other companies that secured them from the state.
Yi said the company would be interested in acquiring more retail licenses in Las Vegas should they become available.
MedMen will supply its retail stores with cannabis products from its new $15 million cultivation and manufacturing facility outside Reno. The facility opened in April and has a production capacity of 10,000 pounds a year. MedMen currently employs 229 people in Nevada, Yi said.
Apple image
Medical marijuana has made significant inroads into mainstream society, but the industry is still dogged by images of stoners smoking joints. MedMen's Apple store-like design aims to put a more respectable face on cannabis products and consumption, Yi said.
MedMen employees, dressed in branded red shirts and carrying payment machines like their counterparts at Apple, explain the various cannabis products on sale to customers with the help of tablets on wooden tables.
"Not everyone in America may know what it is like to shop in a marijuana store, but most know what an Apple store looks like. That is part of what we are trying to do — have a marijuana store mentioned in the same conversation with Apple stores and Starbucks," Yi said.
Laub said such chain stores "are the future" of the industry.
MedMen released its first luxury product line Saturday — including cannabis flowers, prerolled joints, vaporizers and drops — packaged like Sephora cosmetics in its bid to appeal to a wide range of consumers.
"We care a lot of about design. We wanted to design a really great tasting product, but also a great looking product" that can appeal to customers, including "suburban moms," MedMen co-founder Andrew Modlin said.
Contact Todd Prince at 702-383-0386 or tprince@reviewjournal.com. Follow @toddprincetv on Twitter.