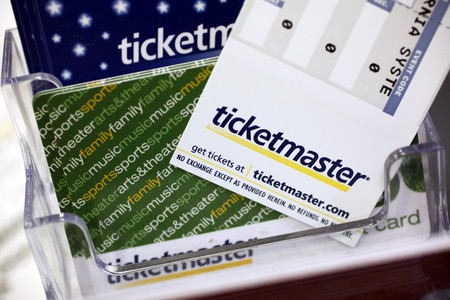 The Department of Justice on Monday approved the merger between ticket seller Ticketmaster and concert promoter Live Nation but attached conditions to resolve concerns over preserving ticket-business competition.
Attorneys general from 17 states, including Catherine Cortez Masto of Nevada, joined the Justice Department on Monday in filing a lawsuit to block the $2.5 billion merger while also filing the conditions.
The merger was announced in February.
In a statement, Masto said ticket-business competition matters, particularly in Nevada.
"Nevada's tourism industry relies heavily on the purchase of tickets to shows and concerts," Masto said. "Stimulating competition in this industry benefits Nevada's citizens and tourists, as well as the local concert venues that use Ticketmaster or other firms to help them sell tickets for their live events."
The conditions would have the merged company, which would be called Live Nation Entertainment, license its ticketing software to Anschutz Entertainment Group Inc. The conditions would also have Ticketmaster sell ticketing company Paciolan Inc. within 60 days to Comcast Corp. subsidiary Comcast-Spectacor or another buyer.
The deal would prevent the merged company, under a 10-year court order, from retaliating against venues that wish to use a competing company's ticketing services.
Assistant U.S. Attorney General Christine Varney told The Associated Press that Paciolan sells tens of millions of tickets every year. The Wall Street Journal reported that Comcast-Spectacor already had signed a letter of intent to buy the Paciolan assets.
Both companies agreed to the conditions, the AP said, but a U.S. District Court in Washington, D.C., will need to approve the settlement.
The New York Times reported that Ticketmaster, based in Los Angeles, sold about 141 million tickets worth $8.9 billion in 2008. Beverly Hills, Calif.-based Live Nation, the paper said, is the world's largest concert promoter, producing some 22,000 events.
Varney told AP that the originally proposed deal would have been "anti-competitive."
"It's going to benefit competition and benefit consumers," Varney said. "Generally, when you see robust competition, you would expect to see prices coming down."
Ticketmaster shares rose $2.10, or 15.79 percent, to close at $15.40 on the Nasdaq National Market. Shares in Live Nation rose $1.35, or 14.74 percent, to close at $10.51 on the New York Stock Exchange.