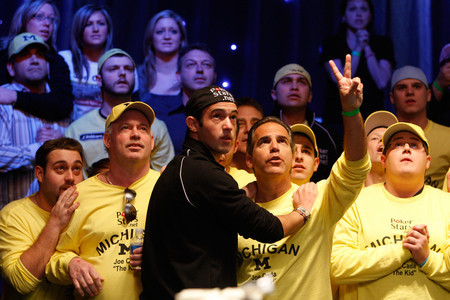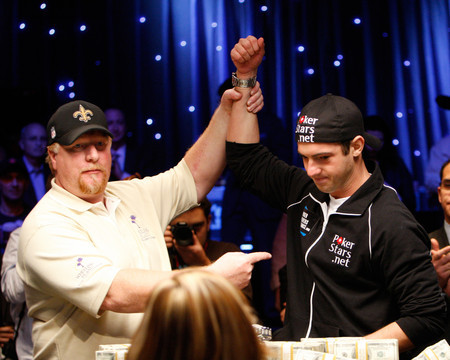 All Joe Cada ever really wanted to do was play poker.
Today, at age 21, the Shelby Township, Mich., resident is waking up in a suite at the Rio, sitting at the top of the game, the youngest player to ever win the Main Event in the World Series of Poker.
Cada outlasted Maryland logger Darvin Moon in a nearly three-hour heads-up match early Tuesday morning to win the tournament's $10,000 buy-in no-limit hold 'em world championship.
The victory earned Cada more than $8.5 million, a prize he will split 50-50 with two Detroit-area gamblers who bankrolled his entry into the World Series of Poker. Cada didn't mind sharing the winnings.
"I have no regrets," Cada said at 1:35 a.m., shortly after eliminating Moon on the night's 87th hand and the 364th hand played over the final table weekend.
"I knew coming in what I could win and I'm very grateful for them putting me into the tournament," Cada said.
His financial backers were on stage in the table-side bleacher section and Cada often consulted with them during play. Cada was also supported by some 150 friends and family members decked out in yellow T-shirts who boisterously filled seats inside the Rio's Penn & Teller Theater.
Cada couldn't watch as the final card was played and let his supporters tell him that he had become poker's ultimate champion.
"They meant everything to me," Cada said. "When I was very low on chips, and they were still sitting there cheering and going crazy. That helped me to get back in this and focus. A lot of these people took off of school and work and came out here just to support me. I am so grateful."
Cada had one of the most unusual runs to the World Series of Poker title after reaching the final table of nine in sixth place with 13.215 million in tournament chips.
Several times Saturday night and Sunday morning, Cada was on the brink of elimination, falling to just 2.25 million chips. But every time, he battled back, doubling-up on his opponents, often needing a favorable river card to claim the pot.
On Monday night, he entered heads-up play with Moon with a sizable 2-to-1 chip advantage. It didn't last.
Moon took a large chunk of Cada's chips on the night's first hand. When a break was taken near midnight, the players were almost even.
On the 330th hand, Moon took the chip lead, 114.6 million to Cada's 80.20 million. About 10 minutes later, Moon was up to 145.2 million and Cada had 49.6 million.
Cada started whittling back his chips and regained the lead by the 356th hand when he went all-in with his last 55 million and won the hand with two pair.
Eight hands later, his pair of nines busted Moon and ended the 40th World Series of Poker.
"I was not worried,' Cada said. "You can't stress out when that happens. You just have to continue to play your best poker."
The game is what Cada has excelled at throughout his short life.
College bored him. After three semesters at Macomb Community College in Warren, Mich., Cada walked away to pursue his poker dream.
His parents seemed to understand.
"We wanted him to get his education first but when he started doing good (at poker), we wanted him to follow his dream," said his mother, Ann Cada, who works as a dealer at the MotorCity Casino in Detroit. "He loves it. How many people can say they love what they do?"
Cada's father, Jerry Cada, who was laid off from his auto industry job last summer, said his son, the youngest of four children, always seemed to have a knack for math.
"When he was a kid, we used to just throw numbers at him and he would give us the answer right back," Jerry Cada said. "He knew percentages. Then, he got into poker, and bang, it all came together."
Before the World Series of Poker, Cada played online, collecting $500,000 in career winnings. He played in 16 World Series of Poker individual events this year, cashing in at three, including the Main Event.
Cada broke a record for the tournament's youngest winner set last year by Peter Eastgate of Denmark. Cada is 340 days younger than Eastgate.
Moon, 46, won $5.182 million for finishing second.
While he's achieved poker's ultimate crown, Cada said he still has goals, such as becoming an ambassador for the game, pushing for the legalization of online poker in the United States and playing in as many tournaments as possible.
He'll also play in the 2010 World Series of Poker.
"(I want) to win it again next year, to win back to back," he said.
Contact reporter Howard Stutz at hstutz@reviewjournal.com or 702-477-3871.