Microlender helps e-tailer keep the orders moving
September 25, 2012 - 1:02 am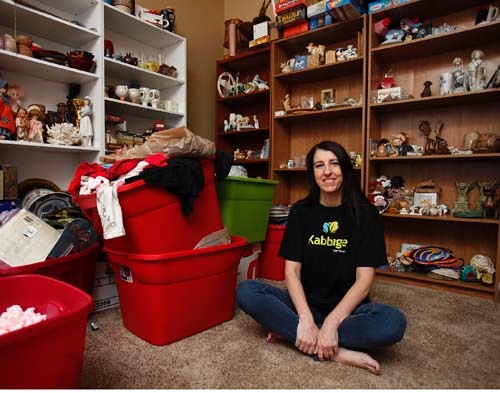 For Danni Ackerman, owner of the eBay store Udderly Good Stuff and the Danni App, a lengthy bank loan approval period is something her Las Vegas-based businesses can't afford. So like many small-business owners, Ackerman turned to alternative lenders for options beyond what traditional banks and credit unions can offer.
Ackerman chose Kabbage Inc., a 2-year-old online lender that uses analytics and transaction data to measure risk in making cash advances to online sellers like her. Kabbage is one of a number of lenders to online retailers that look beyond credit scores to make a decision, put more weight on United Parcel Service shipping information and Amazon and PayPal records to determine the probablility that they'll get their money back.
"I'm on my eighth advance," Ackerman said. "I've used them to purchase merchandise and upgrade equipment. It's been a really good deal for me."
Udderly Good Stuff, which opened in 1998 when Ackerman was living in Reno, sells antiques and collectables, while the Danni App is a teaching and consulting business for entrepreneurs looking to open eBay stores. Ackerman is one of a growing number of local entrepreneurs who have created a full time e-commerce businesses in an industry forecast to top $224.2 billion this year, up 15.4 percent from $194.3 billion in 2011, research company EMarketer reports.
Ackerman's six-month term loans have ranged from $500 to $2,000. Kabbage said it gives advances – not loans – and expects a 2 percent to 7 percent fee over a six-month period.
Other microlenders targeting online merchants include On Deck Capital Inc. and Capital Access Network Inc., which specialize in high interest, short-term loans. Ackerman said she knows in a few minutes to hours if she's been approved.
"If I don't have the cash reserves to buy the merchandise, I'll go to Kabbage," she said. "It's not a long-term loan. It's easier than dealing with a bank, and it takes less time for (the money) to be deposited in my PayPal account."
Most traditional lenders have struggled to lend to capital-light online merchants such as Udderly Good Stuff which, unlike brick-and-mortar retailers, have little to no collateral for security. Ackerman said her home-based online business is profitable, but declined to discuss revenues.
Ackerman said she'd still be in business without Kabbage, but that she wouldn't be doing nearly as well.
Kabbage is looking to secure additional online loans for businesses in Las Vegas and nationwide. This week it announced it had received an additional $30 million in funding led by Thomvest Ventures, the venture capital arm of Peter Thomson. The new capital it raised is nearly double its most recent $17 million raised in August.
Kabbage has raised $56 million since its October 2010 launch.
"Kabbage has completely redefined small-business finance in less than two years," said Thomson. "Its disruptive business model and technology platform is providing much-needed working capital to small businesses quickly and efficiently, helping to drive the overall economy."
Kabbage's major existing investors, including UPS Strategic Enterprise Fund, the private capita investment arm of United Parcel Service Inc., Mohr Davidow Ventures, BlueRun Ventures, Warren Stephens, CEO of Stephens Inc., owner of the Las Vegas Review-Journal, and TPG Capital's David Bonderman participated in the round. Ron Conway's SV Angel also recently invested in the company.
Rob Frohwein, CEO of Atlanta-based Kabbage, said the company has fueled over $800 million in sales for small businesses.
Contact reporter Chris Sieroty at
csieroty@reviewjournal.com or 702-477-3893.