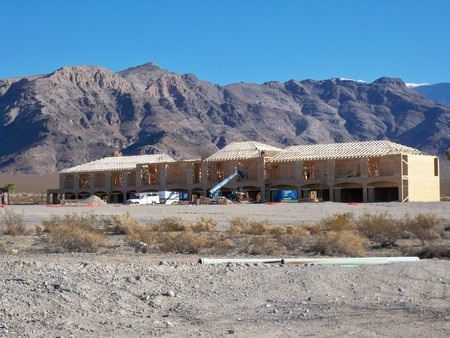 John Morris doesn't have to worry about buyers coming up with million-dollar financing to close escrow on 13 condominiums he's building at Spring Mountain Motorsports Ranch and Club Spring Mountain in Pahrump.
CityCenter, it's not.
These condos aren't for sale, anyway. They're available for lease and only to members of the club, which opened three years ago on 215 acres off State Route 160, a couple miles south of the rural town.
The living units, ranging from 430 square feet to 780 square feet, are built on top of air-conditioned and heated garages, a critical component for wealthy club members who are understandably selective about where they want to keep their exotic, high-performance sports cars.
They've been storing their Porsches, Ferraris and Lamborghinis in rentable garages. Forty new garages were built this year for a total of 80 at the track.
Morris, chief executive officer of the motorsports ranch and club, said the first 13 condos are gone, committed to one- to five-year leases at $1,300 to $2,500 a month, depending on size.
Completion of the $1.3 million construction project is scheduled for March. The foundation slab has been poured for a second building, also with 13 condo-garage units, that's six to eight weeks behind the first building.
The two-story condos sit 130 feet from the track, 14 feet off the ground, with unobstructed views of turns two and three.
"I looked at other clubs around the country to see the trend," said Morris, a retired businessman who purchased the land for $6.5 million in 2004. "People want to be comfortable at the track and have a place to stay."
Last year, Morris said he found it better to invest in garages than certificates of deposits or the stock market.
The only private automobile club of its kind in the Southwest United States, Club Spring Mountain has grown to about 250 members who have access to the 3.5-mile road course and $3 million, 8,000-square-foot clubhouse completed last year.
It has men's and women's locker rooms, pool and spa, a fitness center, an executive conference room, a full kitchen and a lounge with nine plasma televisions showing action on the track via closed circuit.
Private membership starts at $15,000, plus monthly fees. Corporate members include Silverton, Las Vegas Hilton, Golden Gaming, United Nissan and Pahrump Nugget.
Club Spring Mountain has expanded from a Corvette driving school to include Lotus and Radicals, racing karts, a flying club and shooting range.
The driving schools are open to the public.
Morris said he plans to start construction next year on a 79-room franchise hotel, taking the club one step closer to being a full-service destination. Hotel rooms are limited in Pahrump and out-of-town members have to drive to Las Vegas to stay, he said.
Contact reporter Hubble Smith at hsmith@reviewjournal.com or 702-383-0491.