More than 100,000 expected for National Association of Broadcasters convention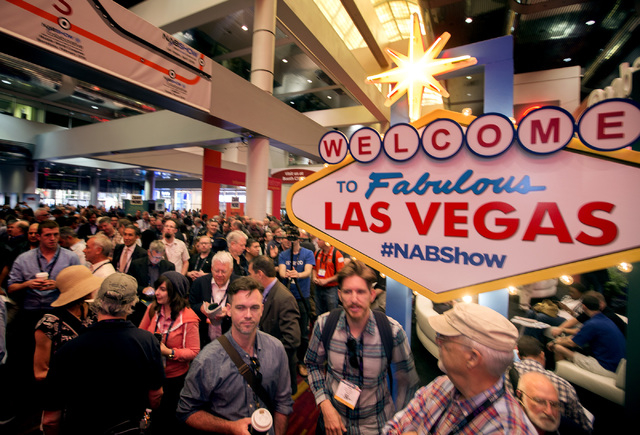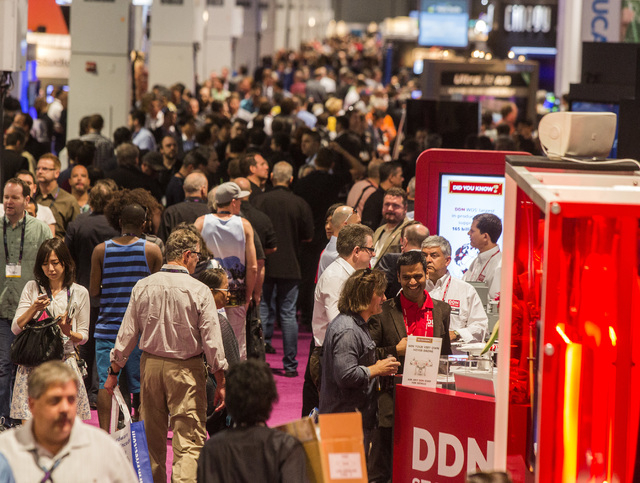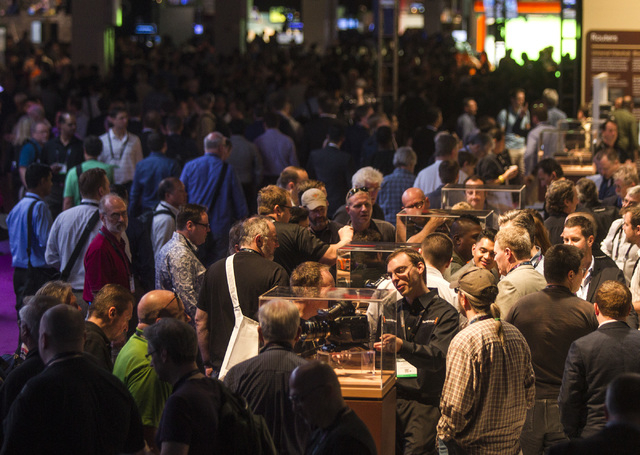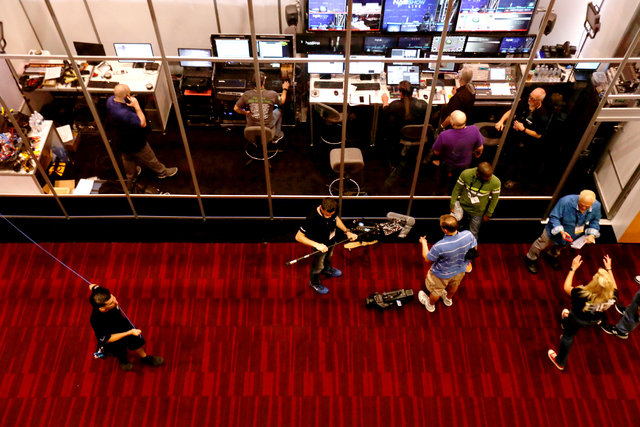 The small screen goes convention big in Las Vegas this week as more than 100,000 people arrive for the National Association of Broadcasters annual trade show at the Las Vegas Convention Center and the Westgate Las Vegas.
NAB, which is open only to the broadcast industry and related entertainment fields, is a staple on the city's spring convention calendar. The association has met in the city 35 times since 1975. In 1991, the association decided to have the show in Las Vegas permanently, and it has been here annually ever since.
Traffic along Paradise Road and Desert Inn Road will be heavy all week at the open and close of the trade-show floor, and Convention Center Drive, the main route between Las Vegas Boulevard and the convention venue, is in the midst of a lane-blocking road construction project. McCarran International Airport will be busier than normal, as well.
The six-day event is a gathering of several small associations focused on different aspects of broadcasting. There is specialization in terrestrial broadcasting, satellite, cable, radio, television, webcasting, podcasting and engineering. Every sector is seeing massive technological advancements.
The technical specialists have been in town since Saturday for the early meetings of the convention, but starting Monday, the trade-show floor opens and broadcast content takes center stage.
Chuck Lorre, creator, executive producer and writer for some of television's top comedies — "The Big Bang Theory," "Mom," "Mike &Molly" and "Two and a Half Men" among them — will be inducted into the NAB Broadcasting Hall of Fame at a Monday lunch emceed by "Two and a Half Men" star Jon Cryer.
On Tuesday, radio takes the spotlight with the induction of Mike Golic and Mike Greenberg, co-hosts of ESPN Radio's morning show "Mike &Mike," to the Hall of Fame.
NAB is also a regulatory gathering place, and four Federal Communications Commission members will participate in panels and sessions to discuss broadcast industry issues.
FCC Chairman Tom Wheeler will address the upcoming broadcast spectrum incentive auction, retransmission consent and the future of video delivery in a Wednesday session. Commissioners Mignon Clyburn, Michael O'Rielly and Ajit Pai will appear at other sessionsthroughout the show.
The trade show, featuring more than 1,700 exhibitors, runs until 6 p.m. Monday through Wednesday, and from 9 a.m. to 2 p.m. Thursday. The 103,000 attendees will come from every state and 166 countries.
Technological innovations will be on display, and one of the big draws of the 2016 show will be the use of drone technology for aerial content creation. More than 30 drone-centric sessions, panels and demonstrations are scheduled at the show.
Show organizers say they are implementing a higher level of security on the show floor than in past years. Dennis Wharton, NAB executive vice president of communications, said the show will have an increase in uniformed police officers and search dogs. Random bag searches and multiple interior badge checkpoints are planned.
While show planners say they haven't been apprised of any threats, global incidents have compelled the organization to add security, and the NAB show security team is working closely with Las Vegas police, the U.S. Department of Homeland Security, the FBI and convention center security officials to keep delegates safe.
NAB is one of the top five conventions by attendance in Las Vegas every year, and the Las Vegas Convention and Visitors Authority projects direct spending of $96.1 million by attendees with a total economic impact of $163.2 million through direct and indirect spending.
Southern Nevada's taxi industry is geared up with maximum numbers of cabs to service the airport and the convention center, and in a first for NAB, Uber and Lyft will be available to provide transportation.
The resorts are taking advantage of the big midweek convention with rates hitting more than $300 a night at some properties. Room rates generally run three to five times higher than normal during large shows like NAB.
Contact Richard N. Velotta at rvelotta@reviewjournal.com or 702-477-3893. Find him on Twitter: @RickVelotta