Murren sets stage for debate on spending for tourism improvements
January 29, 2016 - 6:30 pm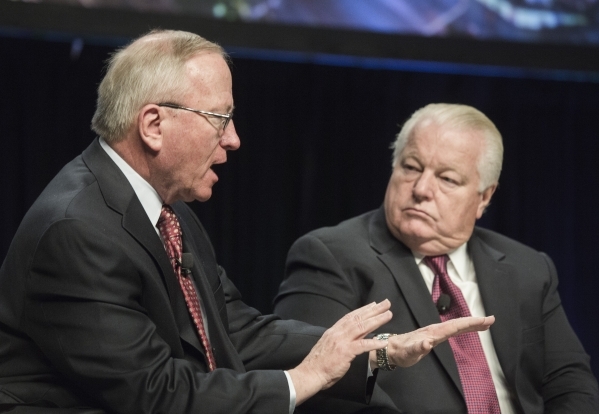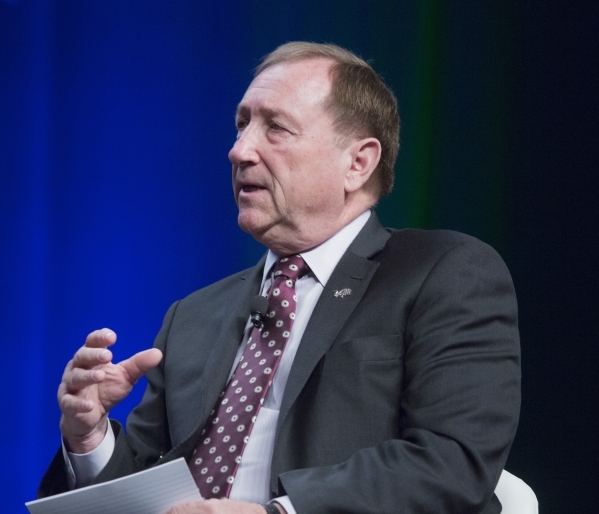 MGM Resorts International's top executive on Friday set the stage for a citywide philosophical debate that could determine how resources will be spent for tourism infrastructure improvements in the years ahead.
Jim Murren, chairman and CEO of MGM, the state's largest private employer, told an audience at the Las Vegas Metro Chamber of Commerce's Preview Las Vegas forecasting event that he supports efforts to use room-tax revenue to expand and improve the Las Vegas Convention Center, even though it competes with the company's various convention facilities.
That viewpoint conflicts directly with those of executives with Las Vegas Sands, who see the Convention Center as a direct competitor to private enterprise and the use of room-tax revenue as inappropriate.
The Review-Journal is owned by a limited liability corporation owned by the family of Sands chairman and CEO Sheldon Adelson.
Sands officials have indicated they would support using room-tax money as part of the financing to build a $1 billion domed stadium. The company announced Thursday that it plans to build the 65,000-seat stadium on 42 acres just east of the MGM Grand at Tropicana Avenue and Koval Lane. Sands executives met with representatives of the Oakland Raiders on Friday in a bid to move the team to Las Vegas and share the stadium with the University of Nevada, Las Vegas, football team. Sands officials have said they plan to build the stadium with or without a National Football League team.
The Las Vegas Convention and Visitors Authority has proposed a $2.3 billion expansion and upgrade of the Las Vegas Convention Center that officials say is essential to stay competitive with cities trying to steal conventions and special events away from Las Vegas.
In an interview after his Preview presentation, Murren acknowledged that the stadium would compete for some events with MGM's T-Mobile Arena that opens in April.
Murren said while he'd be interested in considering live entertainment tax revenue or a special tax district supporting the stadium, he'd be opposed to using room-tax funds.
"To me, the priorities are obvious," Murren said. "It's to expand and improve the Convention Center. And if we can find a fiscally responsible way to fund a stadium, MGM will be at the table as we always are, put money into it, support it, and I don't give a hoot if it competes against us.
"If it's good for Las Vegas," he said, "we're all for it, but it won't be done to the detriment of the Convention Center. We would not be for that. Without that convention center improvement, we can forget about Las Vegas growth. Let's go to the must-haves before we go to the nice-to-haves and if we can do both, I'm all for it."
A Sands spokesman said Friday that the company considers a state-of-the-art stadium a must-have amenity "that far outweighs the need for additional convention facilities."
Murren was the final speaker at Preview, the chamber's largest annual networking event.
About 2,000 people attended the event, which combines a tradeshow atmosphere on the concourse of the Thomas & Mack Center with a series of speakers discussing trends in Southern Nevada's economy.
Tourism issues dominate
Tourism issues took center stage in the early sessions with Robert Lang, executive director of Brookings Mountain West advocating a stronger presence in Washington and Carson City to convince national and state policymakers to empower local entities to make decisions on developing infrastructure that will benefit the tourism economy.
Lang specifically suggested that businesses support policy that would enable local leaders to keep and use the tax revenue it generates instead of sending it the government. He cited Orlando, Fla., one of Las Vegas' chief tourism rivals, as a city that has a relatively low tax rate, but capitalizes on keeping revenue raised for local projects.
And Lang knows Southern Nevada is in need of local projects. He said to keep its competitive edge, Southern Nevada needs a light-rail transit system, a stadium with seating for more than 60,000 people and enhanced facilities at the Las Vegas Convention Center.
Attendees also got a closer look at Faraday Future, the electric car company that is building a manufacturing plant at the Apex industrial park.
Dag Reckhorn, vice president of global manufacturing for Faraday, gave details of the company's plans to build a $1 billion, 3 million-square-foot manufacturing plant on 900 acres at Apex.
The Preview presentation was similar to a Jan. 4 presentation when Faraday unveiled its FFZero1 concept car.
Reckhorn said Faraday's Variable Platform Architecture will feature strings of batteries, which can be more easily replaced or changed than a single battery. On the platform, adding or reducing strings will enable the creation of vehicles of varying sizes with more power or greater range.
The architecture also incorporates motor configurations with one to three motor strings. That will enable the company to modify vehicle characteristics, including rear-, front- or all-wheel drive systems, extended range options and various outputs, all using the same chassis structure.
Travel themes surface
Convention and Visitors Authority President and CEO Rossi Ralenkotter also led a panel that included Mike Boyd, president of Boyd Group International, Roger Dow, president and CEO of the U.S. Travel Association, and Warren Eales, port director for the U.S. Customs and Border Protection at McCarran International Airport.
They discussed a variety of travel-related issues, from potential international markets for Las Vegas to Project Time Off, an initiative to encourage workers to take all the vacation time they're entitled to.
Boyd said Las Vegas needs to be prepared to make international visitors comfortable when they visit with appropriate signage and a knowledge of the traveler's customs and expectations. He said visitation provides the biggest opportunity for growth.
Panelists encouraged attendees to contact their congressional delegation to lobby for enough staffing for Eales to process international arrivals as McCarran moves toward expanding the number of gates it has available for arrivals from foreign countries.
Contact reporter Richard N. Velotta at rvelotta@reviewjournal.com or 702-477-3893. Find @RickVelotta on Twitter.