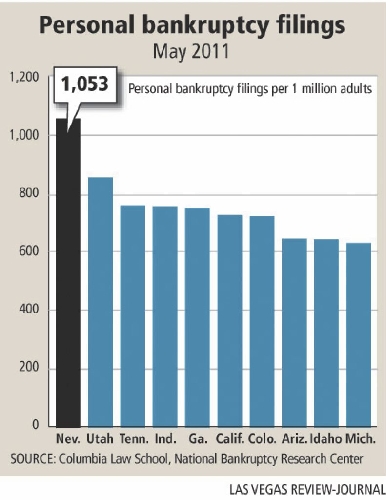 Personal bankruptcy filings in Nevada declined 17 percent during the first five months this year, according to an analysis by a Columbia Law School professor.
Yet based on population, Nevada still leads the nation in new bankruptcy cases, according to a study by Ronald Mann for the National Bankruptcy Research Center.
Nevada personal bankruptcies ran 1,053 per million population in May, and 5,176 per million total in the first five months of the year, Mann reported.
Stephen Brown, director of the Center for Business and Economic Research at the University of Nevada, Las Vegas, said the slowdown isn't a result of better economic times. Rather, many struggling consumers have already filed for bankruptcy and cannot do so again for a few years.
"We're kind of running out of people in financial trouble," Brown said. "On the whole, things are not highly favorable, but they are better than they were six months ago."
Even with the declining case numbers, Nevada still led the nation in per-capita filings in May, followed by Utah, Tennessee, Indiana, Georgia, California, Colorado, Arizona, Idaho and Michigan.
Nationally, the number of bankruptcy filings dropped to 115,000 in May, 10 percent lower than in April and 16 percent lower than in May last year.
"It's especially remarkable when contrasted with the four years beginning in 2007 when every month's filings were higher than the filing for the same month in the previous year," Mann said.
Nevada also diverges from the national average in the kind of bankruptcy filed.
Mann noted that Chapter 13 bankruptcies, which are often used to avoid home foreclosures because consumers can keep their property while complying with court-ordered debt repayment plans, represented 23 percent of the Nevada filings compared to a national average of 28 percent.
"Whatever Nevada filers are doing, they are not in bankruptcy to save their homes," Mann said in a statement.
Contact reporter John G. Edwards at
jedwards@reviewjournal.com or 702-383-0420.