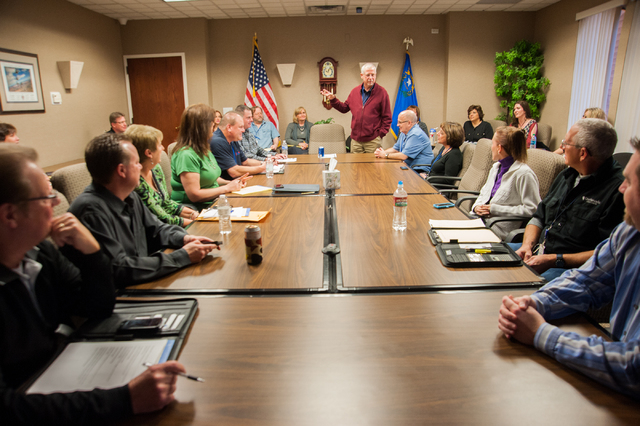 Despite looming federal financial regulations, some of the nation's largest credit unions grew at a healthy clip in 2013, according to a new report from a financial data company.
Meanwhile, locally run credit unions noted marginal strides thanks to a slowly rebounding economy in the valley.
With $55.5 billion in assets, Navy Federal Credit Union, which has two locations in Las Vegas, topped SNL Financial's list of 50 credit unions across the country.
America First Credit Union, which ranked 12th on that list and reported $5.57 billion in 2013 assets, also has a presence in Southern Nevada, with three valley locations.
New credit union regulations under the Dodd-Frank Act, an attempt to reform financial institutions, were rolled out last year, but have yet to be implemented on credit unions.
One proposal from the National Credit Union Administration, which governs federal credit unions, requires a "stress test" for credit unions with more than $10 billion in assets in which the company must show a capital ratio of at least 5 percent. That's something already practiced by some of the largest credit unions, according to the report.
Navy Federal was one of only four credit unions that reported more than $10 billion in assets in 2013, and a representative of the credit union called it "well-capitalized, safe and sound."
While local credit unions are regulated by the state, those new requirements are similarly adopted through the federal government.
Still, One Nevada Credit Union and Clark County Credit Union, each with three Las Vegas locations, also reported seeing an uptick in 2013.
Brad Beal, president and CEO of One Nevada, said any new regulations compound the costs of running a credit union, including hiring new personnel.
"We're a reflection of how the economy is affecting folks," he said. "And we're doing well, our people are doing well, but they're not doing great."
The credit union reached $6 million in net income for 2013, which Beal called "very strong" when compared to the $2 million income of 2012. Prior to that, the credit union took losses during the recession.
"Folks are still cautious about making big expenditures," Beal said. "But our earnings are back in the black. We're earning at a good level."
Mark Andrews, marketing director at Clark County Credit Union, echoed Beal's statement about the effects of the federal regulations. He even went a step further and said it was "smothering to try to absorb the first wave of regulations.
"The economy has suppressed profitably and growth. What Dodd-Frank has done has caused a great deal of expense for credit unions in order deal with regulations."
With a roughly 33,000 growing membership of mostly government workers, Andrews said Clark County Credit Union had more than $500 million in assets for 2013.
That's an improvement over years past, but not-for-profit credit unions must rely on economic stability.
"We're on a growth cycle now, and I think we'll be fairly predictable for the next few years," Andrews said. "The challenge still is the economy. The Southern Nevada market is still being suppressed by market effects."
Contact reporter David Ferrara at dferrara@reviewjournal.com or 702-387-5290.