Nevada financial institutions alter footprint as technology advances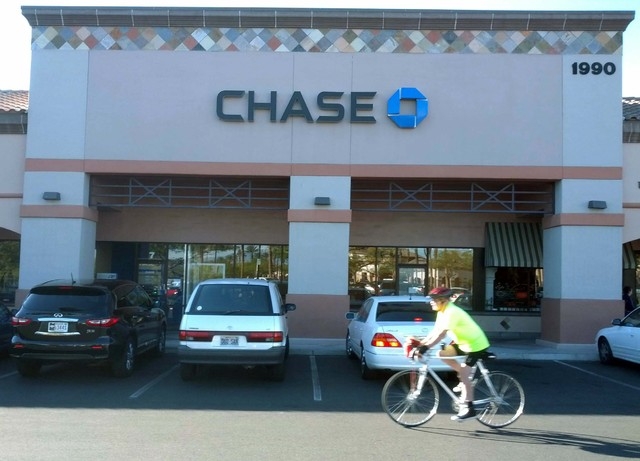 One Nevada Credit Union is developing an online program that allows customers to speak face to face with a loan officer or inquire about a checking account and never set foot in a branch.
It's a Skype-like video conferencing technology — with heavier security built in — that One Nevada president and CEO Brad Beal expects to pilot later this year.
Last year, the credit union closed two branches because of declining traffic, Beal said. No one was laid off, and employees are still performing much of the same work, he said.
"It's not that people are using us less," he said, "they're using us differently."
The fact is, fewer and fewer people find the need to step inside a credit union or a bank.
Technology like the video conferencing is forcing a redesigned blueprint at financial institutions across the country and throughout Southern Nevada. Lobbies are getting smaller. Tellers are stepping from behind the counter. Even the line at the drive-up window is getting shorter.
More and more people are comfortable banking online instead of hanging out in a lobby and waiting for a banker to help with a simple transaction, which has led to "a huge shift in the industry," according to Bob Browne, a director at the consulting firm McGladrey, who works with banks across the country.
TECHNOLOGY TOPS in-person
The biggest impact could be on local community banks, which rely on face-to-face customer service to attract business.
Meadows Bank, a community bank in Las Vegas that focuses on Small Business Administration loans, expects to introduce a mobile application in about a month, said Arvind Menon, the bank's president and CEO.
"We feel it's time," he said. "Technology has gotten cheaper, made the playing field more level. It's gotten to the point where banks like us can afford these things without breaking the bank, so to speak."
A service known as Remote Deposit Capture allows customers to scan checks and transfer them directly into an account.
"That's another one of those products that has really obviated the need to have branches all over the place," Menon said. "With all of those capabilities, you don't really have to go to a branch any more."
Kevin Travis, a managing director at the financial advisory consulting firm Novantas in New York, said branch employees are moving toward product and service areas, letting machines process transactions.
"The teller job is disappearing," he said in an email. "The teller counter will continue to evolve to look more like a retail location. … The banker role will be to do the things that machines can't ­— sales and complex service items."
But as the size of the branch shrinks, community banks such as Meadows are reluctant to cut staff, if only for security reasons."I have not learned how to run a branch with less than five bodies," Menon said.
While business owners are more accepting of banking technologies, "they still need that face-to-face relationship with their banker," said John Guedry, president and COO at Bank of Nevada. "We tend to have bigger branches with more personnel. We're probably a little bit more like the older model than the newer model."
THE SHRINKING BRANCH
Browne expects the average branch size to shrink to about half the size of what it is today, and many banks are remodeling lobbies. At the same time, the traditional bank teller is becoming what many in the financial world call "a universal agent."
"But people have existing brick-and-mortar facilities, and they're not just going to close them down," Browne said. "Banks have got to figure out how to get people back in the lobbies and interact with the bank."
The older branches of Nevada State Bank are typically between 4,000 and 6,000 square feet, but at the end of the year, the bank is opening a new branch in Henderson that is half that size, said Craig Kirkland, executive vice president/retail banking officer at Nevada State Bank.
That's partly because in-branch transactions have declined, with customers banking online.
"They have more choices, and they are using more options," Kirkland said. "We really want to provide an environment where we give them many options to bank. If people come into our branch, increasingly it's because they can't do a transaction on their tablet or on their phone."
Many of the national banks with a presence in Las Vegas, such as Bank of America, Chase and Wells Fargo, are exploring new ways to lay out the branch. Last year, Wells Fargo opened a 1,000-square-foot "neighborhood bank concept store" in Washington, D.C. Tellers greet customers in the lobby, carrying a tablet and demonstrating how to open an account, instead of standing behind a glass partition.
This year, Nevada State Bank is upgrading its ATM network and rolling out iPads to help customers open new accounts.
Kirkland said the new technologies don't pose an immediate threat to the teller.
"The role of the teller is going to continue to evolve to where you're more of a financial adviser, a consultant, to help them understand how to use the technology that's available, help them save time and money and do their business more efficiently," he said. "I don't think present day, the technology alone can provide enough solutions for our clients. I don't see the role going away."
Contact David Ferrara at dferrara@reviewjournal.com or 702-387-5290. Follow @randompoker on Twitter.