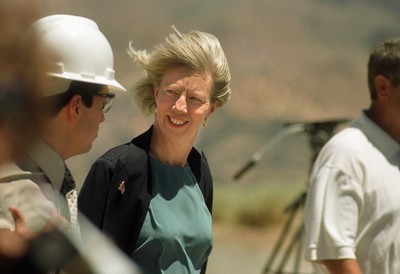 The electric utility serving Las Vegas is preparing to consider its first investment in a geothermal power project in Northern Nevada, using a method just approved by state regulators.
Nevada Power Co., which does business as NV Energy, plans to enter a joint ownership agreement with Ormat Nevada, a geothermal development company in Reno, for the Carson Lake Geothermal Power Project near Fallon.
The joint ownership agreement only will be entered if Ormat determines it can build a geothermal power plant that will generate 30 megawatts or more of electricity, said NV Energy renewable energy executive Tom Fair.
If Ormat's drilling, which is going on now, indicates a lesser amount of generation capacity, Nevada Power will allow Ormat to develop it as 100 percent owner, Fair said.
Geothermal power plants use steam and hot underground water to generate electricity.
The Public Utilities Commission on Monday voted 3-0 to allow Nevada Power to sell power from the Fallon plant to Sierra Pacific Power Co., an affiliated Reno-based utility that also does business as NV Energy.
Most of the good geothermal sites are located in Northern Nevada, far from Nevada Power. So the Southern Nevada utility entered the power sales agreement with Sierra Pacific.
The arrangement allows Nevada Power to get renewable credits that can be used to satisfy state minimum requirements for "green" power, although the Southern Nevada utility has no direct connection with Sierra Pacific Power.
In other cases, Nevada Power has contracted to buy geothermal power from independent companies, he said.
The arrangement will become unnecessary when a planned transmission line is built to connect the two utilities, he said.
Nevada Power also uses solar power from the Nevada Solar One project at Boulder City, but Fair said the utility wants to get a variety of renewable resources, including wind and geothermal power.
"No one can say for certain today how these technologies are going to evolve and which is the best," Fair said.
"We think geothermal is the most competitive (priced) of the renewable resources," Fair said.
Unlike solar and wind power, geothermal plants operate around the clock.
State consumer advocate Eric Witkoski welcomed the project as a reliable source of power that, unlike natural gas- and coal-fired plants, creates no carbon dioxide. Carbon dioxide is believed to cause global warming.
In a separate development, the utilities commission on Monday restarted the regulatory review process for the coal-fired, 1,600-megawatt White Pine Energy Station that LS Power plans to build 30 miles north of Ely.
Commission Chairwoman Jo Ann Kelly said the process needs to be started over because the utilities commission didn't have the specific power plant site until the Bureau of Land Management approved the use of federal land for the project this month.
The alternate site would have been 20 miles north of Ely, said Mark Milburn, project development director for LS Power.
Milburn expects appeals, potentially by environmental group Western Resource Advocates, of the commission case, a pending application for an air permit and the BLM decision.
LS Power and Dynegy Inc. are joint venture partners in the White Pine project, but Dynegy disclosed earlier this month that it was reassessing the project along with other power projects, according to Reuters.
Dynegy is reviewing siting, permitting, financing and construction of the coal- and natural gas-fired plants.
Contact reporter John G. Edwards at jedwards@reviewjournal.com or 702-383-0420.