Nevada ramping up apprenticeship programs
Updated July 15, 2017 - 9:23 pm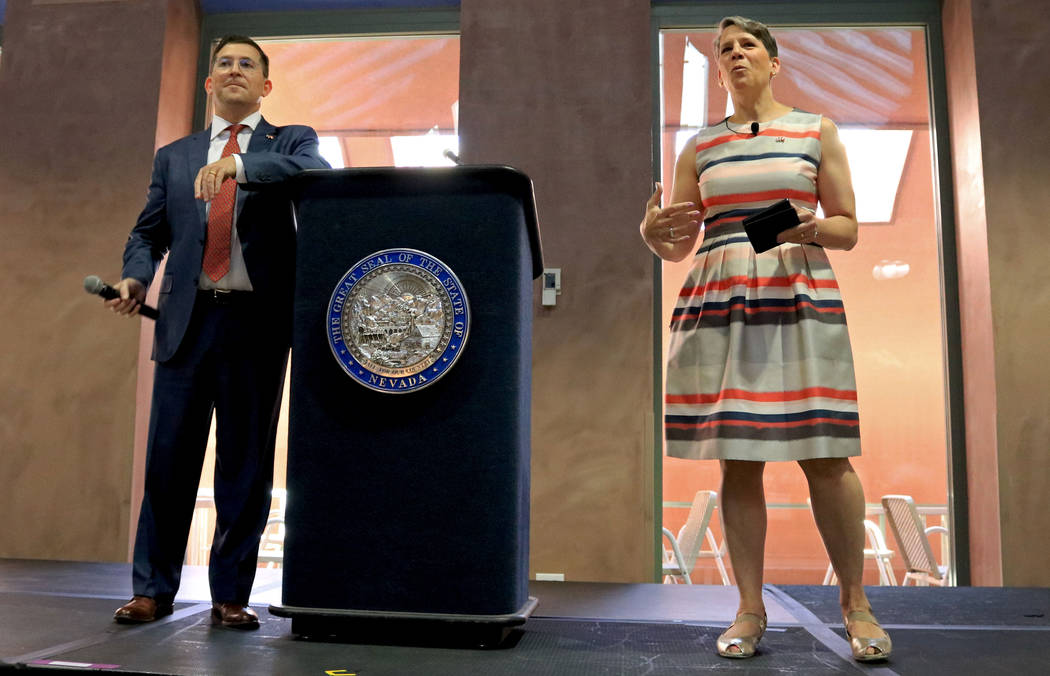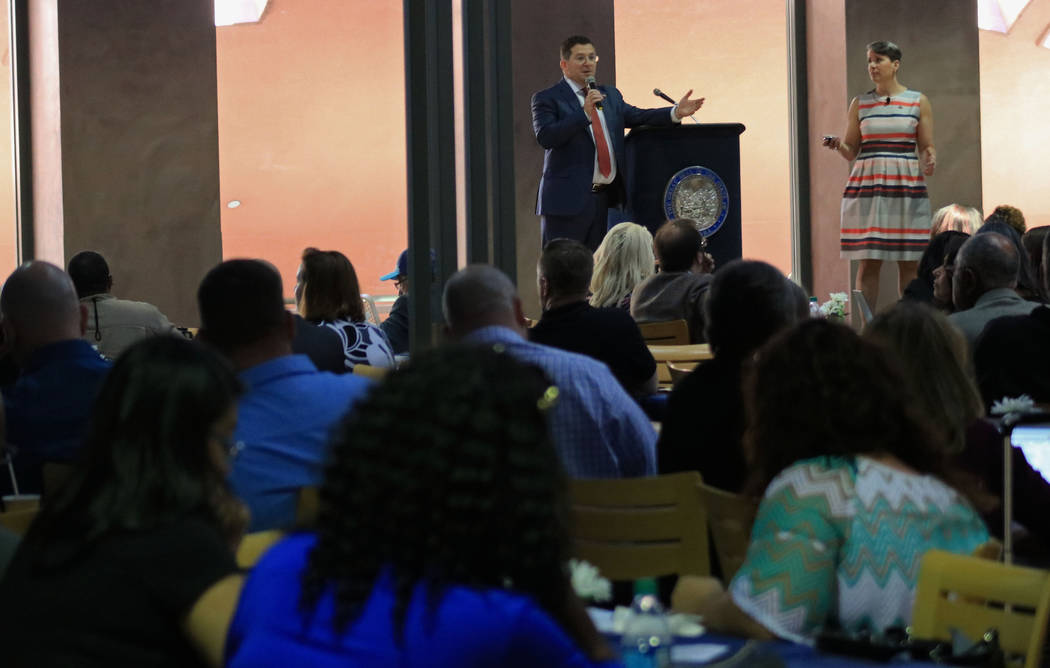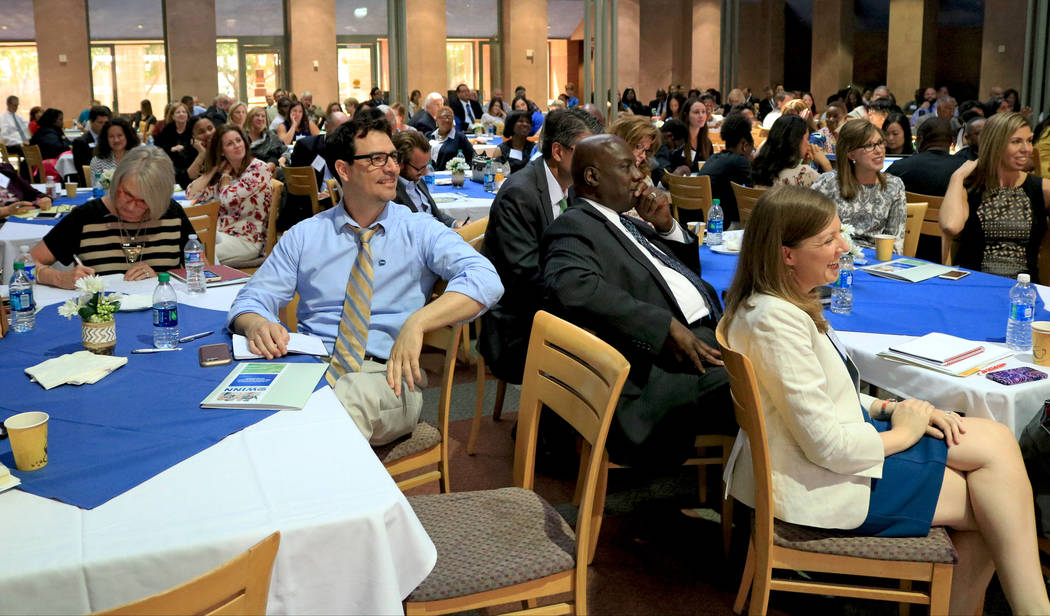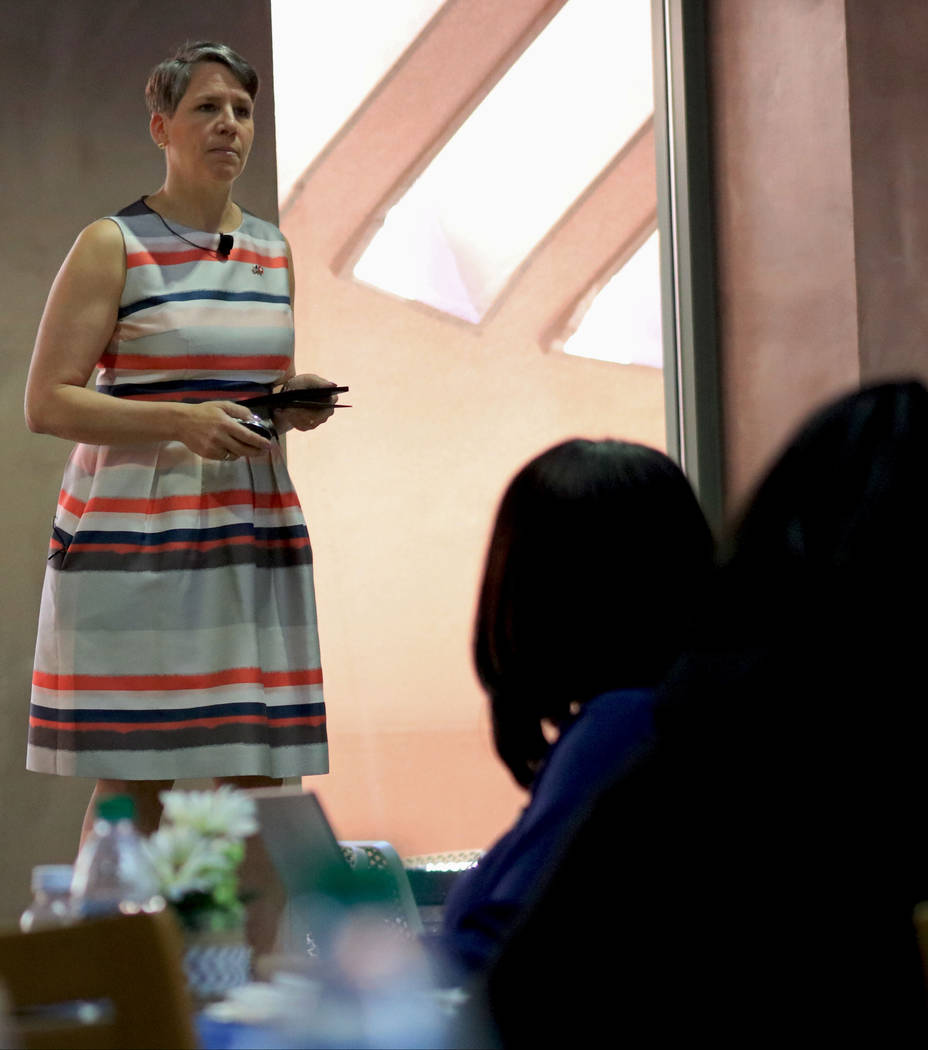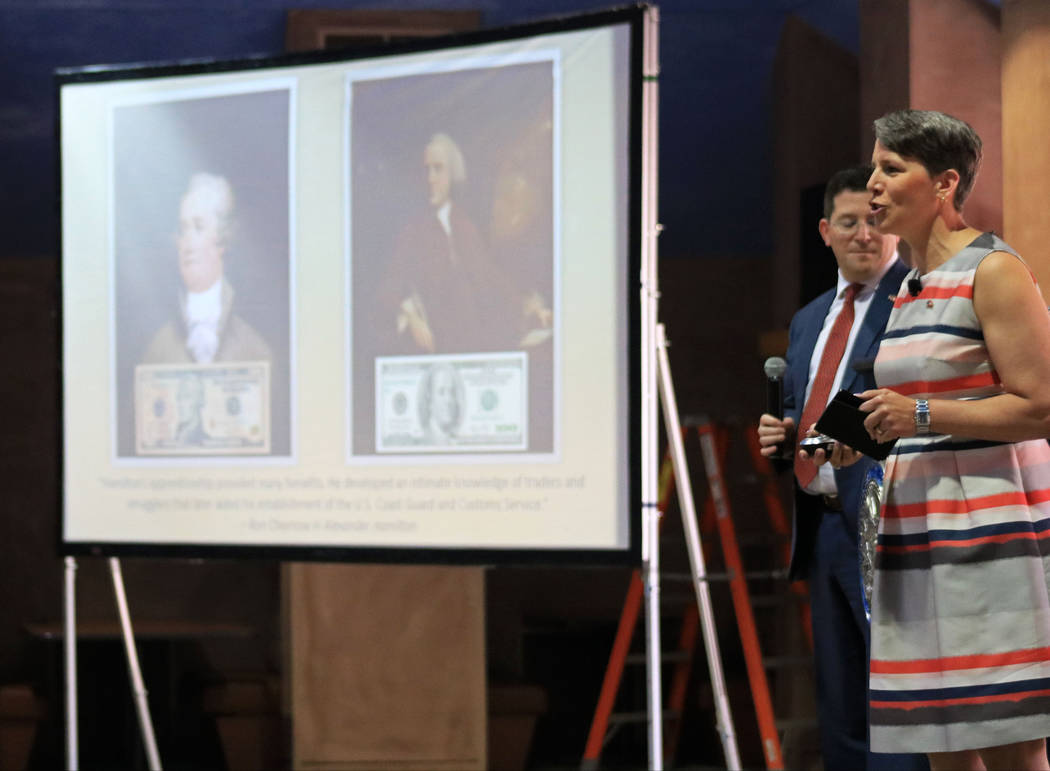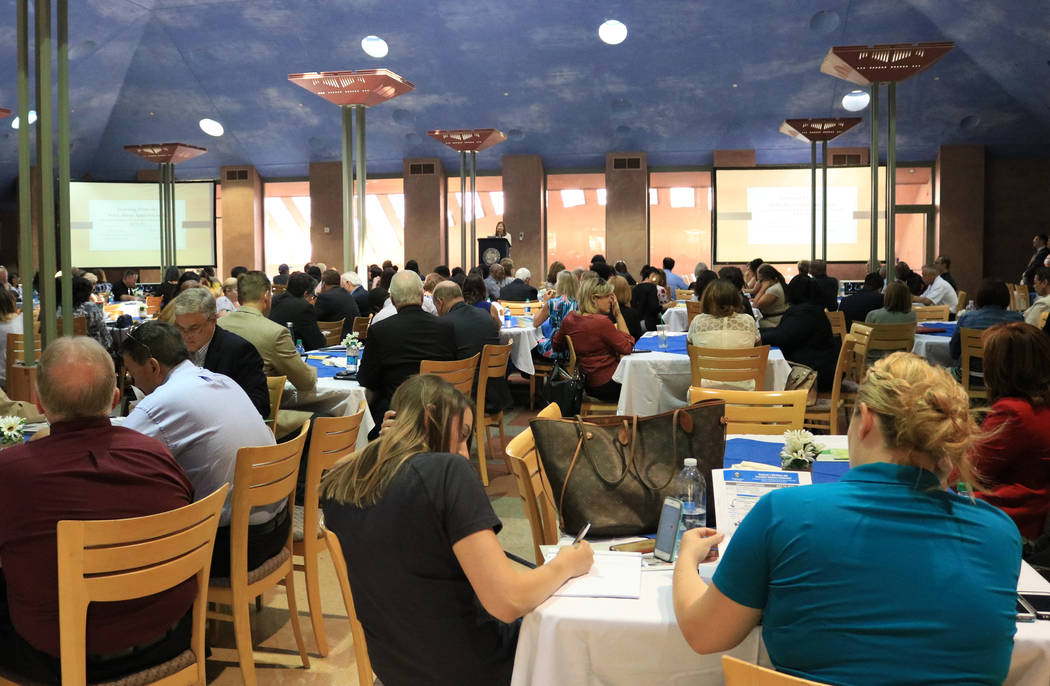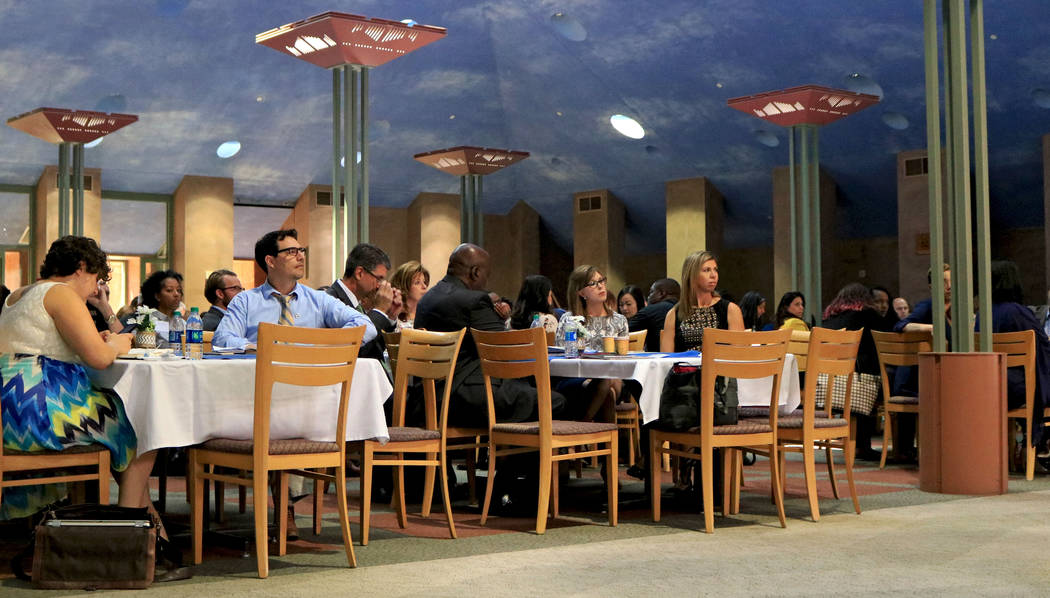 Equipped with new legislation, Nevada is ramping up its workforce training programs.
The Governor's Office of Workforce Innovation aims to boost the number of apprenticeship programs in the state by 10 percent within the next five years.
"It's a way to really upgrade our workforce and provide them the appropriate skills, education and credentials to be successful, particularly as we think about reducing the skills gap," said Manny Lamarre, executive director of the workforce innovation office.
Nevada is a combined 200,000 jobs short of the national average in five of the state's emerging target industries.
About 200 business and education leaders met Friday at the Clark County Government Center to discuss ideas, practices and policies to strengthen Nevada's workforce development efforts.
New legislation deemed the workforce innovation office responsible for state apprenticeship programs. As such, apprenticeships were a major focus of the conference with former U.S. Ambassador to Switzerland Suzi LeVine a keynote speaker. Switzerland is a world leader in apprenticeship programs.
"It's hard to set up an ecosystem," LeVine told the Review-Journal. "Imagine competitors coming together to define competencies, and regularly update them as they change."
81 and growing
Right now, Lamarre said not many people know that Nevada offers apprenticeship programs, nor what apprenticeship programs are.
Nevada currently offers 81 apprenticeship programs, many of which were created over 20 years ago and most of which are in trade-oriented professions, like construction. On-the-job training is paired with classroom instruction.
Lamarre is working to recruit additional employers to create new programs and broaden the scope of industries to include health care, advanced manufacturing and information technology.
Marvin Gebers, director of training for the Operative Plasterers and Cement Masons Local 797, said the apprenticeship program at the union goes back several decades.
"I've got eight apprentices now, which is far below what we had in our heyday back in 2008. When we were busy we had 297 students," said Gebers, who attended the conference.
It can be costly to employers to start an apprenticeship program. Employers with apprenticeship programs in Nevada pay an average of about 40 percent of a regular staffer's wage to train an individual for between one and five years, depending on the program.
Gebers said apprentices in his program start out receiving 60 percent of regular pay. He was not able to provide the rate of return per apprentice nor how much the program costs per apprentice overall.
Gebers said the economy has presented a problem for the masonry contractors industry, but he is still supportive of apprenticeship programs and supports the workforce innovation office broadening apprenticeship industries.
"I could probably bring in maybe 100 apprentices right now, but it doesn't do me any good if there's no jobs for them out there," Gebers said.
LeVine said she hopes employers leave the conference feeling engaged and inspired to create an apprenticeship program, and that they understand they will get value out of investing in one.
"It won't be fast (to set up), it won't be cheap, but it will be worth it," LeVine said.
Workforce efforts
The conference also focused on aligning K-12 and postsecondary education with the skills needed to fill in-demand industries.
A January report by the workforce innovation office outlined 93 high-demand occupations in key growth industries for Nevada.
Lamarre said it was important to get everybody together to ensure everyone is aware of the efforts surrounding workforce development, particularly after the legislative session.
Another newly passed bill requires all school districts to have dual-enrollment agreements with an institution of higher education, and another bill expanded work-based learning opportunities for students, like internships.
Contact Nicole Raz at nraz@reviewjournal.com or 702-380-4512. Follow @JournalistNikki on Twitter.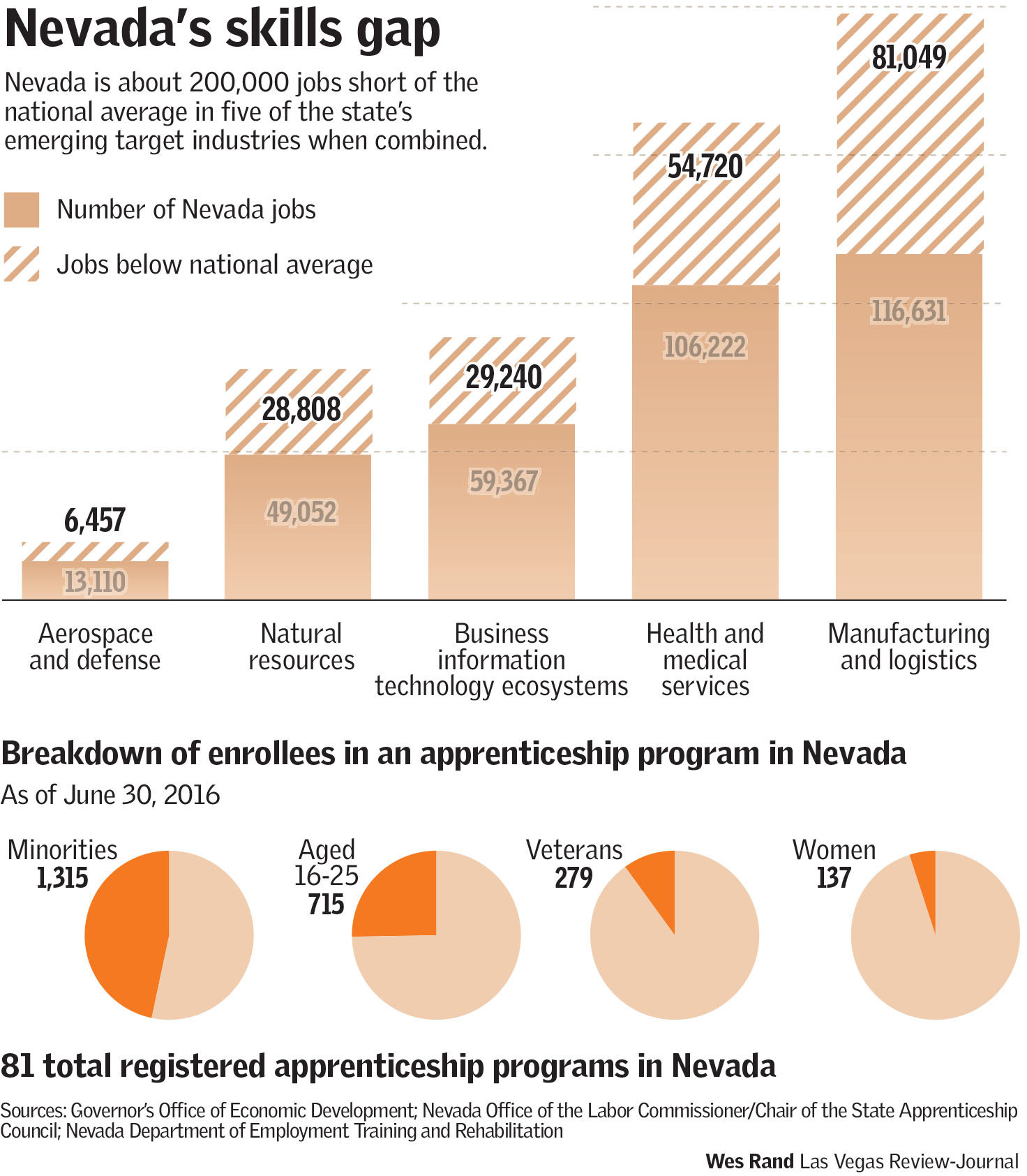 Startup costs
Lamarre did not provide an estimated startup cost for a new Nevada employer to create an apprenticeship program. A November 2016 study from the U.S. Department of Commerce found the average cost per apprentice was about $59,700 for a New Hampshire-based academic medical center Dartmouth-Hitchcock. The study found that the program "nearly paid for itself within the first year and had an internal rate of return of at least 40 percent."
A 2009 study in Canada found that for ever dollar an employer invests in apprentices, they get $1.47 back, on average.
Interested?
To learn more about either becoming an employer registered apprenticeship program, or about becoming an apprentice visit http://gov.nv.gov/OWINN/