Nevada ready to boost drone industry to next levels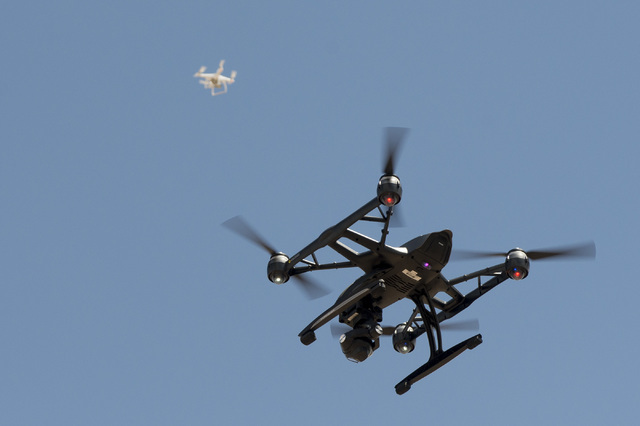 Nevada is at the forefront of pushing the national unmanned aircraft system or drone industry forward.
"We view all the UAS test sites as equals," a Federal Aviation Administration spokesman said. "However, Nevada has one distinction: It's the only site to have the ability to certify unmanned aircraft as an FAA designated airworthiness representative."
Nevada's FAA test site designation is giving state drone-industry players a boost to develop the industry to its limits.
"We probably think about economic development at a more grass-roots perspective than the other test sites do," said Chris Walach, director of operations for unmanned aviation at the Nevada Institute of Autonomous Systems, which works with the governor's economic development office and acts as a clearinghouse for drone-related business opportunities.
Although other test sites are focusing on research and development, the Nevada institute is focusing on growing the drone industry in the state through small businesses, as well as research and development, he said.
"Our intent is to embed way beyond how the test site designation maybe was envisioned," Walach said. "This could be a new bicycle that we're trying to develop an industry around."
And Nevada could use "a new bicycle." The mantra in the state has been diversification, diversification, diversification for at least two decades.
A robust drone industry in Nevada would mean billions of dollars, a new manufacturing sector and solid jobs.
But it's a lengthy and nebulous process to erect an entire drone industry from scratch. For one thing, the industry can develop only at the rate set by the FAA, which is working to develop an air traffic control system that incorporates unmanned aircraft, as well as to create proper licensure for hobbyists and commercial operators.
The FAA completed a regulation June 21, known as the Part 107 rules for small drones, that will make it easier for people to operate them for commercial use.
"As it stands, there are a couple of different things that you need to use a drone for business (purposes)," said William O'Donnell, vice president of technology at AviSight, a Las Vegas-based aerospace and remote sensing services company. "You need a 333 exemption — those are issued by the FAA. And once you get your 333 exemption, you need to still be a pilot. In other words, you need to be able to fly a real airplane in order to fly a drone."
Getting a pilot's license can be costly; at best, a sport pilot license requires 20 hours of manned aircraft training time and comes with about a $10,000 price tag.
The Part 107 rule goes into effect in August and will knock down "a huge barrier to entry," allowing a commercial drone operator to take an exam to become certified, O'Donnell said.
"We have the capabilities here in the state, we have the types of people who want to push an industry. And if people are getting their training here, they can open their businesses here and really push the state in becoming the best out there in terms of commercial drone activity," O'Donnell said.
The foundation to reap the benefits of the industry is already here, Walach said.
AviSight, for example, is just 8 months old, and its leaders are seeing a growing number of companies offering similar service.
"At the end of the day, it's really about the data or video you're using, and the drone is really a vehicle to get that work done," said Mike Frechette, AviSight co-founder and principal. "The industry has really started to take an upturn, and we're starting to see a lot of new growth and new companies coming to Nevada to help support the industry."
Researchers at the Desert Research Institute and UNLV's College of Engineering faculty are already devoted to studying applications for unmanned systems.
"Currently I am working on two drone-related projects," UNLV engineering professor Woosoon Yim said via email. One of which entails developing plug-and-play interchangeable sensors and measuring devices for drones, including a "radiation sensor for simultaneous neutron measurements and gamma-ray spectroscopy, a chemical sensor for measurements of vapors in air, and a miniature manipulator."
Nevada has everything it needs to become the "global location of choice" for the drone industry, Walach said.
"We have the education structure, we have the knowledge set, we have the skills, we have the industry base and the resources to do, really whatever we want to do, to become the thought leader in the global (unmanned aircraft system) industry," he said.
Contact Nicole Raz at nraz@reviewjournal.com or 702-380-4512. Find @JournalistNikki on Twitter.
RELATED
Drone use in Nevada may grow with changes in regulation
Nevada, five other states gain new designation for drone flights
Nevada's drone industry taking tentative first steps