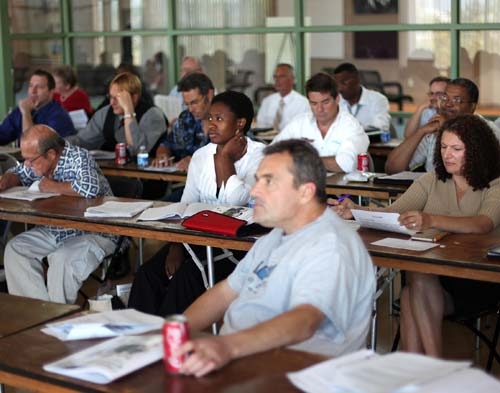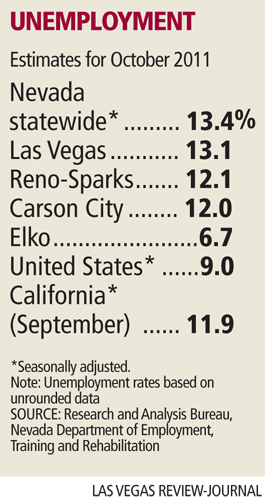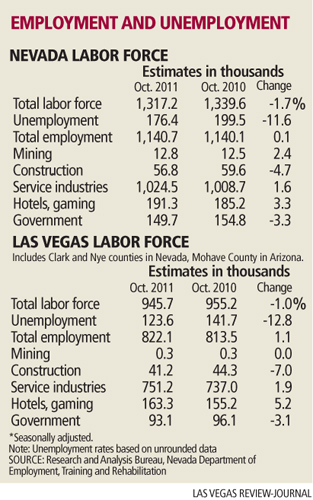 Looks like Nevada's recession ended in September 2010.
But we're betting it doesn't feel that way to you.
You're not imagining things: The latest numbers from the state Department of Employment, Training and Rehabilitation show a positively anemic "recovery" since the state's jobs market bottomed out last fall. In fact, it's the worst rebound in recent history, with growth handily lagging job-formation rates after recessions in 1982, 1991 and 2001.
That barely there economic expansion is why Nevada's unemployment rate stayed the same for the third straight month in October, coming in at a nation-leading 13.4 percent, the employment department reported Monday. In Las Vegas, where jobless rates aren't seasonally adjusted, unemployment fell from 13.6 percent to 13.1 percent as teachers returned to work and businesses began hiring for the holiday sales rush.
In all, nearly 177,000 Nevadans, including nearly 125,000 Las Vegans, were looking for work in October.
Bill Anderson, chief economist with the employment department, blamed Nevada's weak pulse on two factors.
First, the global recession took aim at the heart of Nevada's economy, hitting residential construction, commercial development and discretionary spending especially hard. Those areas have yet to recover; Nevada had just under 57,000 construction workers in October, down from around 145,000 at the 2006 market peak. Construction now accounts for just 5 percent of the local economy, right at the national average but down from 12.5 percent prior to the recession.
A sluggish national economy also continues to hurt Nevada. With nationwide employment stuck at roughly 9 percent for the better part of a year, there's simply not enough broad growth to encourage optional spending on travel and other nonessentials, Anderson added.
"This downturn affected our biggest drivers, and we took a hard hit," Anderson said.
Bright spot: new businesses opening
How hard? Consider some history.
Nevada employers have added 13,900 jobs in the 13 months since the jobs market hit bottom, for a 1.3 percent job-formation rate.
Compare that to the aftermath of the terrorist attacks of Sept. 11, 2001, when hotel-casinos slashed staff to match a steep downturn in travel. In the 13 months following 9/11, employment in Nevada jumped by 38,000 jobs, or 3.7 percent. After the recession of 1991, payrolls grew by 22,000, and after the 1981 recession, jobs grew by 21,300.
The economy won't stay down forever, though.
Business filings at the Secretary of State's office have risen for 11 of the past 12 months, while the number of businesses contributing to unemployment insurance increased by 304 in the third quarter, to nearly 56,400. That was the first year-over-year gain in nearly three years. And where there's new business, job growth eventually follows.
What's more, leisure and hospitality added nearly 15,000 jobs in the last year. The combined category of education and health services added roughly 6 percent to its job base, and employment among professional and business services such as accounting firms and advertising agencies grew by more than 5 percent.
The economic damage is now contained enough that some experts talk about core employment, which isolates the underperforming construction and government sectors and evaluates overall job formation without those two laggards.
Local core employment is up nearly 17,000 jobs year over year, said Brian Gordon, principal of Las Vegas research firm Applied Analysis.
"That suggests there are some bright spots in the local economy, and some areas are showing improvement," Gordon said. "It's not necessarily enough to correct for the sluggish construction sector, but nonetheless, we're moving in a positive direction."
building workers might need to retrain
Actually, there's little that can correct for construction in the near term. It's highly unlikely that all 80,000 building jobs lost across Nevada in the downturn will come back, particularly in the next one to two years, said Steve Hill, a long-time local construction executive who recently took over Gov. Brian Sandoval's Office of Economic Development.
"We're not going to see those kinds of booms again, and I don't think we want to," Hill said. "The economy has shifted, and that shift is relatively permanent."
Some construction workers are already leaving the state for opportunities elsewhere, Gordon noted.
For those who stay, though, Hill said the state is working on bringing new industries. The Governor's Office of Economic Development recently released a 180-page diversification report highlighting seven growth areas for the Nevada economy.
Sectors including manufacturing and logistics and distribution could be a natural fit for many construction workers, Hill said. Building workers may also need to acquire new skills, or be willing to move: There are mining companies and factories in Northern Nevada looking to hire hundreds of people each, Hill noted.
room for growth in health sector
Nevada is also underserved in the health sector, Hill said, with about 48,000 fewer jobs than it would have if its medical industry met the national average for economic penetration. Aerospace and defense and information technology are other sectors on which Hill's office will focus.
"There's some real opportunity there if people are looking for a field to pursue where, if they get an education, they could actually get a job," Hill said. "The study, and our state plan that will be out in a few months, are not only for economic-development professionals to work with, but they're also a road map for the citizens of the state. '
"I don't think people are sitting around waiting for something to fall into their lap, but I do think it's important that people look at whether they have different aptitudes they could apply to some fields growing in the state," Hill said.
Contact reporter Jennifer Robison at jrobison@reviewjournal.com or 702-380-4512.