Nevadan at Work: Career in industrial real estate shows big picture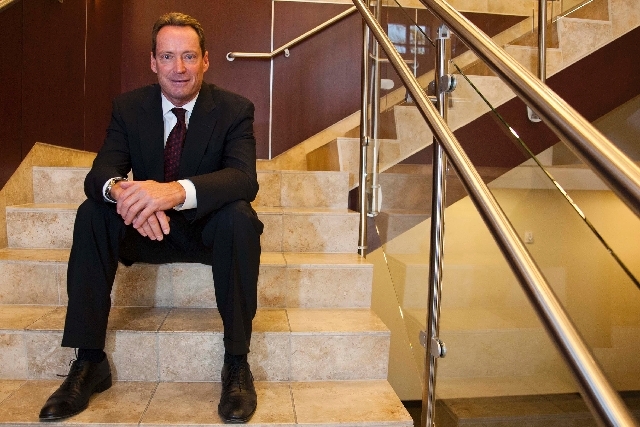 As regional director for EJM Development Co., Kirk Boylston oversees the privately owned company's development activity in Southern Nevada.
The largest of those projects is The Arroyo, a 450-acre master-planned, mixed-use development along the north and south sides of Interstate 215 between Rainbow Boulevard and Buffalo Drive.
The project includes retail, office and industrial buildings. Boylston said The Arroyo has a layout and design that sets it apart from similar projects in Southern Nevada.
"Approximately 225 acres, or 3.5 million square feet, of office, industrial and retail space has been developed," Boylston said. "We were able to create a master plan for the property where there is a central component with retail. The office and industrial is all adjacent. All of our signage, landscaping, center medians and wide streets is designed to tie everything together so it all functions."
While his day job is running EJM's local business, his second job with NAIOP Southern Nevada gives Boylston a chance to represent his industry to a wider business world. In March, he was named president of NAIOP Southern Nevada for 2013.
He also was appointed to the organization's corporate board. The group has 350 Southern Nevada members and 15,000 nationwide.
NAIOP is the leading organization for developers, owners and related professionals in office, industrial, retail and mixed-use real estate.
Question: The Nevada Legislature recently wrapping up its 2013 session. Did any specific legislation worry NAIOP Southern Nevada?
Answer: Not really. The main thing we were concerned about as an organization is that lawmakers make sure that with whatever bills they approve Nevada retains its position as a low-tax, business- friendly environment. It's a major focus of our organization.
Q: Why take on the presidency of NAIOP Southern Nevada?
A: Because NAIOP does a lot of things to support our industry. It's a lot of work, but its been rewarding. My role is to try and provide a direction for the organization, whether it is through initiatives or educational programs. I'm the face of the organization in Southern Nevada, meaning I attend a lot of organizational meetings, meet with lawmakers in Carson City and Washington, D.C., and promote our organization.
Q: Any regrets about taking the job?
A: No regrets. I'm good. It is very time-consuming, but it's a very worthwhile opportunity.
Q: Can you describe NAIOP's role in supporting education?
A: We have been doing a lot whether it's in-house or with the University of Nevada, Las Vegas. We've helped finance a mentoring program at UNLV's Lied Institute designed to introduce students to careers in real estate. We offer the Developing Leaders Institute that provides a series of educational sessions featuring a broad range of real estate disciplines, leadership training and networking sessions. We gather 20 young NAIOP Southern Nevada members (35 or younger) at a time. It's a leadership and business development program over four days of ongoing education. It's been really successful at creating leaders in the real estate community.
Q: There has been a lot of discussion in recent years about diversifying our economy. What role does NAIOP Southern Nevada play?
A: We can do a lot to promote Southern Nevada. We continue to do a lot of work with the Nevada Governor's Office of Economic Development in terms of recruiting companies. We're involved in bringing site selectors to Las Vegas and hosting them as they tour through the market. We have a lot to offer companies considering moving here. There are a lot of great things about Las Vegas that aren't gaming.
Q: How diversified is Southern Nevada's economy?
A: There is more diversity in the economy than most people realize because gaming and mining are so dominant. The diversity that is here is a bit muted but it's growing. The goal is to have the state's economy become diversified enough so that we don't have such a spiky economy.
Q: What brought you to Las Vegas?
A: I was working for EJM Development in Southern California when they asked me to move to Las Vegas in 2004 to work with Clark County on a master plan development. It's called The Arroyo. The project is 450 acres. Approximately 225 acres, or 3.5 million square feet of office, industrial and retail space has been developed. We were able to create a master plan for the property where there is a central component with retail. The office and industrial is all adjacent.
Q: What is the state of industrial real estate in the Las Vegas Valley?
A: In 2008 when we were in a frenzy here, the industrial space being built was for commercial and construction businesses. They were everyday businesses … that needed to store a portion of their (goods) out in a warehouse. It's the commercial base. We have a real lack of land that is available for industrial buildings, which will be a problem when the economy recovers.
Q: How do we correct the problem? Is Interstate 11 the answer?
A: We are not ready for it yet. If we could get Interstate 11 through (Southern Nevada) as part of a Phoenix to Canada interstate highway, we could become a huge logistics center. Today, we are not positioned properly for it. We are not positioned for the 450,000-square-foot user right now who is looking for a build-to-suit property. One thing we could do is designate land as industrial.
Q: Do you have any areas in mind?
A: The proposed Ivanpah Valley airport could be a source of industrial land in the future. (6,000 acres of federal land just off Interstate 15 some 32 miles south of Las Vegas between Jean and Primm is set aside for airport-related development.)
Q: While we are short of industrial space, what about office and retail?
A: There won't be demand for new office for quite a while. At the better properties, rents are still too low, meaning rents need to spike up to support building new Class A office space. It's back-filling all the available (retail) space. There have been a lot of new leases signed. As the economy recovers, more of the (desirable) space will be leased before filtering down to other types of retail.
Contact reporter Chris Sieroty at csieroty@reviewjournal.com or 702-477-3893. Follow @sierotyfeatures on Twitter.
VITAL STATISICS
Name: Kirk Boylston
Position: Regional director at EJM Development Co., and current president of NAIOP Southern Nevada
Age: 56
Family: Wife, Christie; son, Morgan
Education: Bachelor's degree, building construction and real estate from the University of Florida
Work History: Cabot, Cabot and Forbes, and Weyerhaeuser Mortgage Co. in Southern California, EJM Development in Las Vegas
Hobbies: Mountain biking, water sports and more mountain biking
Favorite Book: "Wave" by Sonali Deraniyagala
Hometown: Sarasota, Fla.
In Las Vegas since: 2004
EJM Development Co. is located at 7140 Dean Martin Drive, Suite 1200. The company can be reached at (702) 597-1852. NAIOP Southern Nevada is located at 1880 E. Warm Springs Road, Suite 100. They can be reached at (702) 798-7194.