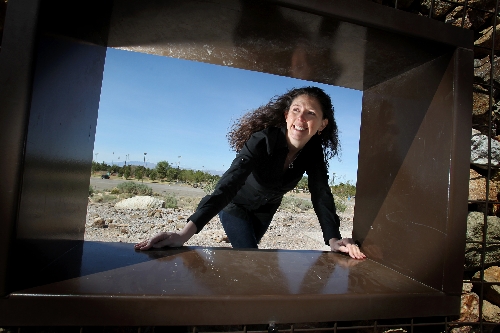 Mauricia Baca always knew her life would be centered on the outdoors.
Growing up in New York City, Baca spent many hours exploring Manhattan.
"One of my favorite things to do was to walk," Baca said. "I called them urban hikes."
Baca, 41, is executive director of the Outside Las Vegas Foundation, a nonprofit organization aiming to connect Southern Nevada residents with outdoor areas and public lands.
Baca became executive director in January 2010. She quickly became an expert on Southern Nevada's outdoors and the area's environmental issues.
The Las Vegas Valley has more than 600 miles of trails that have been branded as "Neon to Nature." Through the foundation's website, a person can locate a nearby trail. There is no excuse, she said, for remaining indoors.
"All you need is a pair of shoes," Baca said. "You have to pay money to join a gym."
Baca's love for the outdoors was manifested in summer jobs with the National Park Service while earning a degree in environmental studies at Vassar College. She earned a law degree from the City University Law School in New York.
She used both degrees as a trial attorney for the U.S. Department of Justice in Washington D.C.
Serving in the Wildlife and Marine Resources Section of the Environment and Natural Resources Division, Baca tried environmental law cases involving the Endangered Species Act, the Magnuson-Stevens Fishery Conservation and Management Act, the Migratory Bird Treaty Act, and the National Environmental Policy Act.
Baca moved to Nevada in 2005 and joined The Nature Conservancy in Reno. Her initial job was managing the Truckee River restoration project.
The move West was an eye-opener.
"On my first day on the job, we were working across from the Wild Horse Saloon, which is a brothel," Baca said. "I called my friends back home and told they wouldn't have believed the day I just had."
After a year in Reno, Baca went south to run the Nature Conservancy's efforts in Southern Nevada, including oversight and support of projects in Upper Las Vegas Wash, the Muddy River, the Mormon Mesa and the Spring Mountains.
Outside Las Vegas has a board of directors made up of business leaders and local government representatives.
As a New Yorker, Baca gained an appreciation of the outdoors by visiting Central Park. One of her goals in Las Vegas to help inner-city children experience the outdoors and Southern Nevada's trails system.
"That resonates with me," Baca said. "That's why it's important to emphasize the urban trails and the beautiful natural areas surrounding them. These kids may not be able to get to Red Rock, but they can get to local parks and local trails. You can have a nature experience even on local trails."
Question: Was your family supportive of your interests in the outdoors and the environment?
Answer: My parents were very encouraging. I spent a summer in Crater Lake National Park and I spent a couple of summers working in California in the eastern Sierra doing high alpine meadows restoration.
Question: What surprised you about the Las Vegas area?
Answer: There is so much more than just the Strip. If you're a visitor or a resident, you can get a phenomenal experience outdoors. Beyond Red Rock and the Lake Mead area there are miles and miles of trails throughout the valley. You can't find a concentration like this anywhere else in the country.
Question: What is the Outside Las Vegas Foundation's goal?
Answer: The idea behind the organization is to enjoy, value, and protect. We want to get people out there enjoying our natural resources, the parks and the trails. We want people to learn to value them. The next step is to protect them. I think of it as a way of creating community and building community through open spaces and trails.
Our board chairman (Howard Hughes Corp. executive Tom Warden) has said that in surveys, 89 percent of (Summerlin) residents list the trails as their favorite amenity. That shows it makes good business sense to develop trails within a community.
Question: What steps has the organization taken to promote outdoor activities?
Answer: We partnered with the Health District to inventory all the different trails. There are search functions on both our website and the Health District's to get as much information as possible to people.
The search engine on our website has very in-depth descriptions of the different trails so you get a nice flavor of what the hike will be like. This database is put together to make sure everybody has consistent information. Our former executive director walked all the trails during the inventory, and he lost 27 pounds in the process. He was like a poster child of what great exercise hiking provides.
Out next goal is to develop better signage for the trails, such as quarter-mile and half-mile markers so you have an idea how far you have walked.
Question: What more can be accomplished with Las Vegas' trails system?
Answer: It's really only been the past five years that there has been an explosion in the network of trails. Much of this was made possible by the efforts of the Southern Nevada Public Lands Management Act. Our goal now is to increase connectivity. We have all these trails established but we still don't have full connectivity between them. What we're looking at doing now is filling in those gaps.
Question: What efforts have you taken to expose inner-city children to the outdoors?
Answer: A lot of inner-city kids don't have much of an access to these areas. Studies have shown that kids who get a chance to get outside do better in school.
The Rainbow Dreams Academy (a Las Vegas charter school) approached us about how their kids don't have field trip opportunities. Our organization was able to take the fourth- and fifth-graders to the Springs Preserve. We also took them out to see Lake Mead. Next, we're taking them to Floyd Lamb State Park.
Contact reporter Howard Stutz at hstutz@reviewjournal.com or 702-477-3871. Follow @Howard Stutz on Twitter.
VITAL STATISTICS
Name: Mauricia Baca.
Age: 41
Position: Executive Director, Outside Las Vegas Foundation.
Family: Fiancé Roger Pettersson; part of the "team" for his daughter; two cats and a dog.
Education: Undergraduate degree in Environmental Studies from Vassar College; Law degree from City University of New York
Work history: Outside Las Vegas Foundation since January 2010; The Nature Conservancy from January 2005-09; U.S. Department of Justice, November 2000 to December 2004.
Hobbies: Hiking, biking, swimming, reading.
Favorite book: "House of the Spirits," by Isabel Allende.
Hometown: New York City.
In Las Vegas since: November 2006.
Quotable: "There is so much more than just the Strip. If you're a visitor or a resident, you can get a phenomenal experience outdoors. Beyond Red Rock and the Lake Mead area there are miles and miles of trails throughout the valley."
Outside Las Vegas Foundation is at 817 S. Main St. It can be reached at 702-715-0226.