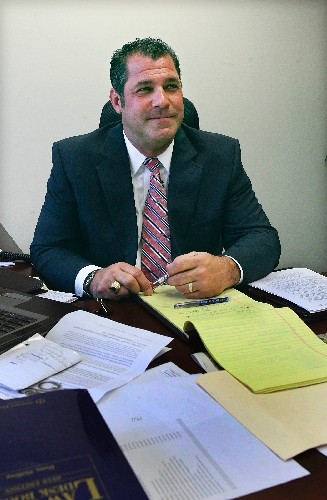 For lobbyist Sean Higgins, the 2011 Nevada Legislative session will be like déjà vu.
It's the second time in recent years that Higgins has lobbied a Legislature struggling to make up a huge shortfall and balance the budget.
In 2003, Higgins and his client did their part to help then-Gov. Kenny Guinn resolve a budget stalemate between people advocating for state programs and people advocating for low taxes.
Higgins learned how to play offense and defense long before he became a lawyer or lobbyist. He played as a lineman for Bishop Gorman High School and for one season at Claremont McKenna College in California before a leg injury ended his football career.
In addition to handling governmental affairs for law firm Gordon Silver, he owns two bars — Three Angry Wives Pub and Tomfoolery Pub & Eatery. If you are a longtime Las Vegan who frequents the bars, Higgins probably knows your name.
Question: This isn't the first time you've watched a Nevada legislative session decide whether to raise taxes or cut government. Didn't you represent the Herbst family businesses, which own a slot route, during the 2003 legislative session?
Answer: Yes. I came up with an agreement for a tax increase on slot machines. It's called compromise. Did they want to spend that money? No. But the fact of the matter is they were a business based in Nevada that understood that they needed to step up and help at that time.
Gov. Guinn was masterful. He got input from both sides. He got input from all the business leaders.
This time, the No. 1 issue is going to be the budget and how we're going to fix this shortfall, whether it is $1 billion or $3 billion. That shortfall is going to affect every single business in Nevada. If you can't compromise, you'll get a stalemate.
Question: How tough are the challenges for lawmakers this year?
Answer: We're facing an unprecedented hard time in the state of Nevada. Because of that, you've got to work harder.
It will probably make me unpopular with Republicans, but, with that kind of a deficit, I think that (taxes) might have to be part of the solution. I want to do what's best for residents of the state of Nevada.
Question: What would you like to see the Legislature do this year?
Answer: Let's put a budget process together that can sustain the state, not just for the next two years but for quite some time whereby we aren't coming back to fix the taxes every two to four years.
We should have a priority-based budget, which means you set priorities for expenditures. You budget it from top to bottom and some of the programs don't make it.
Question: How far back do you trace your roots in Las Vegas?
Answer: I was born in Chicago but my family has lived here since I was 5. My father (Dr. Gerald Higgins) still practices as an orthopedic surgeon. My nine brothers and sisters all grew up here and have called this home other than for college and law school. We all graduated from Bishop Gorman High School, as have at least 10 of my nieces and nephews. My children attend there as well.
Through my parents, I knew almost every person who ran a resort on the Strip. I have known Mr. (Jerry) Herbst since I was single digits, probably 6 or 7, and have played football with his sons all the way through high school.
When I got out of law school, they were one of my biggest clients. I did a lot of their licensing for their service stations throughout the valley. I appeared regularly before the Clark County Commission, Henderson and Las Vegas city councils. Their sons had a slot route. So I started appearing before the Gaming Control Board and commission. I started representing slot route operators in government affairs.
Question: Do lobbyists actually write legislation sometimes? Do lawmakers need the expertise of a lobbyist to deal with complicated business issues?
Answer: Sometimes lobbyists help with writing bills. There are many times that the legislators rely on the Legislative Counsel Bureau to draft bills on their behalf. On the national level in Washington, it's the same way. It's probably happened since the inception of the United States of America.
Question: May Southern Nevada get more representation in the state Legislature because of rapid population growth?
Answer: Yes. One of the issues that you've seen floating around is adding seats to the Assembly or the Senate. What you do is allow truly rural districts to remain rural. But the cons are you're adding costs to government. Some people will argue there's no reason to add those extra people and those extra costs.
Question: What is key to being a successful lobbyist?
Answer: Legislators and the other lobbyists you deal with have to trust you even if you're on the other side of an issue.
Contact reporter John G. Edwards at jedwards
@reviewjournal.com or 702-383-0420.
VITAL STATISTICS
Name: Sean Higgins
Age: 46
Occupation: Of counsel, Gordon Silver.
Quotable: "It will probably make me unpopular with Republicans, but with that kind of a deficit, I think that (taxes) might have to be part of the solution. I want to do what's best for residents of the state of Nevada."
Family: Wife, Lynn; children, Samantha and Connor.
Education: Graduate of Bishop Gorman High School in Las Vegas; bachelor's of business administration from Southern Methodist University in Dallas; Santa Clara University School of Law in California.
Work history: Associate counsel at Cohen, Lee & Johnson from 1990 to 1993; general counsel for Herbst Gaming Inc. and head of government affairs for gasoline retailer Terrible Herbst Inc. from 1993 to July 2010; of counsel at Gordon Silver since July.
Hobbies: Skiing, riding Harley-Davidson motorcycle, watching his children play soccer and football.
Favorite book: History books, including Shelby Foote's Civil War trilogy and "His Excellency: George Washington" by Joseph Ellis.
Hometown: Las Vegas.
In Las Vegas since: 1969.
Gordon Silver is at 3960 Howard Hughes Parkway and can be reached at 796-5555.