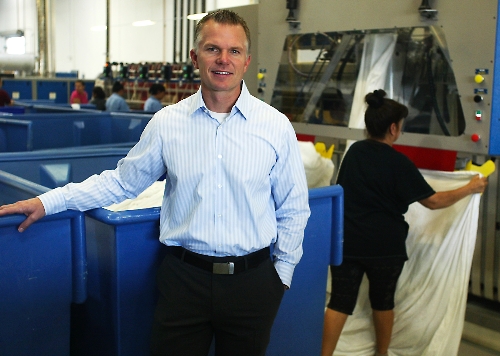 In 2008, when Travis Brady took over the full-line janitorial supply and commercial laundry services company his grandfather founded in 1947, he didn't know just how few family-owned businesses survive to be handed over to the third generation.
About 40 percent of U.S. family-owned businesses turn into second-generation businesses, but far fewer, about 13 percent, are passed down successfully to a third generation, according to Penn State professor William Rothwell, author of the book "Exit Right: A Guided Tour of Succession Planning for Families in Business Together."
"I literally don't remember my first day when I started working here," Brady said. "I grew up working in the warehouse, and making deliveries when I got my license. I've worked in a lot of different aspects within the company."
Brady Industries Inc. is not only a rarity in today's marketplace, but the privately held business is profitable and expanding organically and by acquisition.
"We anticipate continuing to expand," Brady said. "We opened in Reno in January. Any new markets will be based on opportunity."
Las Vegas-based Brady Industries began expanding outside the region in 1999 and into Phoenix; Salt Lake City; Farmington, N.M.; Albuquerque, N.M.; and Boise, Idaho.
In July, Brady Industries acquired the resort laundry division of Mission Industries for an undisclosed price.
With its acquisition, Brady Industries became one of the nation's largest resort laundry service providers, processing approximately 1 million pounds of laundry per day in its six Las Vegas facilities.
Mission Industries was merged into the company's Brady Linen Services division, which was started in 2000, the company said.
Brady doesn't expect to take his company public anytime soon. He said his grandfather Herman arrived in Las Vegas in 1933 to open and then manage a Safeway store where the Golden Nugget now sits in downtown Las Vegas.
"What happened is people kept coming in and asking him if they carried cleaning supplies," he said. "The grocery store just carried food. So after a while, my grandfather thought it made sense to open a janitorial supply store."
The company began 64 years ago as City Janitorial Supply, selling basic cleaning chemicals and soap. Over the years, as the janitorial supply industry grew, Brady said the company expanded to include paper products, equipment and cleaning tools.
Today, Brady Industries has branched into the commercial kitchen cleaning business and is a dealership for carpet cleaners and other products used to clean casinos.
Question: How has the recession affected Brady Industries?
Answer: We were affected like everyone was. However, our goods and services are pretty necessary to the operations of a hotel, so we've been pretty fortunate to be able to maintain those business relationships. In some cases, through the recession we've added clients.
Question: How has the recession changed they way you work with customers?
Answer: It's been an interesting process. We have certainly been engaged in helping our customers lower their costs while still providing service. There is still a need to clean and do laundry. But (we're) working with them to find economical ways of doing it. We'll pick up the dirty laundry every day, clean it and return it to them.
Question: When did demand for environmentally friendly products pick up?
Answer: About 25 years ago, we started launching a green program. We would pick up empty gallon containers from our clients and repurpose them. But where it started to become more widely adopted was probably five to seven years ago when customers were a little more receptive to it. There were many green (cleaning) products offered and it continued to grow.
Question: Are the margins getting narrower?
Answer: On the supply side, you usually don't have to sacrifice in terms of (cost) to switch to green products. And in many cases now you are able to save money and use more environmentally friendly products.
Question: Any green initiatives at Brady Industries?
Answer: We drive a lot of green initiatives on our linen side. It makes economic sense, in terms of reducing our water use and in terms of repurposing linen that is no longer usable. We'll take bath towels that have a stain or a hole and cut them to produce cleaning rags. Sheets that may have a hole in the corner, we can cut them and make pillowcases out of the parts that are still good. We have also reduced our water use from 2½ gallons per pound (of laundry) to under a gallon a pound.
Question: Why remain a private, family-owned company?
Answer: The company was started by my grandfather (Herman). For my father (Bill), that was his career. I've grown up in the business as well as my brother (Eric) and others in the family. We love the business. It's more than just a company. It's our identity. And we enjoy what we do.
Question: Are you preparing your children to be the fourth generation to run the family business?
Answer: They've all come down here and folded some towels and scrubbed some floors.
Question: Is there a benefit to being a family-owned company?
Answer: We view it as growing up in the culture of a family-run business. A business that is bigger today. We view that as a competitive advantage, in that we know our customers and they know us. It's a long-term relationship. We are not chasing a quarterly report. It's what makes sense over the long run. We are hoping to develop a lot of loyalty and trust with our customers.
Question: Why purchase Mission Industries during a recession?
Answer: Mission was a competitor. It was the right time for them. Sometimes it's not about when you want to buy them, it's when someone wants to sell. The acquisition will allow us to continue to grow on the linen supply side. Many of their customers were in longer-term contracts.
Question: Did you keep their facility open?
Answer: We kept the facilities open. We also merged the company's 855 employees into Brady Industries. Today, we have about 2,000 employees companywide. (Note: Mission is now part of Brady Linen, a division of Brady Industries.)
Contact reporter Chris Sieroty at csieroty@reviewjournal.com or 702-477-3893.
VITAL STATISTICS
Name: Travis Brady
Age: 41
Occupation: President and CEO of Brady Industries Inc.
Quotable: "There is still a need to clean and do laundry. But it's working with them to find economical ways of doing it. We'll pick up the dirty laundry every day, clean it and return it to them."
Family: Wife, Laura; daughter, Alison; sons, Ben and Jared.
Education: Clark High School, 1988; studied international relations at Brigham Young University.
Work history: Brady Industries Inc. started in 1993.
Hobbies: Mountain biking, cycling, and swimming.
Favorite Book: "Lone Survivor: The Eyewitness Account of Operation Redwing and the Lost Heroes of SEAL Team 10" by Marcus Luttrell and Patrick Robinson.
Hometown: Las Vegas.
In Las Vegas since: 1970.
Brady Industries Inc. corporate offices are at 7055 S. Lindell Road. They can be reached at 876-3990.