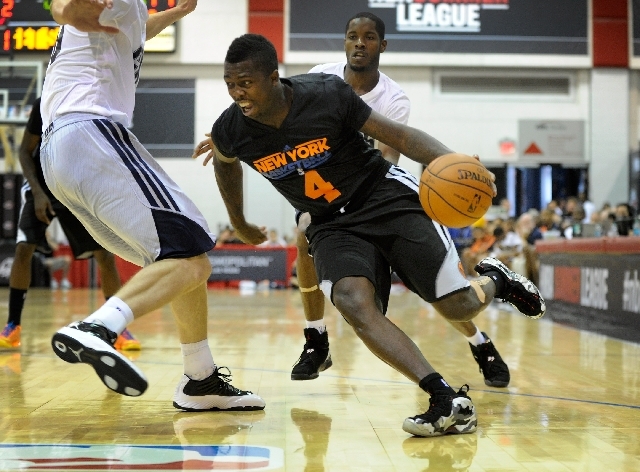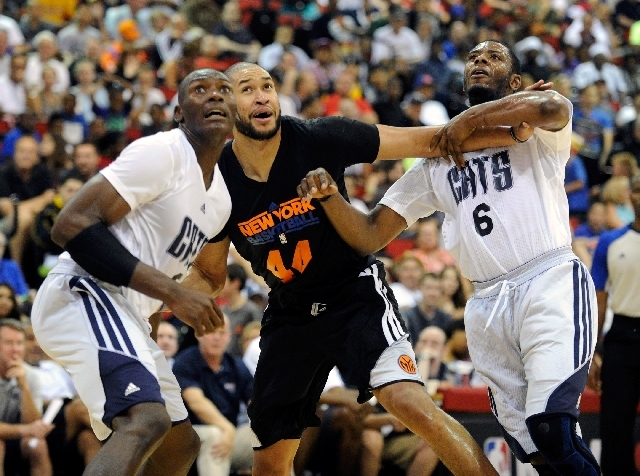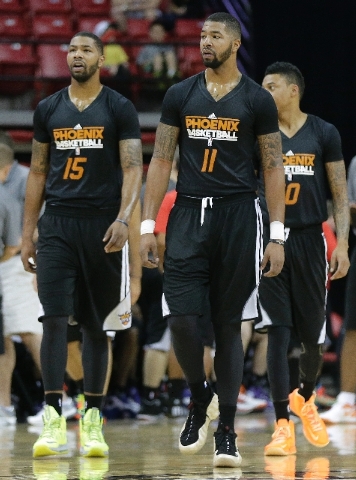 When it comes to critiquing fashion in the National Basketball Association, the ultimate source for commentary is Walt "Clyde" Frazier, the former New York Knicks great/stylish hoops fashion plate known to don a cheetah-themed sport jacket.
Frazier, 68, who is a Knicks broadcaster, was fascinated by the new V-neck T-shirt jerseys being worn by more than a half-dozen teams at this week's NBA Summer League at the University of Nevada, Las Vegas. The summer league is 22-team, 61-game basketball extravaganza that lasts until July 22.
As the NBA's jersey supplier, Adidas is using the NBA summer games to showcase its new uniform tops, which made their debut with the Golden State Warriors last season.
Roundball's Mr. Chic was split. On one hand, Frazier recalled he was a high school basketball player in Atlanta when he loved the look of T-shirt jerseys being worn by an opposing school. "As a fashion guy, I love things that are different."
On the other hand, he was concerned that if a player's T-shirt jersey got wet, it could be restrictive when he goes to shoot or grab a rebound.
The mixed review was reflected in the comments of players, past and present.
Consider the Hardaway family, for example. Tim Sr. was a high-scoring guard who played for the Golden State Warriors and Miami Heat. He's old school and prefers the traditional tank-top jersey.
"I don't like it at all," Hardaway said as the Knicks prepared to play Charlotte Monday afternoon. "It doesn't look good. I haven't tried it on but it look too tight."
Then, there's Tim Jr., a star player at the University of Michigan drafted by the Knicks. Junior Tim differed with dad, saying he liked the new Adidas jersey.
"I used it when I practicing in Michigan," Hardaway, Jr. said. "It felt good to me. It's no big deal. When I'm on the floor, there's no need to worry about the jersey."
Basketball fan Carlo Alimboyong from Australia, wearing an old-school Miami Heat jersey with Tim Hardaway's No. 10 on the back, agreed with the man whose name was on his jersey.
"The new jersey is too much. It restricts the shoulder movement," the Australian hoops fan said.
But some retired players, including former UNLV star Larry Johnson and former Knicks great Patrick Ewing, actually wore T-shirts underneath their tank-top jerseys. Both were at UNLV's Cox Pavilion for Monday's New York-Charlotte game. Johnson is a Knicks employee, while Ewing is an assistant coach with the Charlotte Bobcats.
Johnson had no problem with the V-neck shirt jersey.
"It looks good with the muscle guys and the flat bellies," Johnson said.
The changing uniform look is part of an evolving NBA, which is changing with the times, said Herb Williams, a Knicks assistant coach.
"Styles change. Uniforms change. Some players don't like the new jersey, but you can't worry about uniforms," Williams said. "The league is always changing and you have to change with it."
Contact reporter Alan Snel at asnel@reviewjournal.com or 702-387-5273.