Nightclubs looking for the next big thing to keep record-setting crowds coming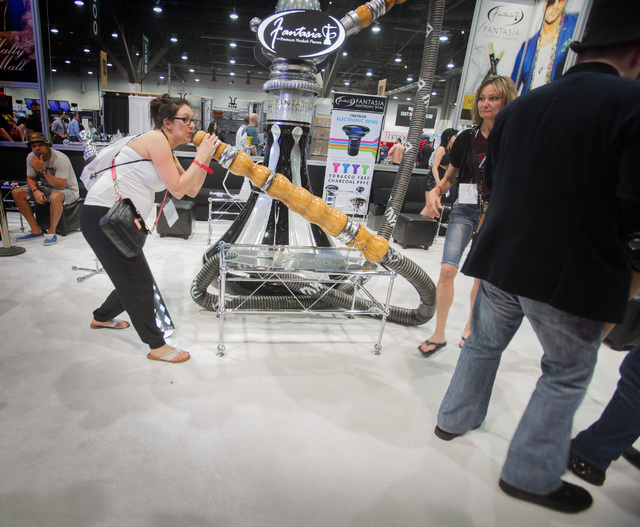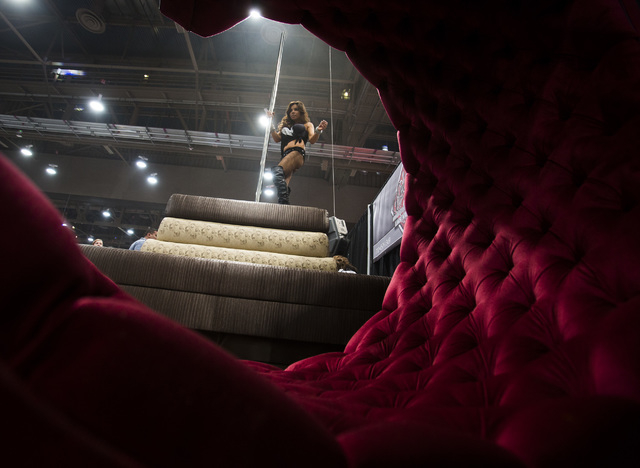 The next big thing is coming, Las Vegas.
At least, that's what nightlife guru Jon Taffer said while getting ready for his annual Nightclub & Bar Show to open in late March. During an interview with the Las Vegas Business Press, Taffer noted that nightlife operator Jesse Waits said that he has come up with the next big idea — he just has to implement it.
As co-owner and managing partner of XS and Tryst, Waits runs the top nightclub in Las Vegas. According to Nightclub & Bar's annual Top 100 list, XS brought in revenue of $90 million to $95 million last year.
"The fact of the matter is, there is a next concept," Taffer said.
In terms of the DJ craze in nightclubs, Taffer said that's not a sustainable model.
" 'Been there, done that' applies. I mean, how many times are people going to drive down from Southern California to see Tiesto?" Taffer said.
The popularity of DJs attracts a younger demographic to Las Vegas that doesn't necessarily gamble, creating issues for local gaming properties. Also, DJs are expensive — an unnamed Las Vegas superstar pulls in $20 million with a local club — more than a live band would make.
"They're unaffordable, and it's going to play out," Taffer said.
In 2013, 8 percent of Las Vegas visitors had been to a hotel nightclub that charged a cover fee, up from 5 percent in 2011, according to the Las Vegas Convention and Visitors Authority's annual visitor profile study.
Of the total, 33 percent of those polled said they'd been to a no-cover hotel bar or lounge, down from 41 percent in 2011. Only 1 percent of visitors polled had visited a dayclub in 2013.
There are about 225,000 independent bars across America, not counting the TGI Fridays and other chains,Taffer said.
"We're one of the largest employers in America," Taffer said.
Overall, the industry is doing better as people have gotten used to the new economy. The nation's top 100 nightlife venues brought in more than $1.5 billion in combined revenue last year. However, Taffer said there are major concerns about health care and how it's going to affect the industry in terms of cost and human resources.
Legal issues also tend to haunt the industry as ongoing legislative actions affect nightlife operators across the country.
"It's disturbing to me. Rarely does a congressman stand up and defend a liquor company. Rarely does a congressman stand up and defend a bar," Taffer said.
In terms of industry trends, design technologies have made it possible for people to enter the market and create new products at a lower cost than in the past, effectively lowering barriers to entry.
"The infusion of technology and social marketing to bar spaces is a big opportunity," Taffer said.
Venues, for instance, will be able to link their point-of-sale system to social marketing channels. Picture this: As soon as a customer comes in, the venue can search their name, then pull up their Facebook and Twitter accounts, all through the linking of POS systems to social media.
"Internet marketing has roots now," Taffer said.
And in lighting, it's all about LED.
"That simple little LED bulb changed the nightclub business with regard to effects lighting," Taffer said.
BAR BUZZ
This year the industry-only Nightclub & Bar Show was larger than in past years, taking up about 110,000 net square feet in the Las Vegas Convention Center's central hall.
New brands tried to snare the attention of industry movers and shakers.
Spirits such as Johnny Appleseed, a hard apple cider that will be on store shelves nationwide beginning April 7, are fighting for shelf space with already established brands such as Jack Daniels. In development since 2011, Johnny Appleseed Hard Apple Cider is the first wholly new brand from Anheuser-Busch in eight years.
"Cider is hotter than ever right now, and Johnny Appleseed is an exciting new entry to the category," said Adam Oakley, vice president of high-end at Anheuser-Busch.
The show featured Sweeet Seats, which offers toilet seat covers in designs such as leopard print and polka dots. Across the hall, MVPee's kitschy urinal screens drew a crowd.
Owner Robert Weinberg was at Nightclub & Bar selling $10 monthly subscriptions for two of his topical urinal screens. During the Olympics, he sold screens that featured a picture of Vladimir Putin with the words "show Putin some gold" and for St. Patrick's Day, he had one that said "support leprechaun rights."
"The show has been phenomenal. People keep coming up to me and saying this is the greatest thing since sliced bread," Weinberg said.
Booze Brothers Beverage, a local distribution company that sells the Las Vegas Distillery line, was exhibiting its three new mezcals and a premixed mimosa called My Mosa.
"The show's been great. We can't believe the support we're getting," employee Lisa Murray said.
With maybe one of the biggest crowds on the floor, Vapshot's vaporized spirits system offered a liquidless buzz.
It works like this: Grab a straw and wait while a bartender selects your shot, turns the vaporizer on, and fills an empty bottle with the misty substance. It's promptly capped and presented to you. Quickly after you uncap the bottle, stick in your straw and suck in the alcohol vapors.
Another busy booth was Shuttle Shots, frozen, glow-in-the-dark shots that made their debut on the first day of the show.
Meant to be frozen, the product comes in a soft tube with a glow stick attached to a side chamber. The glow stick doubles as a warm handle while you're drinking your frozen concoction. When it's gone, the stick can be turned into a souvenir bracelet.
Eddie Scott, CEO of Planet Party Cocktail Co., said the reception to his day-old product was unbelievable.
"We've sold out of almost everything we bought. We've been inundated almost the entire time and we're writing orders for 100-plus cases and feeling a bit overwhelmed at this point," Scott said.
Made with an orange wine, Shuttle Shots can be sold at almost any venue.