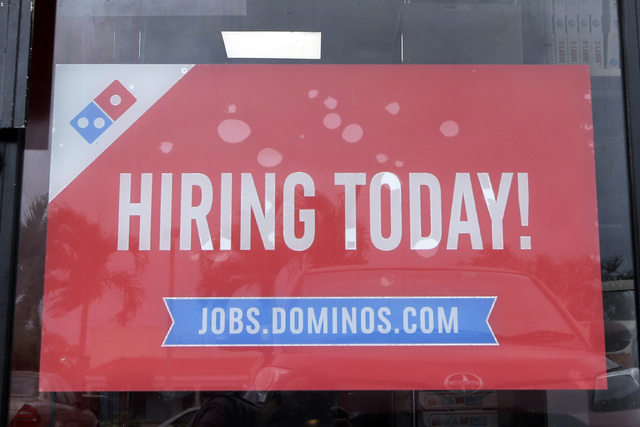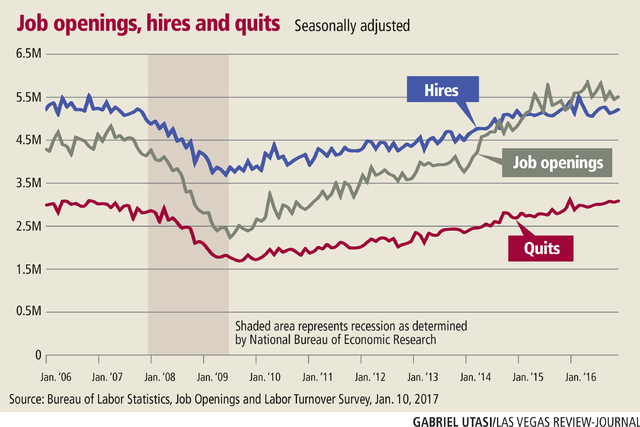 WASHINGTON — The number of open jobs was mostly unchanged in December from the previous month, leaving openings at a healthy level.
The Labor Department said Tuesday job openings were flat at 5.5 million in December. Total hiring rose slightly to 5.25 million, while the number of people quitting fell.
The figures suggest that December was a mostly stable month for the job market, with many employers possibly waiting until the new year to step up hiring.
Last week's jobs report showed that employers stepped up hiring in January, adding 227,000 jobs, the most in four months. The unemployment rate ticked up to 4.8 percent from 4.7 percent, but the increase was mostly for a good reason: More Americans began looking for work, but not all immediately found jobs.
Last week's jobs figure is a net gain after layoffs, quits and retirements are subtracted from overall hiring.
Tuesday's data comes from the Job Openings and Labor Turnover survey, or JOLTS, and are more detailed and provide a fuller view of the job market.
The number of available jobs has risen 4.2 percent in the past year, while total hiring in the JOLTS report has actually fallen in the past 12 months.
TROUBLE FINDING WORKERS?
That suggests businesses are having trouble finding the workers they need to fill their open positions. Some companies, including many manufacturers, say that many job applicants don't have the skills they need.
Many economists, however, argue that companies may have to pay more to attract better applicants. They also may have to do more training of prospective employees.
Raising wages is the quickest way to fill open positions, said Stephen Miller, professor and director of UNLV's center for business and economic research. To beef up job training programs within the company means more time till a position is filled, but it creates a long-term solution to openings.
"That position won't be filled tomorrow," Miller said. "Training can take a year or even two years."
Job openings fell in construction, financial services, restaurants and hotels and in state and local government, according to the report. They rose in manufacturing and retail trade.
WAGES SLIP IN JANUARY
The rising number of openings in the past 12 months could force employers to offer bigger paychecks. Average hourly wages rose at a healthy pace in December from the previous year, then slipped back in January.
Locally, disappointing wage growth shows the valley is still shaking off effects of the recession, said John Restrepo of research firm RCG Economics.
While a factory for electric car-maker Tesla has given the Reno area a boost, Las Vegas still needs a spark to help diversify the economy from just service jobs and gaming, he said.
Manufacturing businesses, while increasingly rely more on machines and humans, do provide strong wages for those they employ, Restrepo said.
"It might be easiest for us to diversify within the resort industry," he said. "I want to hear more about things like slot machine manufacturing, set design and equipment."
Review-Journal writer Wade Tyler Millward contributed to this report.