NV Energy installs first 'smart meters' in homes
September 28, 2010 - 11:00 pm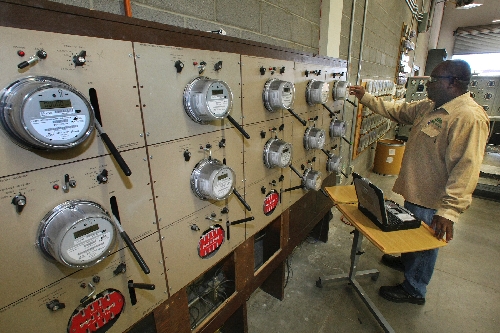 NV Energy has taken a major step toward changing how its customers receive and respond to their power bills.
The electric utility on Tuesday installed the first meters in its $301 million Advanced Service Delivery program, an initiative that will swap out all of the company's 1.45 million meters with digital "smart meters" by 2012. Tuesday's installations were part of a 10,000-meter pilot program that will run through the first quarter.
"This is the foundational infrastructure that's really going to help customers, if they choose to participate, take ownership of their energy usage," said Gary Smith, NV Energy's project director of smart-grid technologies.
For now, customers with smart meters won't see any difference in their service, Smith said, except that they'll be able to better read their meters, because the devices have digital numbers rather than dials.
But eventually, Advanced Service Delivery will enable two-way communication between NV Energy and the meters, so the utility can offer enhanced billing that lets customers measure hourly power use, rather than the monthly consumption levels they see on their current bills. Details on use will be available via NV Energy's Web site, through e-mails, from text messages or even by calling the utility's customer-service center.
Ratepayers could simply use the data to keep themselves informed about their power consumption, or they could sign up for optional peak-pricing plans that give them price breaks for shifting electricity use to less-expensive hours.
It could be a while before those dynamic-pricing programs are broadly available, though.
Here's how the rollout will proceed: The 10,000 pilot installations that began Tuesday will wrap up by Nov. 1. An expanded pilot will launch in April, when the utility will deploy another 120,000 meters. If everything checks out after that larger trial, the utility will deliver the rest of the devices by the first quarter of 2012, when every residence and business in Southern Nevada is scheduled to have smart meters.
The peak-pricing trials won't begin until the Public Utilities Commission of Nevada holds hearings to set the peak rates the utility can charge. Those sessions should happen by the end of 2010. Smith said NV Energy hopes to have dynamic rates in place by March; the company will then recruit 16,000 ratepayers statewide to participate in dynamic-pricing tests, which would begin by January 2012.
So how do you know if you're in the pilot launch that began Tuesday?
If your address lies within pilot boundaries, you should receive a letter about a month in advance notifying you of the meter swap. You'll receive an automated phone call reminding you of the change roughly five days before installation. And an installer will come to your door the day of the changeover to let you know he's about to place a smart meter.
For homeowners who are out when the smart-meter crew stops by, installers will leave welcome kits explaining the new devices.
As early as next week, NV Energy plans to begin customer-satisfaction surveys to make sure ratepayers who have the new meters don't have concerns about the devices.
For now, meters aren't available to ratepayers outside the pilot areas. Nor can ratepayers within the trial regions opt out of the deployment.
For a map of installation areas, visit nvenergy.com/asd, click on the "when will I get my meter" option and type in your address. If your location pops up in a shaded area, you'll be included in the current rollout.
Smart meters have proved controversial in some states, including California, Texas and Connecticut. Consumers have complained about inaccurate meters and spiking power bills, and some jurisdictions, including Hawaii and Maryland, have given up smart meters altogether.
But NV Energy gained approval for Advanced Service Delivery after it presented the state Public Utilities Commission with a launch plan that involves a slow phase-in, with small pilot programs to start and safeguards in several key areas.
NV Energy has already installed heavy firewalls and tested its communications system for security and privacy, Smith said. The utility is testing its smart meters beyond the quality-control checks performed at the manufacturing plants that made the devices, and it's given sample meters to the University of Nevada, Reno's engineering school for independent analysis. The utility will continue to manually read the meters through the end of the year to ensure they work properly before they're linked to the utility's billing systems. If pilot customers' power bills differ more than 1 percent to 2 percent from comparable invoices a month or a year earlier, the company will flag those bills and look into what's behind the higher expense.
Still, the Public Utilities Commission said in its July order approving Advanced Service Delivery that it will carefully watch the plan's rollout.
"While the commission does accept the ASD proposal with the conditions and the compliance terms specified in the order, the commission will certainly hold the companies to a high standard regarding the execution of the program in order to ensure the potential benefits are realized, and that these benefits flow to the company's customers in a manner that is equitable and commensurate with the risk involved in this endeavor," wrote commission Chairman Sam Thompson.
Nevada Consumer Advocate Eric Witkoski asked the commission in June to limit Advanced Service Delivery's trial to a smaller group, and to have the utility run tests for a year before replacing all of its meters. He didn't comment Tuesday on how his agency would observe smart-meter installations going forward.
Federal stimulus funds are covering $138 million of Advanced Service Delivery's costs.
NV Energy officials want to remind the public that their installation contractors will come in trucks clearly marked with the NV Energy logo, and they'll carry badges identifying them as NV Energy vendors. Residents are welcome to watch the installation, but for safety reasons, they'll be asked to keep their distance while the crews are working. Installation should take about 15 minutes.
Contact reporter Jennifer Robison at jrobison@reviewjournal.com or 702-380-4512.