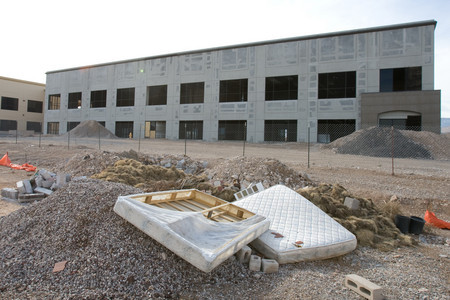 The number of "For Lease" banners hanging on office buildings in Las Vegas shows the worst-performing commercial real estate market in decades, bringing a halt to any new construction.
Fourth-quarter office vacancy rose to 22.5 percent on an inventory of 41.4 million square feet, while average asking rents dropped 13 cents from a year ago to $2.27 a square foot, Colliers International commercial brokerage in Las Vegas reported.
There were no new completions during the quarter and absorption, or the amount of space taken by office users, was negative 285,218 square feet.
"The fourth quarter has historically been weak, but the case here is the economy right now," Colliers office broker Tom Stilley said Monday. "Most of the major office users, the national companies, a lot of them are fearful of making a commitment to anything long term. They're kind of kicking the can down the road a little bit."
CB Richard Ellis brokerage reported similar trends for the fourth quarter, with vacancy at 23 percent, asking lease rates at $1.96 a foot and negative absorption of 310,683 square feet.
A significant amount of sublease space, or "shadow inventory" not captured by market statistics, could push vacancy 3 to 4 percentage points higher, CB Richard Ellis research and marketing manager Sara Dinwoodie noted in the report. The glut of sublease and new office space will hinder the Las Vegas office market for several years.
The office market expanded modestly with a 48,000-square-foot project, bringing total inventory to 49.5 million square feet at the end of the year, Las Vegas-based Applied Analysis reported. The 957,700 square feet of office space completed in 2009 was the lowest in six years and it's likely that much of the 414,800 square feet under construction will not be completed for several quarters.
John Restrepo, principal of Restrepo Consulting Group, said he expects office vacancy to climb well into 2011 because of a weak job market. He estimates a 4.1-year supply of office space.
"As we've repeatedly said, a lot of industry players ignored the warning signs of a speculative bubble that started in 2004," Restrepo said. "The result is a 22.3 percent direct office vacancy rate in the fourth quarter."
Stilley said it is a tenant's market, with short-term lease renewals accounting for most of the office transactions.
"Except for companies that really know what their plan is going forward," he said. "They're doing blend-and-extend deals. You give me a better deal today on the lease (rate) and I'll give you a longer term on the back end. Most of the deals are taking a while and there's not a lot of traction in the market with new blood."
The top lease transactions of the quarter were 48,000 square feet for BBSS at 10521 Jeffreys St.; 9,100 square feet for Weinberg, Wheeler, Hudgins, Gunn and Dial at 6385 S. Rainbow Blvd.; and 7,500 square feet for Gordon & Rees at 3770 Howard Hughes Parkway.
Employment in sectors traditionally associated with office space contracted for the fifth straight quarter. About 6,900 office jobs have been lost since November 2008, most of them in professional and business services. The bright spot has been health care and social assistance, which added 1,400 jobs during that period.
Contact reporter Hubble Smith at hsmith@reviewjournal.com or 702-383-0491.