Opportunity zone awards $1.85M in grants, creates 420 jobs
August 22, 2016 - 4:59 pm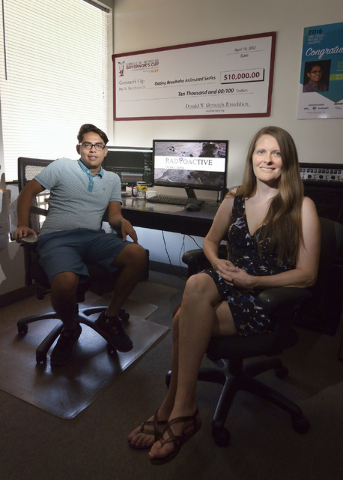 In a modest office on the second floor of a building off South Maryland Parkway and East Flamingo Road, a video production and marketing business is hard at work.
Lora Hendrickson, 35, and Enrique Villar-Mendez, 32, founded Radioactive Productions in 2012 after winning third place in a business competition.
A check that they won from that competition and other awards adorn a wall of their office.
For the past two years, the company, which specializes in video production, marketing and market research, has also been the recipient of a grant that revitalizes distressed areas of Las Vegas through investments in small businesses.
With those funds, Hendrickson said they were "able to purchase video equipment that helped us be more competitive in the marketplace."
Hendrickson said some clients want video projects done in the highest-definition quality, which requires an investment in equipment with those capabilities.
The duo, working with one employee and numerous freelancers, has completed more than 450 projects since the company's inception. The company has completed work for the National Park Service, Clark County and the Regional Transportation Commission, among others.
As of 2015, the Valley Center Opportunity Zone program, now in its 10th year, has awarded 129 grants totaling more than $1.85 million and created about 420 jobs, according to the nonprofit's president, Peter Guzman.
When it started in 2006, with a two-year budget of $1.5 million, it granted up to $50,000 to small businesses. Amid the recession, that budget was trimmed to roughly $450,000.
The program, a collaboration between the Las Vegas Urban and Latin Chambers of Commerce, now awards up to $15,000 in order to spread out the funds.
"As a board we shifted gears and kind of went toward helping current businesses keep their doors open, and a little funding helped with that," said Guzman, who is also president/CEO of the Las Vegas Latin Chamber of Commerce.
The grant money, administered by the state, targets areas in downtown Las Vegas, north and east of the city, and within North Las Vegas.
Applicants are required to submit a detailed business plan and cannot have outstanding federal or state tax liabilities. Businesses outside of those boundaries are still eligible as long as its clients are located primarily within the designated zone or if the business is willing to relocate into the zone.
In 2015, 14 businesses were funded and more than two dozen more applied.
In addition to funds, Villar-Mendez said the program has provided mentorship.
"Having somebody say to you, 'I believe in your business and here's a little money to make your business keep going,' it's amazing," said Villar-Mendez.
Ken Evans, president of the Las Vegas Urban Chamber of Commerce, said the grants have had a visible effect on the community.
"It has helped several dozen of our members to the tune of thousand of dollars in capital infusion that they desperately needed in order to grow their company," said Evans.
In the future, Evans added that it "may even make sense to expand the boundaries to include even more areas of the valley that may be socioeconomically challenged."
Contact Alexander S. Corey at acorey@reviewjournal.com or 702-383-0270. Find @acoreynews on Twitter.