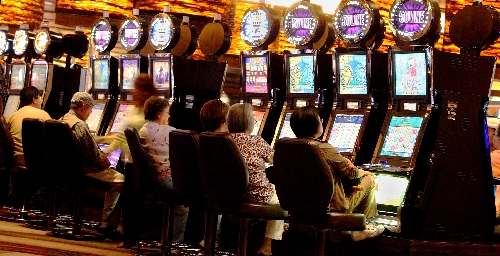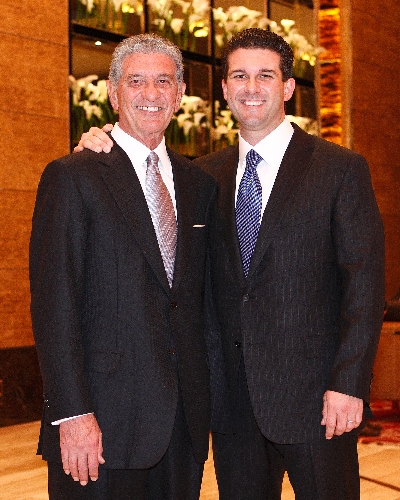 Two years after first expressing a desire to enter the Las Vegas gaming market, regional casino giant Penn National Gaming took its most significant step to date Friday toward achieving that goal.
The company acquired the bank debt covering the 19-month-old M Resort for $230.5 million, an initial maneuver toward taking control of the stylish 390-room hotel-casino.
In a statement, Wyomissing, Pa.-based Penn National said the acquisition included $160 million of subordinated debt formerly held by MGM Resorts International and the $700 million in debt from Bank of Scotland, a unit of Lloyds Banking Group.
In an interview Friday, Penn National Chief Operating Officer Tim Wilmott said the company had replaced the bank as M Resort's noteholder. He said talks with the Marnell family, equity holders in the resort, are expected to take place next week.
Penn National cannot assume ownership of M Resort until the company is licensed by Nevada gaming authorities, a process that could be accelerated since Penn National was licensed in June to own a 1 percent stake in a small slot machine company.
Wilmott was clear that Penn National intends to operate M Resort.
"We're not in the business of being creditors. We're in the business of operating casinos," Wilmott said.
Since 2008, Penn National has been linked to practically every rumored or potential casino deal on the Strip and in the locals market.
Following an aborted private equity buyout attempt, Penn National's balance sheet picked up some $1.48 billion in breakup fees. Company leaders said they were looking to land a casino address on the Strip.
Wilmott said the deal for M Resort doesn't mean the company is done window-shopping.
"We're not precluded from looking at other compelling opportunities that are presented to us," Wilmott said. "Long term, we still would like to be on the Strip. We have a belief that, long term, the Las Vegas market will come back and be vibrant once again."
M Resort, which was built by Anthony Marnell III and his family at a cost of $1 billion, is about 10 miles from the Strip. The property sits on a 93-acre site at the corner of Las Vegas Boulevard South and St. Rose Parkway.
M Resort has a 92,000-square-foot casino, nine restaurants and more than 60,000 square feet of meeting and conference space. M Resort's master plan includes the potential to develop up to 1 million square feet of retail and a multiscreen movie complex.
Wilmott said the company has looked at the property "for more than a year."
The Review-Journal reported in August that Blackstone Group, a global investment firm, solicited bids for $700 million in debt held by the bank. According to gaming sources, 12 companies, partnerships or individuals expressed interest in M Resort.
Marnell and his family, including his father, casino construction pioneer Tony Marnell Jr., in partnership with Los Angeles-based private equity firm Leonard Green & Partners, made an offer for the debt.
"Because they were bidding, we couldn't be in conversation with them," Wilmott said.
However, Wilmott commended the Marnells for creating and developing the property and an M Resort brand "that has grown in stature." He said the only negative surrounding M Resort was timing.
"They opened in a terrible market," Wilmott said. "They invested a billion dollars in capital during the worst recession to hit since the 1930s."
Marnell, late Friday, said he is looking forward to meeting with Penn executives and he's hopeful of remaining in control or having some involvement with M Resort, which he conceived and developed.
"The property has done exceptionally well through this economy," Marnell said. "The place is busy and it makes good money. The only problem it had was how much debt it was carrying. That's a problem everybody in this industry is having. I'm open-minded right now to see what they have to say."
Marnell said he had been hopeful "up until the final hours" Thursday that he and his partners would succeed in acquiring the bank debt.
"Let's just say the process concluded before we knew it would," Marnell said. "We were in the game until the last minute. I thought we would win it."
Penn National now hopes to capitalize on the acquisition.
In a statement, company Chief Executive Officer Peter Carlino said the acquisition removes the financial uncertainty and debt burden that hung over the property.
"M Resort is a unique, differentiated property that we expect will continue to improve its operating results even without the benefit of a rebound in the local Las Vegas economy," Carlino said.
The transaction was announced before the stock markets opened for trading. But Wall Street was quick to respond positively to the deal. Shares of Penn National, traded on the Nasdaq National Market, closed at $31.67, up 81 cents or 2.62 percent.
"While we have a cautious view of the Las Vegas market at present, we think the deal makes strategic sense for Penn," Wells Fargo Securities gaming analyst Carlo Santarelli said in a note to investors.
He added that Penn is buying a property that "will generate a solid cash on cash return of about 13 percent once its operating strategies are implemented and is buying a luxury-type asset in a destination market at a fraction of replacement cost."
Penn National operates racetracks and 17 casinos in U.S. cities other than Las Vegas and Atlantic City. The company opened a casino in Maryland at the end of September.
JP Morgan gaming analyst Joe Greff said the deal wasn't a "major positive" right away because of the depressed Las Vegas market. But he said Penn acquired "a nice asset."
"The acquisition gives Penn the ability to enter the Las Vegas market, diversify its portfolio and offer its database of regional customers an asset to visit in Las Vegas market," Greff said.
Carlino said Penn National would tap into its database of 12 million customers to boost visitation to M Resort.
Jefferies & Co. gaming analyst David Katz said the deal allows Penn National to enter the Las Vegas gaming market through a practically brand-new resort and at a price far below it what would have cost to build or remodel a facility.
"From the positive perspective, the purchase price is well below replacement cost, which implies a competitive advantage longer term." Katz said. "We also believe that the project does not require significant capital other than setup costs."
Contact reporter Howard Stutz at hstutz@reviewjournal.com or 702-477-3871.