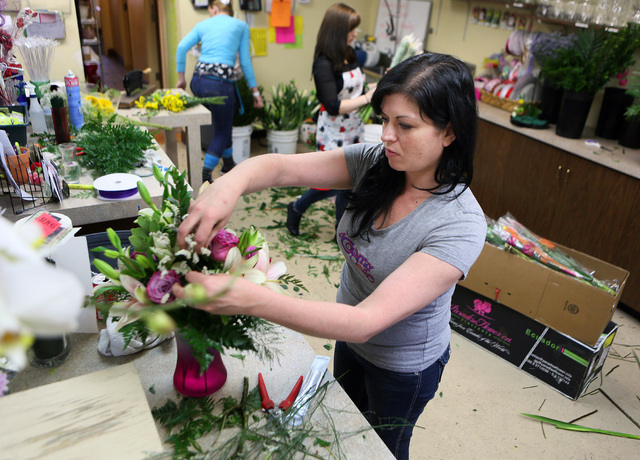 Valentine's Day is to flower shops what the Christmas shopping season is to many retailers.
For A Country Rose, a Henderson flower shop, as much as 20 percent of owner Nikki Hays' annual sales come during the holiday. That means hiring extra workers for the rush of orders and 48 hours of nonstop working for some of its employees just to prepare the flowers for delivery.
"It's like my Super Bowl," Hays said. "You got to do your best. It's a challenge, and you have to make sure everything gets done and everybody is happy. This is a big marketing time for me. I have a lot of people who have never used me before, and I can make a new customer for life if I make that person happy."
The preparation starts in December when vases are ordered and increases a week before the holiday when Hays starts bringing on additional staff.
The Society of American Florists reports that more than 233 million roses were produced for Valentine's Day in 2013, making it the busiest day of the year for florists. The National Retail Federation recent survey of consumers showed that 37 percent of consumers (61 percent of men and 15 percent of women) plan to buy flowers for Valentine's Day. Total spending for flowers is expected to be $1.9 billion, according to the National Retail Federation.
"It's a very last-minute holiday," Hays said. "We're here from Wednesday night, and some of us work 48 hours straight. This is go time for us. Mother's Day is busy, but it's spread out. It doesn't just come that Sunday. Valentine's Day comes on Valentine's Day."
Normally, the flower shop has four workers including herself, but by today, Hays will have 30 people. That includes 20 drivers making deliveries and extra help to prepare arrangements and work the counter. Some will earn as much as $12 an hour for their stints.
Hays said it's important to have a great team during the holiday. Many friends, some whose unemployment benefits have run out, relish the chance to make some extra cash, she said.
"They are either overqualified or underqualified and can't find the right position somewhere," Hays said. "I love being able to help them out."
One of Hay's Valentine week workers is Ron McClure, 53, a retired casino worker who is on disability. McClure said he is allowed to make some extra money monthly because he is on a fixed income. The income takes care of some needs, but the job of making deliveries has other rewards, he said.
"I look forward to doing this every year because part of what I love most about delivering flowers is the smile I see on women's faces," McClure said. "That makes the whole day. For me, that's what it's all about."
The extra staff is necessary when you do 100 times the business of a regular day, Hays said. Normally, the shop on Horizon Drive does 10 to 20 orders a day. Last year, the store had more than 400 orders for Valentine's Day, and this year, Hays said, it might surpass 600 and approach 700 orders.
"I'm huge into customer service, and we have to make customers happy. Valentine's Day is by far the toughest holiday. No offense, but males forget or they say she doesn't want flowers and then they get a phone call from their girlfriend or wife and say how so-and-so got this beautiful bouquet. Automatically, they feel like to have to spend something."
Lilies and roses are the flowers of choice, and the average person spends $100 to $150 on arrangements, Hays said.
Hays was a stay-at-home mom with her daughter, Sophia, in early 2010 when she eyed school or a career opportunity different from her previous Las Vegas work as a bartender and restaurant manager. Friends who owned the flower shop planned to close it down, and Hays decided to work in it and see whether that was a future business opportunity.
Hays said she always wanted her own business but never knew what it would be. She opened the store in May 2010, and the business has grown every year, she said.
"I loved this flower shop," Hays said. "I loved coming here for candles and home décor, and my husband sent flowers from here. I just felt this was my destiny. I had this artsy creative edge, but never got to utilize it except for my daughter's birthday parties or doing my friend's wedding. I felt right at home. I found my niche in life."
Hays said today will be chaotic with little time for rest. After working Wednesday through much of the night and Thursday all night with some of her staff, Hays said she might get a brief nap to help her through today.
That's the nature of the flower business because flower arrangements have to be prepared fresh, Hays said.
"I don't mind doing it," Hays said. "I have to come in on Saturday and do it all over again. When I leave at 2 p.m. on Saturday, I go to bed and don't get back up until Monday. It's crazy but worth it. It's what you have to do to survive in business, especially a small business."