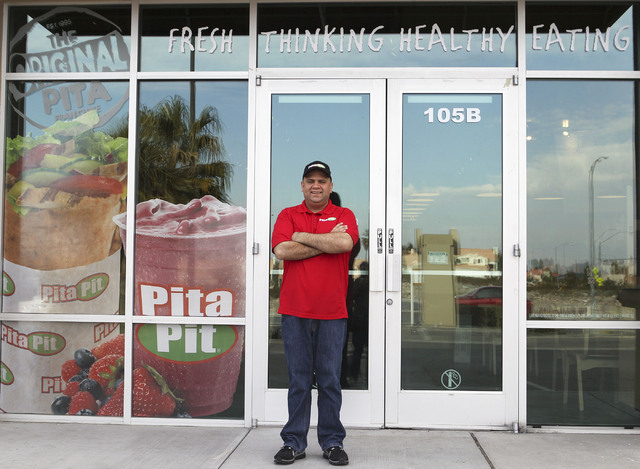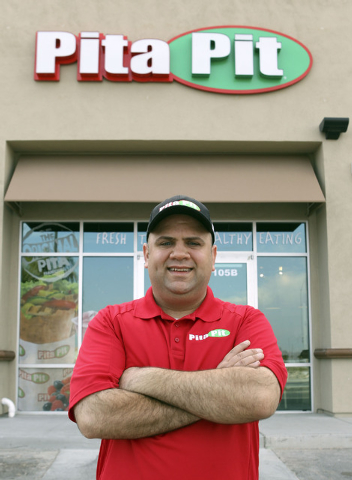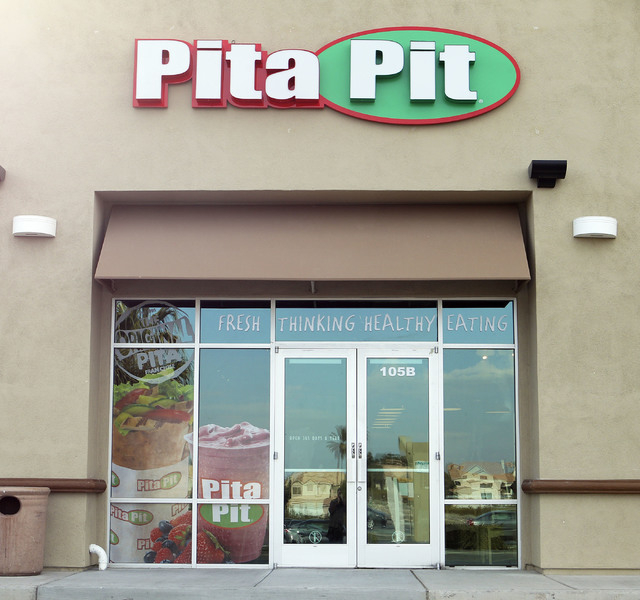 The year 2013 brought out a slew of new entrepreneurs, among them a few who wanted to open franchises in the Las Vegas area.
The most recent addition to that group is Paul Sergi, a man who's looking to open his first franchise, Pita Pit, on Jan. 2. Already, there's a Pita Pit across from UNLV at 4680 S. Maryland Parkway. Sergi's location is being built at 1263 E. Silverado Ranch Blvd., Suite 105B.
In early December, Sergi was dealing with the struggles of opening a business: issues with getting the power up and running, headaches having his Coke Freestyle machine installed.
"It is quite a process," Sergi said.
This is his first restaurant, but he said he's always been into food.
"Some people play sports or watch TV or whatever they do. In my free time I've always cooked or researched recipes. I've probably read more Women's Day or Redbook than most women in this world," Sergi said.
He attended culinary school at the University of Akron in Akron, Ohio, from 2009-2010 and worked as an assistant food and beverage manager at a local country club, a job he said he loved.
"A few months in and I was having the time of my life. It really solidified it in my mind that I made the right decision," Sergi said.
Formerly, he worked in an office setting. After his country club job, Sergi obtained his bachelor's degree at UNLV. He sought out a franchisor he could work with and landed on Pita Pit after a long selection process.
He's funding his new venture with personal money, and if his first restaurant does well Sergi said he would like to talk to corporate about a multi-unit deal.
From Pita Pit's website, franchisees need to have a net worth of around $250,000 and have $75,000 in some form of liquid investment or holding account. SBA applicants probably will need to inject 30 percent cash into their loan to promote immediate cash flow and reduce monthly expenses.
Pita Pit charges a standard royalty of 6 percent of gross revenue and a 1 percent marketing fee for the general advertising fund. The initial franchise fee is $25,000, $20,000 for qualified veterans.
Sergi is in the process of hiring 20 employees of about 55 total candidates. About 70 percent of those jobs will be full time. Most Pita Pits measure between 1,000 and 1,400 square feet. The product is focused on pitas of all flavors and styles, from chicken Caesar and buffalo chicken to Philly steak and tuna.
Other new franchisees aren't as far along.
In March, native Las Vegans Joseph Ruggeroli and Mike Kelesis signed a development agreement to open eight Moe's Southwest Grills in the Valley throughout the next five years. Their first store was slated to open by the end of summer.
That hasn't happened.
In an email, Ruggeroli said: "We have been very busy working to find the best location for our first Moe's restaurant. Despite the fact that my partner and I are both native Las Vegans, we have been challenged with a lack of brand recognition and the shortage of those prime locations in centers that do not have competing businesses already in place. Currently we are in negotiations for two locations in the Henderson-Green Valley areas of the Valley."
The eight locations are expected to cost the entrepreneurs roughly $6 million to open, Ruggeroli said in March.
In June, announcements came of magical bathrooms, homemade ice cream and princess pink chandeliers coming to the valley. Thus far, Sloan's Ice Cream hasn't been able to find a strong franchisee in the area to make a store a reality.
"We've got a lot of interest in Las Vegas, and we're talking to a few interested parties. We're still going through it," said David Wild, Sloan's director of franchising.
A portion of the company's nationwide franchise expansion was targeted at a few of Las Vegas' high-end retail centers. The chain was looking for a strong franchisee with knowledge of the market.
The right candidate has to come up with a startup cost between $100,000 and $300,000, with a total investment of $600,000 to $900,000 per location. The investment cost includes a mandatory four-week training, real estate deposits, working capital and inventory. If approved, Sloan's charges a 6 percent weekly royalty fee, 2 percent monthly advertising fee and a 1 percent weekly contribution to the marketing fund.
The company is estimating the Vegas area could support four or five shops.
Nationwide, franchising supports 8.2 million jobs. Of those, 184,000 were created in the past year. According to the International Franchise Association, only 31 percent of franchisees expect business to be better in 2014. In terms of franchisors, 89 percent expect sales to increase next year.
Contact reporter Laura Carroll at lcarroll@reviewjournal.com or 702-380-4588. Follow @lscvegas on Twitter.