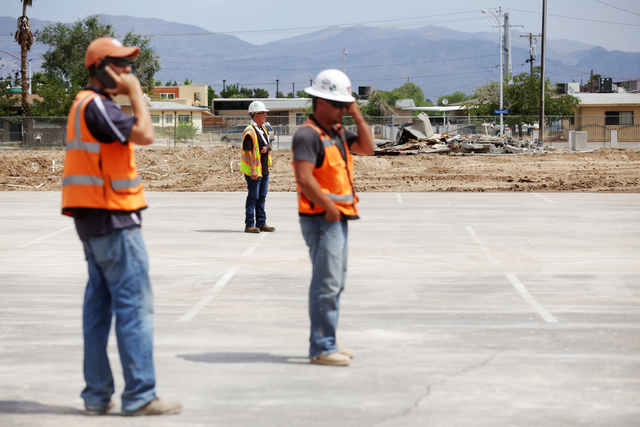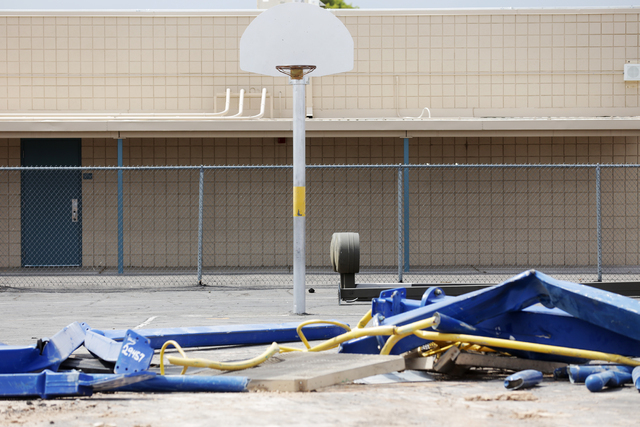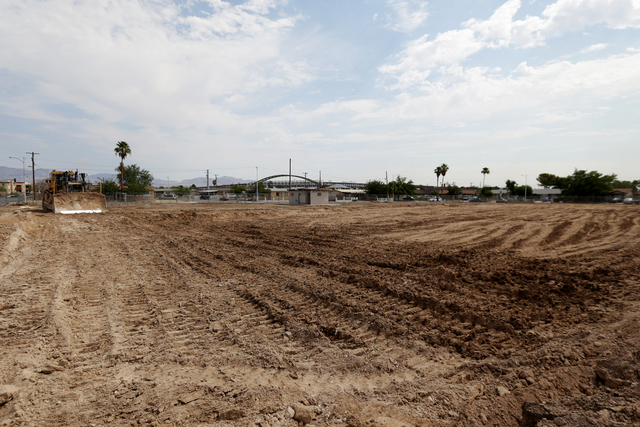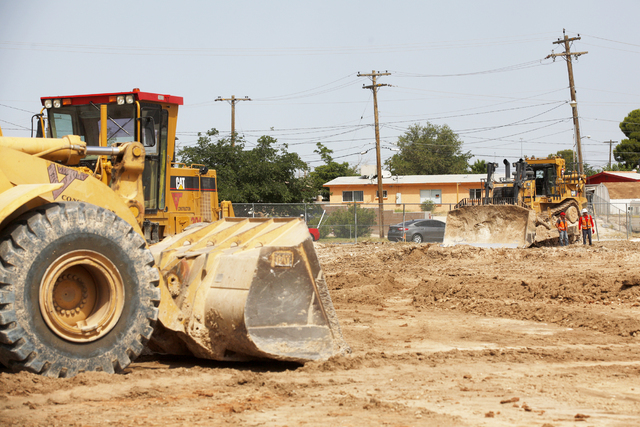 It's a busy time if you're a construction worker on a Clark County School District project.
The district has 11 major projects underway, including six new schools and two replacements, with a construction value of $253.3 million. Groundbreaking ceremonies with student performances, school officials and politicians have been a regular occurrence this spring and summer.
The projects couldn't come at a better time for the construction industry, which was hard hit by the Great Recession and had projects stalled or stopped. The industry is slowing recovering from its peak in early 2006, when it had 110,000 workers.
That fell to a low of 35,000 workers in early 2012, but has risen to 56,000 construction workers this year, UNLV economics professor Stephen Miller said.
The $253.3 million in spending is expected to generate about 1,087 full-time construction jobs and more than $73 million in income for those workers, RCG Economics principal John Restrepo said. When factoring in vendors for those projects that include everything from nails to concrete, that's 395 jobs with an income of $23.5 million, Restrepo said.
"It's great seeing eight groundbreakings within the last couple of months," said Ryan Cogley, project director for McCarthy Building Cos., contractor of a new $28.59 million elementary school at East Galleria Drive and Dave Wood Circle. "It's a positive for the community and the construction industry as a whole. It shows that as we climb out of this recession, we're on the right path for recovery within the valley."
MANY PROJECTS UNDERWAY
The McCarthy elementary project, which started in April, will take 14 months to complete, Cogley said. It will have about 100 workers a day on site.
Besides that project, Pace Contracting is building a new elementary school at Lamb Boulevard and Kell Lane for $23.6 million and one on Antelope Ridge and Desert Foothills drives for $26.9 million.
Core Construction Services is building two elementary schools at Chartan Avenue and Pioneer Way and Arville Street and Mesa Verde Lane for $28.8 million and $28.3 million, respectively.
Rafael Construction Inc. is building a new elementary school at Maule Avenue and Grand Canyon Drive for $24.1 million.
Three projects under construction include $16 million to Sletten Construction of Nevada for an addition to West Preparatory Academy Elementary; $14.7 million to Core Construction for classroom additions at Boulder City High School; and $5.7 million to Rafael Construction for the Sandy Valley gymnasium addition.
Martin-Harris Construction is replacing Bell and Lincoln elementary schools for $27.9 and $28.2 million, respectively. Martin-Harris President Guy Martin said it's the first project his company has done for the district in several years. "The Clark County School District has to be one of the top two or three build-and-hold developers in our state," Martin said. "When you see them start to build and starting to move forward, that moves the needle on many different levels. There are a lot of developers out there watching and seeing where money is being spent and how it's starting to move."
McCarthy, which has worked with the school district since 2006, has improved Clark and Valley high schools, renovated Burkholder Junior High and constructed Veterans Tribute Career & Technical Academy. Cogley said the new wave of construction is welcomed by contractors.
"It's very positive to have this going on and if you look around the rest of the valley, there's construction on roads and homes," Cogley said. "Everywhere you look, it's great to see because you wouldn't have seen that a few years ago." Restrepo said the projects' economic benefits go beyond the construction jobs and the business for vendors. In essence, every $1 spent on construction spending generates 55 cents in benefits, he said. The increased school spending reflects growth in the population and improvement in the economy, Restrepo said.
"All economic activity is good by its very nature," Restrepo said. "When the construction activity is gone, those economic benefits fade away, but they get replaced with operational benefits. With more schools in the district, you have to hire more teachers."
The new unnamed school projects and replacement schools are slated to be completed for the 2017 school year. Six additional elementary school projects that haven't started construction are planned for completion in 2018: Beltradea Avenue and Via Italia; Chapata and Casady Hollow avenues; Dean Martin Drive and Interstate 15; Farm Road and Jensen Street; Ford Avenue and Riley Street; and Spencer Street and Pyle Avenue.
Senate Bill 207, approved by the Nevada Legislature in 2015, allows the district to extend its general obligation bonds — and generate up to $4 billion in debt — at existing property tax rates through 2025. A year ago, district trustees OK'd issuing $500 million in new debt to pay for 12 new schools and two replacement schools with a focus on a booming part of the southwestern valley. "It's doesn't yet approach what has been done in the past," said Blake Cumbers, the district's assistant superintendent of facilities. "When they were building schools (before the recession), they would deliver as many as 12 a year. There was a long lapse where they didn't do any new schools."
CHOOSING CONTRACTORS
The school district has two methods for selecting contractors.
The first is design-bid-build, sometimes referred to as hard bid. In this method, the school district engages a design team to complete a design and construction documents. Once the documents are complete, bids based on those documents are solicited from pre-qualified general contractors, the district said.
The second method is construction manager at risk. In it, a general contractor is selected to provide preconstruction services during the project's design phase. After the design phase, bids are solicited from qualified subcontractors and the construction manager at risk's general contractor prepares a guaranteed maximum price for the owner to review and accept, the district said.
The new school sites are owned by the Clark County School District or leased from the Bureau of Land Management. Only the site at Maule and Grand Canyon in Summerlin was acquired through a purchase in recent years, Cumbers said.