Plastic surgery procedures spike during holidays
December 24, 2013 - 5:47 pm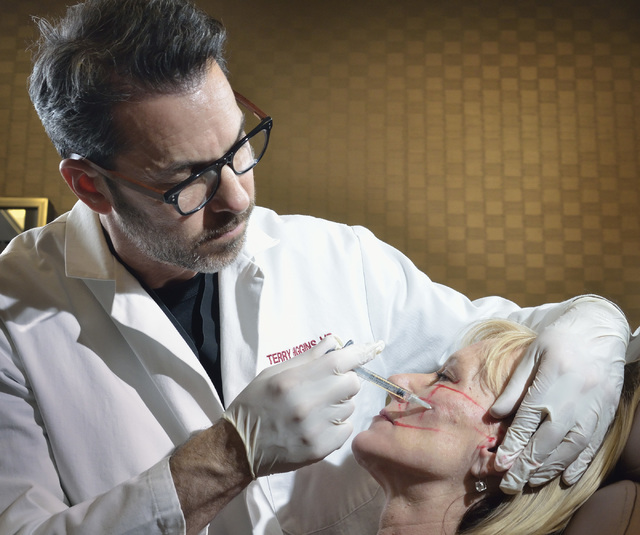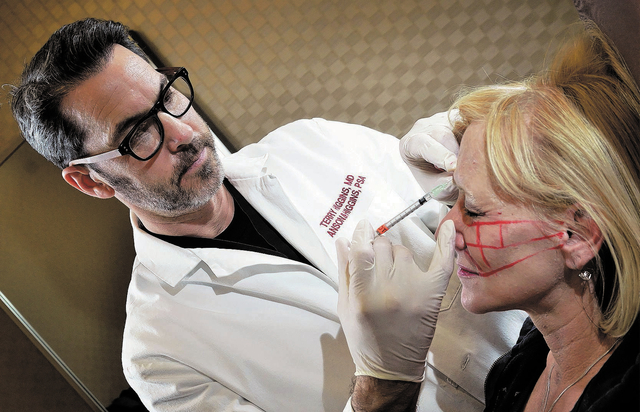 Think of the holiday season, and the last thing you'll probably feel is relaxed.
From the whirlwind of parties to the maelstrom of last-minute shopping to the tumult of family visits, December is one, giant storm of stress.
But when Henderson registered nurse LaRhonda Morris returns to work after Christmas, her colleagues might notice that she somehow looks — refreshed.
What's Morris' secret? A little help from the kinds of needles you won't find on Christmas trees.
Morris is part of a tidal wave of patients who flood local plastic surgery practices in December. Doctors across the Las Vegas
Valley report big jumps in procedures during the month, as patients use downtime to upgrade their look before the New Year.
Inside the Summerlin office of Dr. Michael Edwards, a plastic surgeon who's also president-elect of the Clark County Medical Society, procedures jump by up to 20 percent in the month. At Anson and Higgins Plastic Surgery Associates in Las Vegas, business spikes as much as 30 percent.
"People find themselves with a little more time off for recovery from surgical procedures," said Dr. Terry Higgins, a partner in Anson and Higgins. "It's also party season, when everyone's out and about and being seen more than normal. Or people may be seeing relatives they haven't seen for a while. They want to look their best, so they get noninvasive quick fixes that can help them look good rapidly."
Plus, people have a better read on their finances for the year, and might decide they have the discretionary income to go for it, Higgins said.
For Morris, it was about starting off 2014 on the right foot.
"Most people wait until after Jan. 1 to go on a diet or do other things to look great," she said. "I wanted to look as good as I could for the holidays, and look good when the New Year starts."
So Morris, who had milder acid peels a few years back, dropped in at Anson and Higgins the first week in December to get some fillers injected into her cheeks for volume. On Dec. 20, she went back for a strong phenol peel to erase fine lines under her eyes. Despite her "really swollen" eyes, she expected to be back at work as early as Thursday.
"I do tend to find, after I've had a little something done, that people say, 'You look rested,' or, 'Did you get new makeup?' It's subtle, not like a facelift or anything drastic," she said. "I tell them what I had done, and then I tell them to go for it. The slightest little thing will just make that difference to give you an extra boost and maybe take a couple of years off of you. And when you look better, you feel better, and you're happier."
Morris' procedures were also part Christmas gift.
"I told my husband that if he really wanted to get me something, this is it. Give me this, instead of something under the tree," she said.
But it's not just the season for quick injections and peels.
Edwards, who specializes in major surgical procedures, said he has to add days in the operating room in December to keep up with demand for breast implants, facelifts and liposuction.
"People are anxious to have surgery during the holidays because that's when they're off," Edwards said. "Also, they may have relatives coming in from out of town who can help them out around the house. It can work out well."
What's more, January is audition season for hotel pool-party staff, Edwards said. Having work done in December allows time for recuperation before interviews begin.
Surgeons recommend against rushing in on a holiday whim, though.
Regardless of the procedure, you'll have at least a little swelling and bruising, so plan ahead, said Dr. Goesel Anson of Anson and Higgins. If you have a party on Saturday, don't get fillers on a Friday. Try to wrap up your work two weeks before a big event.
Also, like any medical procedure, do your research before you go under the knife, Edwards said. Look for someone who's completed a residency in plastic surgery, and who's certified through the American Board of Plastic Surgery, because they have years of specialized training in the field. Ask a prospective doctor if he's done your particular procedure often, what kinds of complications you can expect, and if he has hospital privileges in case something goes wrong and he needs to admit you for additional care.
Do your homework on what you want, too. Go for your consultation armed with some examples of the look you hope to achieve.
Finally, forget about a quick nip and tuck to roll back evidence of holiday indulgences.
It's easy to pack on the pounds from Halloween through New Year's, thanks to an endless parade of candy, cookies, crackers, cheeses, party dips and other treats. It's also easy to think a quick liposuction session will clear up the aftermath. But Edwards won't help you with that: A patient once returned six months post-lipo with her thighs back to looking like her "before" picture.
"I thought maybe she had edema (fluid retention and swelling). But I found out she had the biggest jar of candy in her office. She never changed her eating or exercise habits. So I tell people they have to lose weight the right way."
Contact reporter Jennifer Robison at jrobison@reviewjournal.com. Follow @J_Robison1 on Twitter.