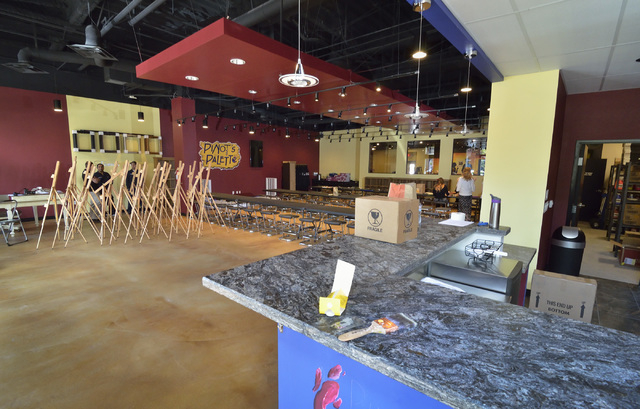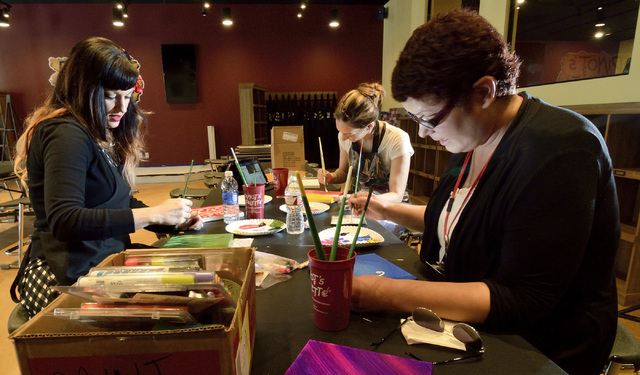 First-time business owners Reed and Judy Alewel aren't taking any shortcuts as they prepare to open Pinot's Palette, a paint and sip studio, on Thursday at The District at Green Valley Ranch.
The 3,480-square-foot space can accommodate 72 guests in the front room and another 30 in the private party room. A trained artist will stand at the front of the room on a stage and instruct guests how to paint the night's featured artwork.
"People don't realize that they can create something like this and it's fun to see their reaction," Judy said. "It's all about going home with something you're proud of."
The couple's attention to detail includes implementing assigned seating by writing guests' names on the chalkboard tables so if they're running late, everyone in the party will still be seated next to one another, and offering cubbies to protect guests' belongings. The couple has even added a rotating television screen that will enlarge the horizontal or vertical featured painting for optimal viewing.
"We've sweat every detail," Reed said. "We're really focused on the guest experience and we want them to say, 'Wow, this is a really nice place.' "
The couple said classes last two to three hours. A two-hour class is $35; a three-hour class is $45. For private parties, two-hour classes are $45; three-hour classes are $55.
Reed said Pinot's Palette's main focus is providing entertainment.
"This isn't an art class, its entertainment," he said. "We offer 18 different wines and 14 beers, including 10 craft beers, and we'll also have music playing after the artist is done taking guests step by step on how to paint."
Reed, a former vice president of sales operations for International Game Technology, and Judy, a College of Southern Nevada nursing instructor, have always wanted to open a business. After attending a franchise expo in New York last year, the couple decided that a paint-and-sip studio was ideal.
"It's a different type of entertainment and the business plan was simple," Judy said. "And it sounded like a lot of fun."
After going back and forth about which company they would franchise with, Reed and Judy decided on Houston-based Pinot's Palette.
Reed said opening Pinot's Palette has taught him a lot about how to run a business.
"It's been incredibly insightful," he said. "There are so many balls in the air at once and it takes tremendous organization to get it done right."
Despite gearing up for their Henderson opening, Reed and Judy are already working on taking their business to the other side of the valley. They're anticipating opening another Pinot's Palette location in Summerlin.
"We're hoping to open a Summerlin location in the next six to eight months and we're looking at Boca Park or Downtown Summerlin," Reed said.
The couple is also focused on giving back to the community. They're donating all the painting proceeds on Thursday and Friday to the Children's Miracle Network, American Cancer Society and Title 1 HOPE: Homeless Outreach Program for Education.
"Each charity will receive a minimum of $1,000 and we're hoping to raise $6,000," Reed said.
Judy added, "We're calling it Painting It Forward."