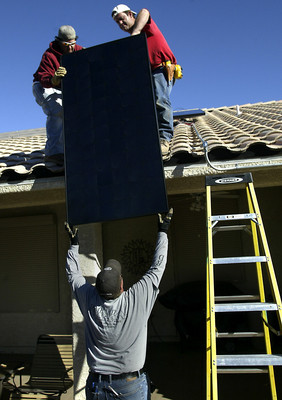 Homeowners, small businesses and schools may yet get a chance to rent solar power panels, rather than having to buy the power generation gear for tens of thousands of dollars.
The Public Utilities Commission on Wednesday voted 3-0 to open a case and look into the issue. Chairwoman Jo Ann Kelly, who dissented in a related vote two weeks ago, joined the majority when Commissioner Rebecca Wagner agreed to expand the scope of the review.
The commission will consider third-party ownership of solar panels, including programs involving ownership by Nevada Power Co. and Sierra Pacific Power Co.
The review also will address the requirement that utilities compensate customers for excess power from customer solar systems. Nevada Power Co. deducts the amount of electricity fed into the grid from customers' monthly totals, thereby reducing bills for customers with solar panels.
Residences typically get renewable energy from photovoltaic solar panels that convert sunlight into electricity. However, utility customers also could install wind turbines and feed excess electricity back into the power grid.
Solar photovoltaic rental companies can qualify for tax credits and rent the systems to schools, city, county and state agencies that otherwise might not have money needed to buy solar panels. Public entities get no benefit from tax credits because they don't pay taxes.
States surrounding Nevada already allow companies to rent photovoltaic systems, Wagner said.
"Nevada seems to be the hole in the doughnut," Wagner said.
The rental system "is just another way for us to further develop state policy in advancing renewables," Wagner said.
Kelly agreed to the review "so that Nevada could take advantage of what I think is a tremendous potential."
The workshop will enable the utility industry and companies that rent solar panels to prepare for expected state legislation on the subject next year and for commission action on a new utility integrated resource plan, Kelly said.
Assemblywoman Sheila Leslie, D-Reno, has asked the Legislative Counsel Bureau to prepare a bill dealing with third-party ownership of renewable systems.
Contact reporter John G. Edwards at jedwards@reviewjournal.com or 702-383-0420.