President Obama's credit card declined over suspected fraud
October 26, 2014 - 10:00 am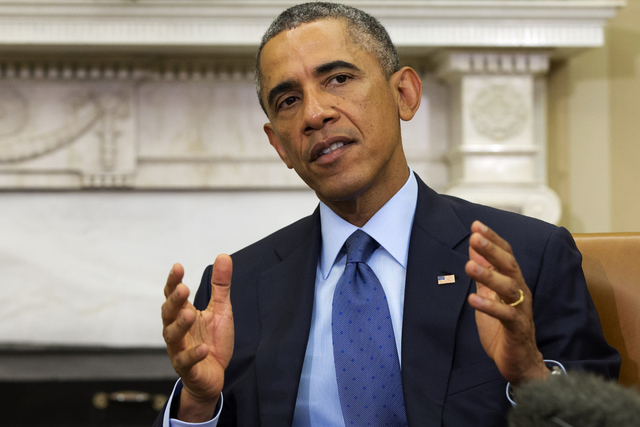 President Obama is just like us: He gets his credit card declined and worries about fraud — or so the president said Friday at the Consumer Financial Protection Bureau. While at the CFPB, Obama signed an order to secure government-issued credit and debit cards from security breaches, and mentioned that even he has had to deal personally with issues related to card fraud.
Obama's Credit Card Declined Due to Fraud Protections
Obama's credit card was declined while dining at a New York restaurant with first lady Michelle Obama during the United Nations general assembly in September. "I was trying to explain to the waitress `No, I really think that I've been paying my bills,'" Obama said.
Apparently, the credit card issuer had put a hold on President Obama's due to inactivity. "It turned out, I guess, that I don't use it enough," Obama said. "They thought there was some fraud going on."
The issue was resolved by the first lady, who was carrying her own card and was able to cover the purchase. But the experience still illustrated to Obama that credit card fraud and identity theft are serious issues that are becoming an unfortunate fact of life for too many Americans.
"Even I'm affected by this," he said.
Worried About Identity Theft? So Is the POTUS
Pres. Obama signed an executive order at the CFPB Friday to improve the security of government credit cards. Under the action, starting in January 2015 all federally issued debit and credit cards will include a microchip and require PIN verification.
In addition to this action, Reuters reported that Obama also announced that several major companies had made commitments to improve security of payment systems and databases and provide better protection to customers.
"You should be able to buy the things you need without risking your identity, your credit score, or your savings." —Obama on "Buy Secure" — The White House (@WhiteHouse) October 17, 2014
Many Americans worry that digital payment and banking technologies make their money more vulnerable to threats like identity theft, missing funds or misuse of their financial information.
A recent GOBankingRates poll on the most popular fears about digital banking found that the majority of Americans have serious concerns about digital banking, with nearly two in five worried mobile banking will lead to identity theft.
POTUS agrees that there is reason for concern over identity theft. "Identity theft is now America's fastest-growing crime," Obama said, citing the 100 million Americans that have been affected by massive retail data breaches like the attacks on Target and Home Depot.
"These crimes don't just cost companies and consumers billions of dollars every year," Obama said, "they also threaten the economic security of middle-class Americans who worked really hard for a lifetime to build some sort of security."
Related Stories:
–9 ways to improve your credit score today
–You can now tweet to transfer money in France
–Video: How to start building credit history