Primm's Fashion Outlets of Las Vegas faces business and financial woes
December 21, 2017 - 5:59 pm
Updated December 21, 2017 - 8:50 pm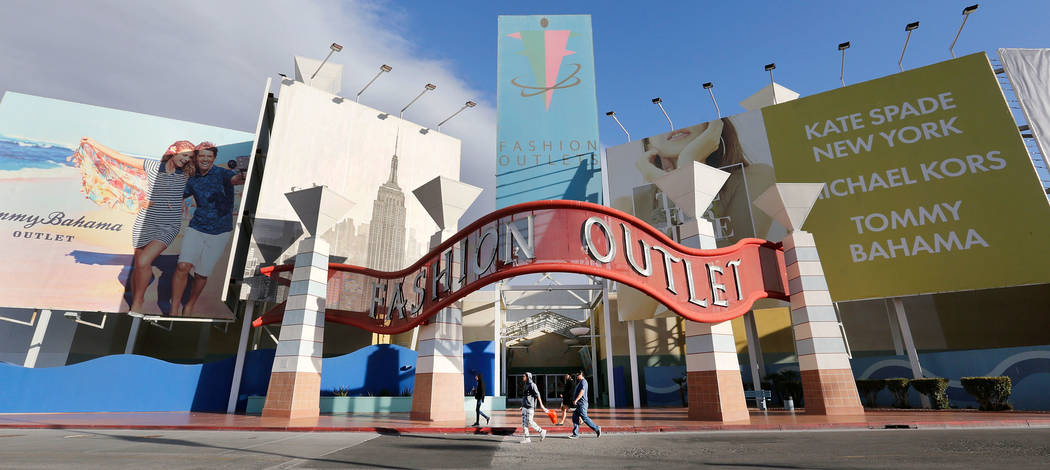 PRIMM — When an outlet mall opened nearly 20 years ago in this casino outpost, management expected big things.
They projected 10 million to 12 million visitors annually at the Primm retail hub, and if everything went well, the developers planned to more than double its size the next year.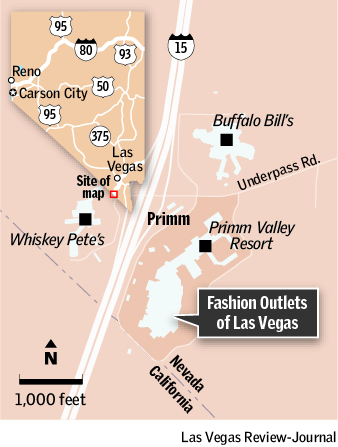 "It's a destination in and of itself," the general manager said in 1998.
Today, the Fashion Outlets of Las Vegas, on the California border some 40 miles south of the Strip, is laced with vacancies. Business is sliding every year, a mall worker said, and behind the scenes, mortgage problems are said to be brewing.
Trepp, a New York-based research firm, reported this month that the mall's $73 million mortgage is "non-performing beyond maturity."
"This is a delinquency status that signifies the loan has passed its maturity and has not been paid off," Trepp research analyst Sean Barrie said in an email.
No default notices have been filed against the property. But Clark County records indicate that Rialto Capital Management — a real estate firm that focuses on distressed and undermanaged loans, properties and securities — is now involved, although its exact role could not be confirmed this week.
'A little worse than last year'
The Fashion Outlets, spanning about 370,000 square feet, is attached to Primm Valley Resort and offers discounted clothes and other items. But it's not the only shopping center to grapple with vacancies: Strip malls and other retail hubs in Las Vegas and around the country have been hit with waves of store closures as consumers increasingly buy online.
The Primm mall is positioned to lure drivers going between Southern California and Las Vegas, a heavily traveled route, though it faces strong competition on the Strip and outside the resort corridor.
The mall, at 32100 Las Vegas Blvd. South, off Interstate 15, has plenty of retailers, including H&M, Gap, Nike, Coach and Tommy Bahama. But there were also about 30 closed storefronts as of Tuesday, as counted by an RJ reporter.
Shoppers were walking around in the late afternoon, but overall, the mall was quiet. Few if any people were strolling about in some areas, and several stores had no customers inside.
One retailer, who did not want his name published, works at the mall only during the holiday season and said that this year is "a little worse than last year."
The mall depends on tourists, said the retailer, who asked why locals would drive here for discounts when Las Vegas already has outlet malls.
The other mall worker, who did not provide his name, said business is "pretty slow." He said foot traffic has dropped, and there were more stores 3½ years ago, when he started working here, than there are now.
Below expectations
Property records indicate the mall's landlord is Toronto-based Brookfield Asset Management. The company declined to comment.
Rouse Properties, which is owned by Brookfield, manages Fashion Outlets, according to a mall brochure. Rouse did not respond to a request for comment.
Miami-based Rialto also did not respond to requests for comment, and efforts to interview a mall representative were unsuccessful.
The center opened in July 1998 to a crowd of about 10,000 people. It debuted 85 percent leased, and if business proved strong, the developers planned to expand it to 900,000 square feet in 1999, the Review-Journal reported.
In July 1999, however, the RJ reported that more than 1.5 million people visited the mall in its first year, far below initial projections.
Florida-based Talisman Cos. acquired the mall — or at least a stake in it — in 2000, reports show. In 2007, Capmark Finance announced a $141 million financing package for the mall, saying the center was 99 percent leased, up from 50 percent when Talisman acquired it.
Capmark also said the mall was among the top 10 outlet centers nationally by sales.
In 2012, Talisman took out a $73 million loan on the property, as well as a $32 million loan from Brookfield, county records show.
Brookfield foreclosed last year, said a person familiar with the matter.
Talisman, whose founder James Schlesinger died in 2014, is now known as AWE Next, according to a woman who answered its phone this week. She said the office is closed until January.
Contact Eli Segall at esegall@reviewjournal.com or 702-383-0342. Follow @eli_segall on Twitter.