Public gets invite to McCarran airport's new Terminal 3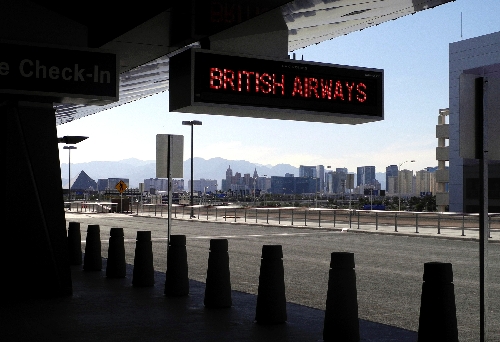 The public will get its first look Saturday at McCarran International Airport's new Terminal 3 where flight operations begin on June 27.
Guests will be able to sample food from some of the restaurants opening at the new terminal and view artwork that will be on display during an open house from 10 a.m. to 4 p.m. Parking is free and accessible from Russell Road.
The $2.4 billion expansion will add 14 gates, including seven for international carriers.
The 1.9 million-square-foot, three-story building has a ticketing lobby, state-of-the-art baggage claim and security checkpoints on two levels.
Project cost includes terminal design and construction, roadways and civil work, underground transit system, central power plant and 6,000-space parking garage.
At the peak of construction, the project employed more than 1,800 workers.
It's the first major expansion at McCarran since the D-gate concourse opened in 1998, and the largest capital improvement in the airport's history.
Interest in Terminal 3 extends worldwide, said Randall Walker, director of the Clark County Aviation Department. The new terminal increases operational flexibility at McCarran by splitting air traffic between two terminals. It also will help process more international visitors.
International traffic at McCarran increased 27 percent in the second half of 2011, compared with the same months in the prior year, Walker noted. Terminal 3 is expected to be at capacity during peak summer travel periods.
Each gate is equipped with self-boarding technology. Passengers will scan a pre-printed boarding pass or mobile device and immediately board their flight.
Among the 15 international airlines that will be using Terminal 3 are British Airways, Virgin Atlantic Airways, Air Canada, AeroMexico, Philippine Airways and Condor. Domestic airlines are Alaska, JetBlue, SunCountry, Virgin America, Frontier, Hawaiian and United.
Dining options at Terminal 3 will include Starbucks, Carl's Jr., Burger King, Village Pub, Vegas Chophouse and Pei Wei Asian Diner. Retail shops include a 10,000-square-foot duty free store, World of Sports, Vegas Special Tees, Objet D'Art, Hudson News and XpresSpa.
Artists who will display their work at the terminal are Ed Carpenter, Talley Fisher, Stu Schechter, Barbara and Larry Domsky, Terry Ritter, Robert Silvers and photographer Peter Lik.
On Wednesday, McCarran will host a special event for the Las Vegas Chamber of Commerce.
Contact reporter Hubble Smith at hsmith@
reviewjournal.com or 702-383-0491.