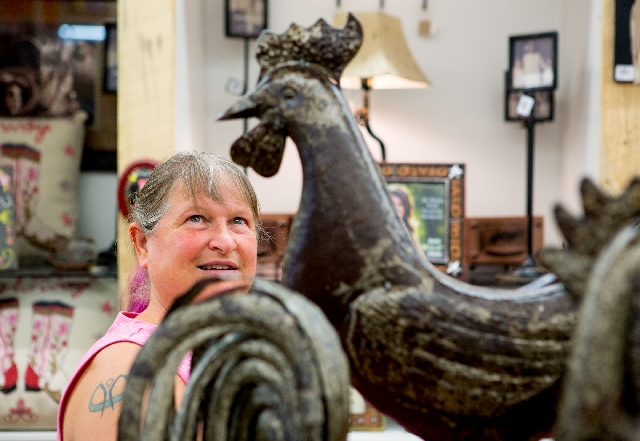 About seven pickups and cars were parked outside, among them one driven by Taylor Yanke.
With a single horse trailer attached to the back, Yanke parked, then hopped out with her friends Susan Clark and Roxie Davis. It was the group's second visit to C-A-L Ranch Stores since it opened Feb. 20.
"All the horse people are talking," Yanke said.
The world knows Las Vegas for the glitz and never-say-when lifestyle of the Strip, but the region is also home to roughly 15,000 horse owners and countless more horses, according to Desert Pines Equine Medical & Surgical Center's records.
So for those living the Western life, the 60,000-square-foot C-A-L Ranch Stores offers almost everything under one roof.
Clark, for one, came to C-A-L Ranch to get a bit for her horse's bridle and to price grain, which she usually buys at the IFA Country Store, 3176 W. Martin Ave. Yanke described C-A-L Ranch as being a mix of IFA, Home Depot and Bass Pro Shops.
Bill Bunker, C-A-L Ranch's vice president of store operations, said the Las Vegas outpost is doing well, but the company still is trying to get the word out to its target customers.
"Every week our sales continue to go up. We're comfortable it's going to do well," Bunker added.
Privately held, the company employs 34 people at its Las Vegas location just off U.S. Highway 95 at Jones Boulevard. Bunker said a second store could happen down the road, but the company needs to ensure the first gets off the ground before any construction would start.
"With the reception this one has had, we're open to opening another location in Las Vegas," Bunker said.
So much so, the company has been having conversations with several local real estate brokers, to put feelers out for the proper location. But nothing is certain yet.
On a Tuesday afternoon, Lisa and Jeremy Dover were among those checking out the facility. They were browsing in the general store section, where canned jams, pickled vegetables, BBQ rubs and specialty sodas filled the space. The couple wasn't familiar with C-A-L Ranch, but were intrigued after seeing the sign outside.
"Literally, it was 'look, there's a new store. Let's go check it out,' " Lisa Dover explained.
Beyond the food, a selection of large safes marks the way into the firearms section. Behind the safes, paper targets, holsters and archery equipment hang from racks while rifles and handguns are racked behind a counter. Just tell the clerk what caliber of ammo you need, and enjoy the country music over the PA while he rustles it up.
And what about chickens, you ask?
C-A-L Ranch will sell you everything you need, from the Precision Hen House to the 4-H 7-pound Hanging Poultry Feeder to bags of Manna Pro nonmedicated chick starter feed and, yes, even the fuzzy-feathered chicks themselves. And not just one breed of chick. Choose from a number of breeds, including Rhode Island Red and Cornish Rock.
Founded in 1959 in Idaho Falls, Idaho, C-A-L Ranch is opening a location in Show Low, Ariz., around May. In Nevada, it already has stores in Carson City and Elko. The move south is a big expansion for the company founded by Clinton, Allen and L. Wayne Murphy. (That's where C-A-L comes from). The chain soon will have 21 stores across Nevada, Utah, Arizona and Idaho. Over the past 15 months, C-A-L Ranch Stores has opened four new locations, because, in part, of the company's double-digit sales increases among comparable stores the past few years.
Contact reporter Laura Carroll at lcarroll@reviewjournal.com or 702-380-4588. Follow @lscvegas on Twitter.