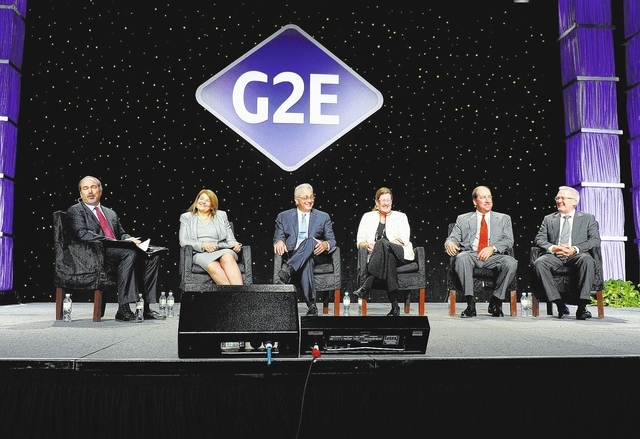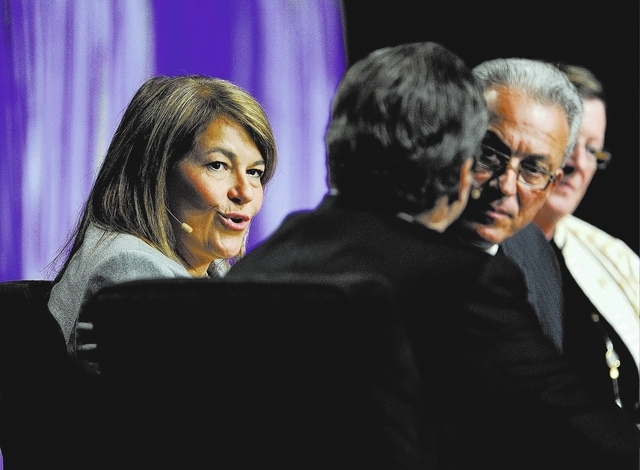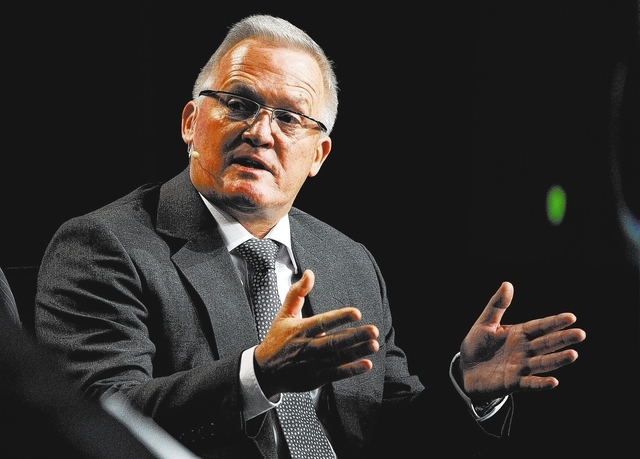 Place five gaming company presidents on one panel and you often get five different opinions on a variety of topics.
That wasn't the case Wednesday at the Global Gaming Expo.
The top executives of three regional casino operators, a Mississippi Indian casino and Nevada's first online poker company spent an hour discussing the state of gaming industry.
On topics ranging from recent gaming industry consolidation, market growth and online gaming, there was much agreement and relatively little disagreement.
"The challenge for us right now is the consumer," said Isle of Capri Casinos CEO Virginia McDowell. "The consumer is still skittish and trying to protect their pocketbook. We have to figure out how to be profitable when people aren't spending as much."
Penn National Gaming President Tim Wilmott, Pinnacle Entertainment CEO Anthony Sanfilippo and Holly Gagnon, president of the Pearl River Resort for the Mississippi Choctaw tribe, agreed that consumer spending is still a hurdle for casino operators.
"Our customers are not just gamers," Sanfilippo said. "Customers want a quality experience in the food and beverage, hotel and entertainment offerings."
Much of the discussion, moderated by political commentator Jon Ralston, focused on expansion into new markets, but also focused on the potential of Internet gaming legalization leading the charge.
Wilmott said most of the U.S. market has plenty of casino development. But there is still room for expansion into a few underserved states, such as Texas and Florida.
"It's getting harder and harder to find places to invest that make sense because markets are getting saturated," McDowell said.
Ultimate Gaming CEO Tobin Prior, whose Station Casinos-owned company launched Ultimate Poker in Nevada on April 30, said without a Congress agreeing on a federal solution to legalizing and regulating the activity, regulation in different markets will be a significant hurdle to overcome.
"We are prepared to operate state-by-state, and we're moving forward state-by-state," said Prior, whose company has a deal with the Trump Taj Mahal in Atlantic City to participate in New Jersey's planned online gaming market.
For casino operators, however, the future is uncertain.
"It's clear as mud as to how online gambling will impact bricks-and-mortar," Wilmott said. "We don't know how this will play out."
Sanfilippo said Pinnacle Entertainment has a plan for Internet gaming, but the company is also waiting to see how Nevada, New Jersey and other markets proceed.
"Every company might have to consider online gaming as a piece of their business going forward," Sanfilippo said.
He added that debate over Internet gaming reminds him of the questions asked 20 years when gaming began to expand across the U.S. and away from Nevada and Atlantic City.
Sanfilippo noted that the same questions are now being asked about Internet gaming that we were once asked when gaming expanded across the U.S. 20 years ago.
Gagnon said stand-alone casinos are worried that online gaming could cut into their bottom lines. She said the Pearl River draws customers from Birmingham, Ala., roughly a three-hour drive. Online gaming might keep those players at home.
"We are just going to have to watch and see what happens," Gagnon said.
Pinnacle Entertainment recently completed a $2.8 billion buyout of Ameristar Casinos. And there is still merger activity within the gaming equipment sector — lottery company Scientific Games Corp. is buying slot machine maker WMS Industries for $1.5 billion and slot machine giant Bally Technologies is buying SHFL entertainment for $1.3 billion.
McDowell thought consolidation would slow. But Wilmott, whose company is in the process of spinning off its real estate holdings in an investment trust, said that might a model for other companies.
Contact reporter Howard Stutz at hstutz@reviewjournal.com or 702-477-3871. Follow @howardstutz on Twitter.