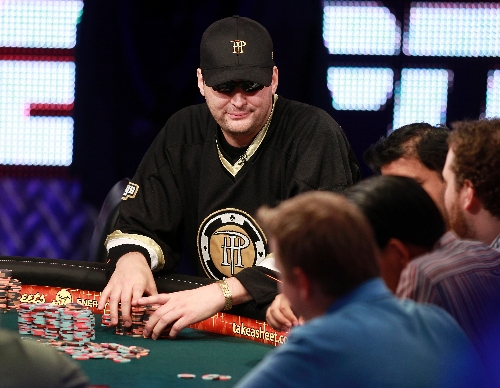 It wasn't about an unheralded gambler winning the World Series of Poker event the game's true professionals all desire, but that Phil Hellmuth Jr. fell so tantalizing short.
Hellmuth was teasingly close early Thursday morning to winning his 12th individual event championship bracelet at the Rio, a prize that has eluded the World Series of Poker's most decorated player for four years.
In the end, Brian Rast, a Denver native best known as a cash game player, overcame a more than 5-to-1 chip disadvantage to Hellmuth to win the $50,000 buy-in Poker Players Championship and more than $1.7 million.
Rast, 29, who lives in Las Vegas, captured the title that poker pros consider a true test of player's skills. The Poker Players Championship is a mixed-game format that rotated eight different variations of poker over five days, with only hold'em at the final table.
The victory over a field of 128 players, who each paid a $50,000 entry fee, gave Rast his second World Series of Poker championship bracelet in less than a month. On June 9, Rast won a Pot Limit Hold'em event and $227,232.
Entering play Wednesday afternoon, Rast had amassed career earnings at the World Series of Poker of $511,436 through seven cashes. Before this year, his best finish was ninth place in a Pot Limit Omaha event in 2008.
"Obviously, this event means much more because you had to beat some of the best poker players in the world," Rast said shortly after 2:30 a.m. Thursday. He was backed by a boisterous group of supporters who chanted, "We will, we will Rast you," to the tune of Queen's "We Will Rock You."
"Luck is a strange thing, and I got lucky to win," Rast said. "I'm probably better than most people think at the mixed games. By no means do I consider myself to be one of the top mixed games players."
Rast entered Wednesday's final day in second place in the chip count among the nine remaining players, the same position he held shortly after 1 a.m. Thursday when he and Hellmuth began heads-up play.
Hellmuth, 46, is the World Series of Poker's most decorated player. Entering competition he had a record 11 bracelets, 83 individual event cashes, and more than $6.7 million in career World Series of Poker winnings.
He was focused.
Hellmuth held a 1 million tournament chip advantage when he and Rast began heads-up play. Within an hour, that margin grew to a more than 5-to-1 lead.
"I felt pretty good when he had
3 million and I had 17 million (in chips)," Hellmuth said.
Seven hands later, the match ended with Rast taking home the title.
Twice Hellmuth forced Rast to put his chips all in play, hoping to finish off his opponent. But both times Rast had the better hand going in while Hellmuth had a flush draw. Twice, Rast doubled up, the second time putting them even in chips.
On the 217th hand of the match, Rast, holding a slight lead in chips, watched Hellmuth go all in after the flop, once again on a flush draw. But Rast stood up and told Hellmuth, "I'm sorry Phil, I have the nuts. I call."
Hellmuth had the eight and two of diamonds while Rast had the king-queen of clubs. The board showed jack of diamonds, nine of diamonds and 10 of spades for Rast's straight. The turn and river cards didn't produce another diamond, denying Hellmuth his flush.
Rast later said he meant no disrespect.
"It was very surprising to me that was the play he decided to make because I thought he played really well the whole tournament," Rast said.
Hellmuth earned $1.063 million for second place, his first seven-figure paycheck in his tournament poker career. His largest cash to date at the World Series of Poker was the $755,000 he earned for winning the 1989 Main Event, at age 24.
"That's one monkey off my back," Hellmuth said of his million-dollar payday. "I have nothing bad to say about Brian. He played well."
But he didn't hide his disappointment in missing a 12th bracelet.
The finish marked the third time at this year's World Series of Poker that Hellmuth was the runner-up in an event. He has never won an event at the World Series of Poker that wasn't a hold'em competition.
"This was the one that would have made (ESPN's) SportsCenter and the one everyone would have been talking about," Hellmuth said. "I hear critics all the time, but I think I've put on a pretty spectacular performance."
Hellmuth has three other cashes of $500,000 or more in his tournament career. He won a $1,500 no-limit hold'em event in the 2007 World Series of Poker for $637,254, a $1,000 no-limit hold'em bracelet in the 2006 tournament for $631,863, and he received $500,000 for winning the NBC National Heads-Up Championship in 2005.
He hoped the bracelet would give him some cushion between Doyle Brunson and Johnny Chan, who each own 10 World Series of Poker bracelets. Hellmuth won his 11th bracelet in 2007, which broke a three-way tie for the career lead with Brunson and Chan.
In addition to the bracelet and cash prize, Rast was awarded the Chip Reese Memorial Trophy, named in honor the late poker player Chip Reese, who won the event the first time it was played at the tournament.
Contact reporter Howard Stutz at hstutz@reviewjournal.com or 702-477-3871.
Follow @howardstutz on Twitter.