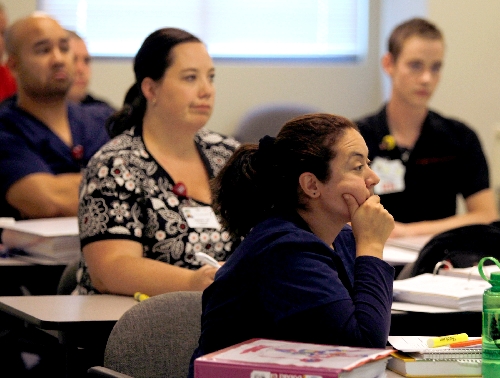 Economic growth should come from developing the local work force at existing companies, rather than trying to attract out-of-state companies to Nevada, a UNLV economics professor said in a 42-page white paper sent to the governor's office.
The distinction is more than semantics, said Alan Schlottmann, professor of regional economics at the University of Nevada, Las Vegas.
His report, "Linking Higher Education and Workforce Development," is a significant shift from traditional economic development policy and thinking, which pours millions of dollars into advertising campaigns and tax incentives to recruit firms from other states.
"The real key is this program focuses on firms and our work force that are already here," Schlottmann said Wednesday. "This is a way to help firms already here rather than try to steal a firm from California. We always want to give somebody a tax incentive to move here. We've got businesses here. How can we help incentivize them, not only to make their business grow, but to take new workers and train them and then take somebody that needs a job?
"Remember, if you train a Nevada worker to advance in your company, this generally creates a new job for another Nevadan as a replacement — the 2-for-1 effect of advanced training," he said.
Issues presented in the report are part of an emerging discussion in state economic development, primarily the role of training dollars to promote internal job growth through expanded concepts of training. It's directly related to Gov. Brian Sandoval's initiatives with the redesigned Workforce Investment Board.
"For businesses already operating in Nevada, we want you to know that our focus is on your growth," Sandoval said in his State of the State address in January. "Roughly 80 percent of new jobs will be created by local businesses, and we need every one of them to put Nevadans back to work."
It's not unlike the emphasis on training in the proposed national legislation from President Barack Obama, Schlottmann said.
"Everybody can take credit, Republicans and Democrats," he said. "It's nonpartisan."
Funding comes from U.S. Department of Labor and the Workforce Investment Act, which has provided $65 million to Nevada for work force training over the last biennium.
"All of the states have to get a piece of the pie, and some states get a bigger piece of the pie than others," Schlottmann said. "How? They ask for more money for specific program needs. There are extra pots of money if you apply for it. As you can imagine, states that have an organized system and organized set of programs, those are the ones that get the most money."
Pennsylvania's a good example, Schlottmann said. He called sources there to get advice on how they formed overarching groups to identify cluster industries such as health care following the decline of the steel industry.
The ideas in the report for Nevada's Workforce Investment Board on career laddering and technical training are steps ahead of most states, he said.
An example in Nevada is the work of the Southern Nevada Medical Industry Coalition, which has provided innovative training for specialized skills in nursing such as operating room procedures and similar initiatives to avoid layoffs of health care workers and provide experience for job applicants.
Wayne Cassard, human resources director for the Valley Health System in Las Vegas, said nurses certainly have the skills to step in and give basic medical care in less acute departments when they come out of Nevada State College and other nursing schools, but going from a college setting to real life is quite different.
They need additional training for intensive care units, emergency rooms, labor and delivery, and operating rooms.
"The schools are turning out really good grads," Cassard said. "The challenge is to have a balanced mix of new and experienced nurses in every unit. We continue to have to bring nurses from out of state because you have a limited pool of specialized nurses. Las Vegas in general is experiencing turnover in health care with the rest of the economy."
The Nevada Manufacturing Association has implemented a pilot program based on the UNLV report.
Schlottmann summarized four key points from his report:
■ An important shift for higher education in the new training paradigm is the ability to use training funds with an expanded concept of on-the-job training rather than entry-level and basic-skill positions.
■ Expanding on-the-job training to include both technical skill enhancement and position upgrading through a career ladder allows training directly for critical business sectors.
■ Advanced skill training within an on-the-job training program can encourage employers to hire individuals with skill gaps who can be trained, knowing they will receive temporary wage assistance to provide specific skills.
■ It allows training in critical technical occupations that are in short supply of qualified workers in Nevada.
Contact reporter Hubble Smith at hsmith@reviewjournal.com or 702-383-0491.