Report: Vegas economy healing but not close to recovered
April 16, 2014 - 10:46 am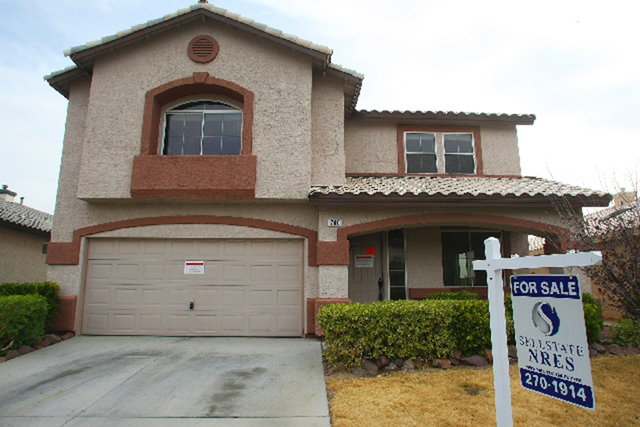 The Las Vegas economy is on the mend but not even close to recovered.
That's the word from a new report that shows big gains in housing and employment have yet to offset the devastation of recession.
Think tank Brookings Mountain West's fourth-quarter Mountain Monitor shows how far the Las Vegas Valley has come, and how far it has to go.
First, about those improvements. Las Vegas bested job growth among other Intermountain West cities, including Denver; Salt Lake City; Boise, Idaho; Tucson, Ariz.; Ogden, Utah; Provo, Utah; and Albuquerque, N.M. Only Phoenix matched the valley's 0.8 percent employment growth from third to fourth quarter. Among regional cities and the nation's 100 biggest metro areas, employment growth averaged 0.4 percent.
The metro area's housing gain also surpassed regional improvements, with house prices jumping 6.1 percent from third to fourth quarter. The second-best performance came from Phoenix, at 4.6 percent. The regional average was 3.4 percent, while the 100 biggest U.S. cities averaged 2.6 percent.
The report "provides further evidence of significant progress in the Las Vegas recovery," said Mark Muro, a senior fellow and policy director with Brookings and one of the report's authors.
"Solid job and real estate recoveries are at last in place, both of which will be mutually reinforcing and begin to return the job market to some semblance of health," he said.
There are some catches, though.
Growth in output, or gross metro product, lagged the rest of the region, at 0.7 percent. That's in the bottom half of performers, and below a regional average of 0.9 percent. It's also slower than the city's growth rate in early 2013, which means the indicator is trending down.
That may reflect job growth in service industries such as gaming, food and beverage, health care and education. Those fields have lower productivity per worker compared with high-tech businesses or manufacturing.
"An interesting story is emerging. It gets to the question of what a successful economy is, because at last, Las Vegas is getting very good job growth. At the same time, it's now the only metro area in which output has not approached or surpassed 2009 levels," Muro said. "Putting those together, you get a view of a region focused on relatively less productive jobs. You have decent job growth, but it's not yielding the kinds of output gains that growth is yielding in other places."
It's also possible that output estimates have yet to reflect faster recovery in recent quarters. The measure may pick up in coming reports.
Still, it's not bad to focus more on job growth than productivity, Muro said. There are "great dangers" anytime large parts of the population are jobless long-term, so the first order of business must be job formation.
Helping that revival will require a change in the city's industrial profile, Muro noted — something state and city officials are working on. The Governor's Office of Economic Development and the Las Vegas Global Economic Alliance are trying to lure businesses in sectors including manufacturing, information technology and aerospace. But any overhaul won't happen in the next year, or even the next three years, Muro said. So it's key to also concentrate on job growth wherever the city can find it today.
The Mountain Monitor report also shows how far Las Vegas remains from pre-recession levels by any measure. The valley has recovered half of the output it shed in the recession, 38 percent of the jobs it cut, and 16.6 percent of the ground it lost on the Federal Housing Finance Agency's House Price Index. The city's unemployment rate was 9.1 percent in the fourth quarter, the highest in the region and one of the highest among large U.S. cities.
"These data put the increasingly positive recent developments in context. There is much more work to do. With that said, the region is clearly moving in the right direction, with quickened job growth and housing appreciation beginning to set up the conditions for significantly improving the labor market," Muro said.
Contact reporter Jennifer Robison at jrobison@reviewjournal.com or 702-380-4512. Follow @J_Robison1 on Twitter.