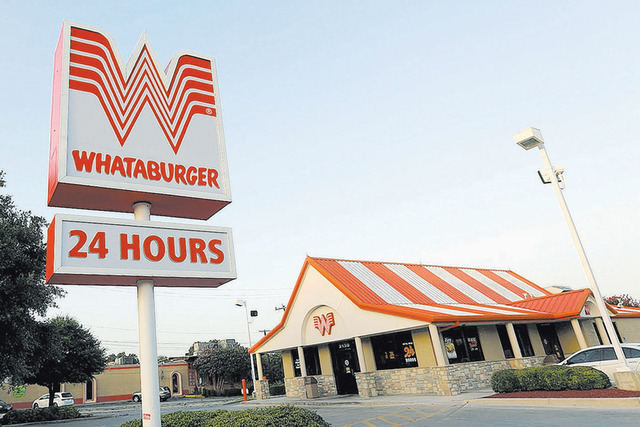 Las Vegas Review-Journal readers have responded to what sort of retailers and brands are still needed in the valley.
As of Friday, 1,044 people had voted in an online RJ poll on the businesses they'd most want to see from among a list of seven.
Texas-based burger chain Whataburger was the winner with 37 percent of the vote. The closest locations to Las Vegas are in Arizona.
Florida-based supermarket Publix placed second with 16 percent, followed by Illinois-based restaurant Portillo's with 13 percent.
Portillo's "would make a killing out here," reader Les Seifert said in an email. "Especially in the suburbs."
A Publix spokeswoman said the company is focused on growing in the six Southeastern states where it operates and will enter Virginia later this year.
"It's always an honor to be welcomed into an area that we do not currently serve," Maria Brous said. "While we don't have any current plans for expansion in your area, we certainly appreciate the invite."
Among write-ins from readers, off-Strip locations for chains like White Castle and Bubba Gump Shrimp were discussed the most. Bubba Gump, owned by Landry's, also has a spot in Laughlin at 2300 S. Casino Drive.
"Maybe they could even lower their prices in a cheaper location," reader Chris Knepper said in an email.
Among individual brands, German discount supermarket chain Aldi was the most frequently mentioned, followed by Texas Roadhouse.
A Texas Roadhouse spokesman said the company does hear from locals and travelers to Las Vegas interested in a valley location.
The company is interested in the Las Vegas market, Travis Doster said. The company has a restaurant in Reno, but it has no plans yet for a site in the valley.
"We are very honored that our fans are hoping for a Texas Roadhouse," Doster said. "There is no better compliment for a restaurant."
Other brands suggested by readers include:
— Arthur Treacher's Fish and Chips, in New York and Ohio
— Bennigan's, coming soon to Sacramento, Calif.
— Braum's Ice Cream and Dairy Stores, in Texas, Oklahoma and Kansas
— Cook Out, a fast-food chain with nothing west of Mississippi and Tennessee
— Culver's, a burger chain across the Midwest and Southeast
— Pollo Tropical, a Caribbean food chain with locations in Texas and the Southeast
— Tahoe Joe's Steakhouse, a California chain
— Wawa, a convenience store chain in Delaware, Florida, Maryland, New Jersey, Pennsylvania and Virginia
Contact Wade Tyler Millward at 702-383-4602 or wmillward@reviewjournal.com. On Twitter: @wademillward