Salary, job outlook for Nevadans goes from bad to worse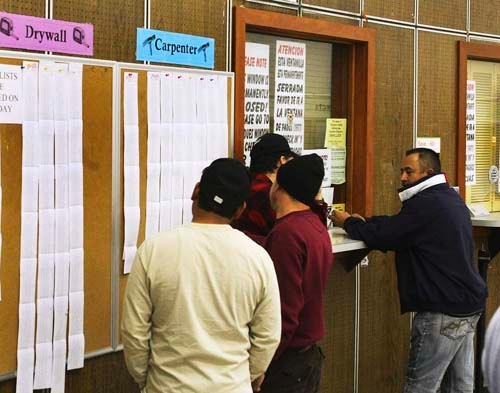 It's no secret Nevada owns one of the nation's worst economies.
The Silver State's jobless rate hovers around 13 percent, and if you throw in discouraged workers who've quit seeking jobs and part-timers who want full-time work, unemployment actually runs close to 25 percent in the state, experts say.
But some corners of the economy are darker than others, and understanding where the state's fiscal outlook is headed requires assessing the damage and forecasting whether the downward spiral will reverse.
Here's an accounting of the toll the recession levied on jobs in Nevada's key employment categories, and when each industry's labor force might show signs of renewal.
Weekly wages are tabulated from the fourth quarter of 2007 through the third quarter of 2009, the latest time period for which statistics are available.
natural resources and mining
Includes: Agriculture, forestry, fishing, metal-ore mining.
Total recession job change: Increased 3.4 percent, from 11,900 jobs to 12,300 jobs.
2008 change: +400.
2009 change: 0.
Weekly wage difference: Dropped $195, or 12.9 percent, from $1,512 to $1,317.
What happened: For companies that mine gold, silver and other natural resources, the recession brought boom times. A shaky dollar sent demand for commodities skyrocketing, as investors sought out tangible goods to hedge against weakening U.S. currency. Record metals prices followed.
What's ahead: Miners don't expect today's gold and commodities prices to last forever. The industry remains highly cyclical, and veterans remember the $250-per-ounce gold prices of 1999. But miners adjust: When prices spike, they tap marginal veins that don't profit at lower prices, said Tim Crowley, president of the Nevada Mining Association. When values drop, they return to high-grade ore bodies that offer easier extractions. That kind of management, combined with the discovery in Nevada of 75 million ounces of additional gold reserves, among other metals and minerals, should keep Nevada's mining industry healthy for years to come.
CONSTRUCTION
Includes: General contracting, specialty trade contracting.
Total recession job change: Dropped 28.7 percent, from 126,700 jobs to 90,300 jobs.
2008 change: -9,400.
2009 change: -27,000.
Weekly wage difference: Dropped $9, or 0.8 percent, from $1,111 to $1,102.
What happened: Nevada's developers simply built too much, too fast. Home builders sold thousands of units to investors, and the growth in rooftops encouraged overbuilding of office and retail space. Commercial construction jumped ahead of true demand by about five years, said Steve Holloway, executive vice president of the Las Vegas chapter of Associated General Contractors. With the housing market oversaturated, builders all but stopped new-home construction, and resort construction ground to a halt. Job cuts began long before the recession, in mid-2006. Today, almost half of the Nevadans drawing unemployment worked in construction or for businesses reliant on building.
What's ahead: The market is a good three to four years away from demanding new warehouses and strip malls, Holloway said. But he added that Nevada runs 10 years behind on infrastructure needs such as highways and water projects. Local and state agencies sit on $5.1 billion reserved for infrastructure, Holloway said, but concern over potential budget cuts has paralyzed bureaus.
"Let's look at it. What are we talking about with the state government, laying off maybe 300 people because of the current hole in the budget? We've laid off over 70,000 people in the construction industry," Holloway said. "Why are we agonizing over (state staff cuts)? If they don't do something about construction-industry unemployment in this state, the hole in their budget in 2011 is going to be bigger than they can possibly envision."
Holloway doesn't forecast a return to the construction jobs numbers Nevada posted at its development apex. The state could return to 80 percent of where its construction jobs were, though, if major infrastructure projects happen.
manufacturing
Includes: Making durable goods, computers and electronics, slot machines.
Total recession job change: Dropped 8.9 percent, from 49,200 jobs to 44,800 jobs.
2008 change: -900.
2009 change: -3,500.
Weekly wage difference: Dropped $123, or 11.7 percent, from $1,049 to $926.
What happened: The Silver State's production hit came from two trends, said Ray Bacon, executive director of the Nevada Manufacturers Association. First, Nevada tends to serve as a branch state rather than as a corporate-headquarters market. When business executives must cut staffers or close factories, the last operation they'll slash will be the hometown base. Second, a big chunk of Nevada's manufacturing sector makes industrial machinery for other factories in California. The Golden State is experiencing its own manufacturing slump, and lower output next door means less demand for factory components.
What's ahead: Bacon said it's impossible to predict when factory jobs in Nevada might tick upward, but he said it's unlikely those shed positions will all return. Nationally, and likely in Nevada as well, a third of manufacturing jobs were lost to offshoring. Another third evaporated following production gains. The final third fell victim to the recession. Jobs shipped overseas or innovated out of existence probably won't come back, Bacon said. Positions cut because of the economic downturn could eventually rematerialize.
Nevada's manufacturing sector could get an assist from the public-policy decisions of other Western states, Bacon said. Oregon voters recently passed an initiative raising taxes on wealthy residents, a move that could push business owners and entrepreneurs into Nevada's arms. Plus, California's leaders are "so brain-dead stupid" that businesses will likely decamp that state in coming years as well, Bacon said. But few companies can move anywhere as long as banks remain reticent to loan to companies looking to expand or relocate. Uncertainty will also grip the production sector for the foreseeable future, as manufacturers wait on the outcome of federal energy legislation to tax carbon output.
In the meantime, Bacon's group and the Nevada Motor Transport Association have plans to make Nevada a logistics and shipping hub, which could help draw warehousing operations. Green jobs could also help, but renewable energy is two to three decades away from requiring major numbers of permanent workers, Bacon said.
trade, transportation and utilities
Includes: Retail, power and natural gas providers, food and beverage stores, warehousing, trucking, couriers and messengers, taxi and limousine services.
Total recession job change: Dropped 7.5 percent, from 242,600 jobs to 224,400 jobs.
2008 change: -10,600.
2009 change: -7,600.
Weekly wage difference: Dropped $20, or 2.8 percent, from $718 to $698.
What happened: The vast majority of jobs lost in this category were shed in retail, which claims 59 percent of the sector's jobs. Retail suffered as job losses and pay cuts left Nevadans with fewer discretionary dollars to spend on clothes, personal electronics and other inessential items. Mary Lau, president and chief executive officer of the Retail Association of Nevada, said employment in the sector has returned to 2005 levels.
What's ahead: Lau said she doesn't expect disappearing retail jobs to come back, because much of the growth that goosed higher sales came from a "fool's-gold rush" based on unsustainable and "false" expansion in housing and construction. She predicted it will be 2012 before Nevada's retailers see true stabilization in their fortunes.
If the Silver State wants to regrow the jobs it's lost, it needs to reinvent its economy, Lau said. It must lure "more dependable" businesses and industries less cyclical than gaming and mining. Diversifying the economy could take at least three to five years, though, Lau said.
information
Includes: Telecommunications.
Total recession job change: Dropped 7.8 percent, from 15,300 jobs to 14,100 jobs.
2008 change: -300.
2009 change: -900.
Weekly wage difference: Flat, unchanged from $1,011.
What happened: It's tough to determine whether job losses here pertain to the recession or come from changing consumer preferences. Karen Pearl, executive director of the Nevada Telecommunications Association, said the biggest driver behind job losses among her group's members, which include CenturyLink and AT&T, has been consumers' switch from locally based land-line phone service to national cell-phone service. It could be related to the economy, as cash-strapped phone customers abandon local land-line carriers and stick instead with national wireless service.
What's ahead: The state's local carriers are likely to continue bleeding customers, Pearl said, though incumbent phone companies are moving into new services such as voice-over-Internet protocol, streaming Internet broadband service and other diversified offerings. Pearl said she doesn't believe the industry's lost jobs will return, nor will the sector grow substantially in the near term. Employment could stabilize eventually, though.
financial activities
Includes: Banking, insurance, real estate, rental leasing.
Total recession job change: Dropped 8.2 percent, from 63,500 jobs to 58,300 jobs.
2008 change: -2,000.
2009 change: -3,200.
Weekly wage difference: Dropped $46, or 4.8 percent, from $963 to $917.
What happened: As commercial developments emptied or failed to find tenants in the recession, the banks that made construction loans on the properties took heavy losses, forcing big layoffs and six bank closures. The housing slump meant less need for mortgage lenders and brokers, while mortgage companies that did survive saw a foreclosure wave that hurt balance sheets.
What's ahead: Asked when lost bank jobs might return, Bill Uffelman, president and chief executive officer of the Nevada Bankers Association, said, "Which lifetime are we going to talk about?"
Before banking jobs can come back, demand needs to grow for loans on new commercial space and business ventures, Uffelman said. And Nevada is a long way from needing new offices and shopping centers, with office vacancies at nearly 20 percent and retail vacancies at 10 percent. Experts don't expect any noticeable demand for new projects before 2013 or 2014, and surviving banks have all the staffers they need to service current business volumes.
"We are in the mode of hunkering down," Uffelman said. "As one of our bankers said, 'Last year we hemorrhaged. This year, we're bleeding.'"
professional and business services
Includes: Company management, waste management, administrative and support services, employment services, professional services such as law and accounting.
Total recession job change: Dropped 9.9 percent, from 157,400 jobs to 141,800 jobs.
2008 change: -4,800.
2009 change: -10,800.
Weekly wage difference: Dropped $289, or 23 percent, from $1,256 to $967.
What happened: Las Vegas grew big enough in the last decade to begin attracting regional and national professional firms in areas such as law and engineering. But those companies moved here expecting unabated growth in gaming and construction. That hasn't happened, and business services have either closed shop or slashed staffs to accommodate smaller work volumes, said Jeremy Aguero, a principal in consulting firm Applied Analysis.
What's ahead: This sector has a decent chance of returning to its prerecession numbers, Aguero said. Nevada is well-positioned near several major regional markets, so it offers firms the capability to serve big population centers in other states. Plus, the category's jobs decline has been smaller than dropoffs in other sectors. Its future depends on whether and when the economy finds stable footing.
education and health services
Includes: Hospitals, health clinics, social assistance, educational services such as tutoring companies and private colleges.
Total recession job change: Increased 5.3 percent, from 93,200 jobs to 98,100 jobs.
2008 change: +2,200.
2009 change: +2,700.
Weekly wage difference: Dropped $8, or 0.9 percent, from $904 to $896.
What happened: Consumers need health care, so it's not considered an unnecessary expenditure that families can cut. Plus, the population continues to age, and that drives demand for health care. On the educational-services side, a recent report from the U.S. Bureau of Labor Statistics found that rapid changes in technology and the economy have translated into sustained growth for career and technical instruction, while a federal emphasis on standardized testing in schools yielded ongoing need for tutors.
What's ahead: Fresh growth. An aging population, as well as medical advances that keep the seriously ill alive longer and help diagnose diseases earlier, will generate added spending on health, the Bureau of Labor Statistics said. The agency expects health care to grow more than any other field, with a 22.5 percent jump nationwide through 2018. Educational services should also continue to fare well: The bureau released projections forecasting a 12.5 percent gain nationwide in jobs through 2018, as more high school graduates attend college and working adults return to school to update their skills.
leisure and hospitality
Includes: Arts, entertainment, recreation, hotel-casinos, restaurants, gaming companies.
Total recession job change: Dropped 8.4 percent, from 340,100 jobs to 311,500 jobs.
2008 change: -6,800.
2009 change: -21,800.
Weekly wage difference: Dropped $41, or 6.9 percent, from $593 to $552.
What happened: As housing markets nationwide declined and job losses surged, Nevada's visitor volume slackened considerably. Those who did visit spent less. Revenue within the hotel-casino submarket in particular began to dip well below expectations, and resort managers began to cut jobs in 2006. The share of hotel workers per room has fallen from a peak of 1.42 to 1.01, said Jeremy Aguero, a principal in local research firm Applied Analysis. Some properties, such as Binion's and the Sahara, closed entire hotel towers or wings.
What's ahead: Aguero said he believes resort unemployment has dipped into overcorrection mode, but that doesn't mean the industry's thousands of vanished jobs will return soon. Employers in tourism will likely be very cautious about adding positions.
Hiring indicators to weigh include visitor volume, operators' debt levels and spending dynamics. Visitor volume has risen four straight months, but those gains must continue before hotel-casinos look to expand staffs, Aguero said.
As for debt? From 1997 to 2009, hotel-casino revenue jumped 81 percent, while long-term debt surged 713 percent. And consumer spending increases will depend on a big boost in business and convention travel to the state.
government
Includes: Federal, state and local bureaus and agencies, university professors, public school teachers.
Total recession job change: Dropped 3.2 percent, from 163,300 jobs to 158,000 jobs.
2008 change: -1,700.
2009 change: -3,600.
Weekly wage difference: Increased $46, or 4.1 percent, from $1,116 to $1,162.
What happened: Because governments rely on revenue generated from the private sector, employee counts in the public sector dropped as tax income dwindled. Many of the job declines have come from attrition, with governments simply failing to fill vacancies when employees leave, said Aldo Vennetilli, area director for the American Federation of State, County and Municipal Employees.
What's ahead: More pain. The Legislature just slashed 22 percent from its budget for the period between March 2010 and June 2011. Lawmakers ordered the Nevada System of Higher Education to find $50 million in budget cuts in the next two years, and system officials say meeting that mandate could involve letting go of staffers.
Local governments will likely fare even worse in the near term. The city of North Las Vegas might have to cut 273 of its 1,920 employees beginning in March to cover a $33.4 million revenue shortfall. And the city of Las Vegas said on Feb. 24 that it will lay off 171 workers and eliminate 44 unfilled positions in June if employees don't agree to 8 percent pay cuts.
Nor is the outlook much better for the regularly scheduled legislative session coming in early 2011. Much of the current $887 billion gap between the state's budget and revenue was covered by emptying trust funds and taking one-time shots of federal stimulus funds — sources likely to be tapped out when lawmakers convene to draw up their next two-year budget.
State Sen. Steven Horsford, D-Las Vegas, says the next biennial budget could face a $3.4 billion shortfall.
Contact reporter Jennifer Robison
at jrobison@reviewjournal.com or 702-380-4512.
Watch the video