Sandoval launches two-day trade mission to Canada
April 16, 2014 - 10:03 am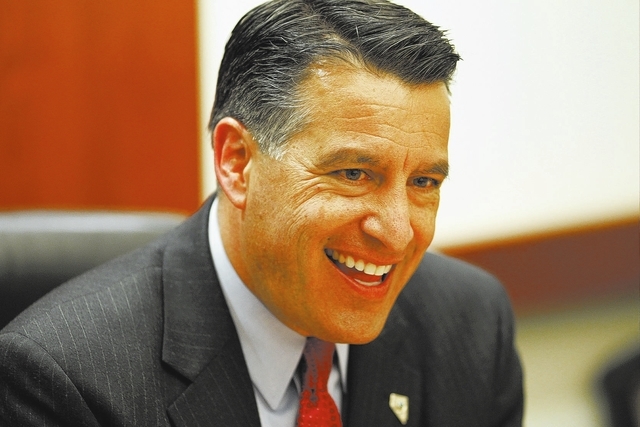 CARSON CITY — Gov. Brian Sandoval and members of his economic development team on Wednesday kicked off a two-day trade mission to Canada with meetings scheduled in Ottawa and Toronto. The trade mission includes a reception for the Nevada businesses in attendance to network with Canadian companies to enhance export opportunities.
The Governor's Office of Economic Development and representatives from the University of Nevada Las Vegas, the Desert Research Institute, and the University of Nevada Reno, will hold a conference for targeted Canadian companies to highlight Nevada's leadership in the Unmanned Aerial Systems industry and to attract interested companies to Nevada's testing sites. The state's Project Management Office for the test sites is also attending the conference.
Nevada was recently designated as one of the nation's testing sites by the Federal Aviation Administration for the commercial application of drone operations.
"Increasing Nevada's trade opportunities is a critical component to our efforts to grow jobs and diversify our economy," Sandoval said. "Canada is Nevada's third largest trade partner, and there is tremendous opportunity to build upon our already strong relationship. I look forward to a productive trade mission."
The schedule for the mission includes meetings with the Aerospace Industries Association of Canada, the U.S. Ambassador to Canada Bruce Heyman, members of Parliament, Ontario Premier Kathleen Wynne, Barrick Gold, Fasken Martineau Law Firm, and a tour of the MaRS Innovation Centre. The centre helps create successful global businesses from Canada's science, technology and social innovation.
"As a state, we see tremendous economic development potential in the areas of Unmanned Aerial Systems, water technology, and indoor agriculture and Canada can be a real partner for Nevada as we further develop these emerging industries in addition to the continued development of Nevada's mining industry," said Steve Hill, director of the Governor's Office of Economic Development.
Sandoval has participated in a number of trade missions as governor. The last one was a trip to Mexico in July of 2013. Prior trips took Sandoval to Israel and to China and South Korea.
Contact Capital Bureau reporter Sean Whaley at swhaley@reviewjournal.com or 775-687-3900. Follow him on Twitter @seanw801.