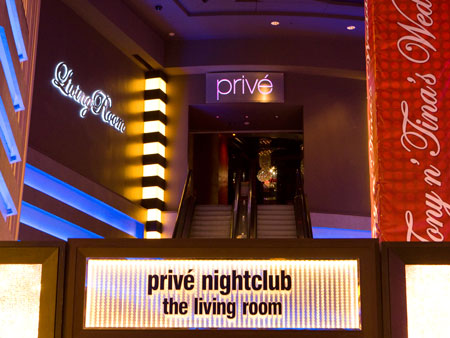 Regulators are shining a spotlight into Las Vegas' booming nightclub industry.
Alan Zajic and Steven Baker want to help nightclub operators withstand the heat.
The two men offered their first nightclub security class this week at the International Gaming Institute at University of Nevada, Las Vegas.
They started planning the class months before everyone from the Internal Revenue Service to the Nevada Gaming Control Board to Clark County's Business License Department swooped into popular clubs such as Pure in Caesars Palace and Privé at Planet Hollywood Resort.
But the new scrutiny, particularly this month's decisions by gaming regulators to fine Planet Hollywood Resort $500,000 and by the county to deny Privé a liquor license, prompted new interest in the class aimed at increasing professionalism in the nightclub industry.
Zajic, a licensed security consultant from Wadsworth, explained how people like him test nightclubs like a secret shopper tests a retail store.
"We're going to throw a lot of cash around and see what we can get away with. We're going to shop your club, we're going to shop for everything," Zajic told a classroom filled with workers from Planet Hollywood Resort, MGM Mirage, the Golden Nugget, two Laughlin resorts, the Metropolitan Police Department and a number of law firms. "I'm going to give a tip at the door and see if I can blow my way through with a girl I've given a fake ID. Can you guys stand that kind of scrutiny?"
The two men spent much of the class reiterating the importance of hiring qualified, ethical professionals to work club security.
The image of burly bouncers shaking down tourists for tips has badly hurt the industry and contributed to the crackdown, they said. As has reports of club security attempting to prevent police and other law enforcement officers from poking around clubs.
"I know the law enforcement community certainly does not think highly of the nightclub security side," Zajic said. "They have some serious image issues there to overcome."
Baker, president of VTI Associates in Boulder City, is also a licensed security consultant. He showed the class dozens of ways people can sneak drugs and weapons into a restricted area, then challenged them to learn to prevent troublemakers from creating problems that can not only hurt customers but take down an entire business.
"Do you think anyone in narcotics or law enforcement really cares if you have a license tomorrow if they can make a good bust?" Baker asked.
Business practices in the nightclub industry have been center stage in Nevada since gaming regulators issued an extensive complaint against Privé, a document that alleged rampant drug use, lewd sexual behavior, overserving of patrons and sexual assaults.
What gave the complaint an extra jolt is that it came with a $500,000 fine for Planet Hollywood Resort, the casino where Privé operates, even though the club just leases the space and isn't operated by the casino.
The fine and a July 21 letter from Nevada Gaming Control Board member Randall Sayre addressed to "all licensees and interested parties" put the casino owners on notice that they, too, could be on the hook for problems in the nightclubs.
"Either through lack of knowledge or apathy, licensees are creating regulatory challenges in areas requiring corrective action in other areas beyond nightclubs," Sayre wrote.
Explicitly dragging the casinos into the fray is what Zajic, Baker and others said will prod the nightclub industry into improving business practices.
"It is not so much the (fine)," Baker said, "it is the danger of losing their gaming license, which means they will lose billions."
The class itself was a low-key affair.
Most of the students, which included club and casino middle managers and security specialists, avoided reporters who observed from the back.
One student, who said he worked at a casino with a nightclub, said that after gaming regulators step in, "everyone hears about it."
Another student, attorney Michael Koning, who says he's handled more than a dozen cases against strip clubs and nightclubs, said for years customers with a beef against a club haven't had anywhere to take their complaints.
"Most customers don't realize the casino does not, did not, have any control," Koning said.
He said momentum started to shift in favor of more scrutiny after Internal Revenue Service agents swarmed on Pure in February 2008 as part of an investigation that still hasn't come to fruition.
"The IRS' involvement made Caesars look bad, it made the gaming industry look bad," Koning said.
Nakia Jackson-Hale, the International Gaming Institute's director of programs, said she expects there will be more nightclub security classes in October.
"I think this class was in demand mainly because of the situation," she said.
Contact reporter Benjamin Spillman at bspillman@reviewjournal.com or 702-477-3861.