SHOT Show in Las Vegas expanding to MGM Grand, Caesars Forum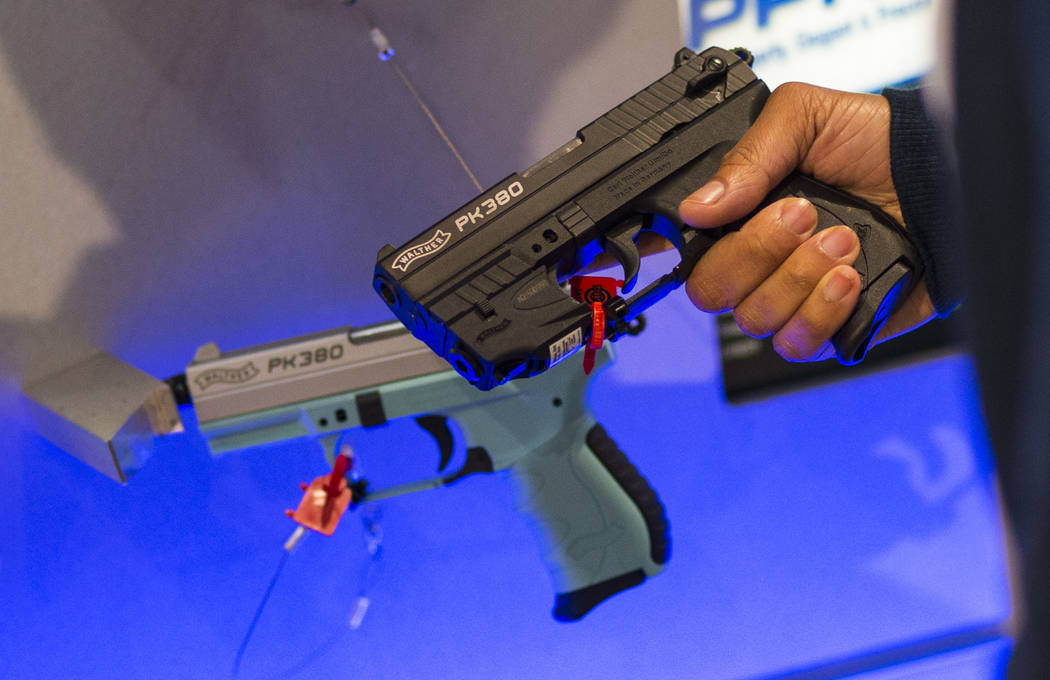 The Shooting, Hunting and Outdoor Trade Show — the firearms industry's largest global event — plans to expand to two more Strip locations by 2021 amid growing demand for exhibitor space.
The National Shooting Sports Foundation recently signed a contract with MGM Resorts International and Caesars Entertainment Corp. to bring the four-day trade show to their future convention spaces, said Chris Dolnack, senior vice president and chief marketing officer for the Connecticut-based foundation.
SHOT Show has been held every January at the Sands Convention Center since 2010, and it attracts more than 60,000 industry professionals and 2,100 exhibitors. That makes it the seventh-largest annual show in Las Vegas by attendance.
SHOT Show will continue to be held at Sands through 2027 but will expand into the MGM Grand Conference Center in 2020 and Caesars Forum in 2021, Dolnack said.
The foundation has been forced to turn away hundreds of new companies during the past few shows because of a lack of space at the Sands, he said.
"Not only can't we get companies off the waiting list, but we can't let other companies expand their presence," said Dolnack. "That is frustrating for them as well as for us."
Strip operators are pumping
hundreds of millions of dollars into convention and meeting space expansions as the number of business tourists traveling to Las Vegas continues to grow and shows expand. Given current and planned investment, Las Vegas convention and meeting space will grow by nearly 20 percent by 2020 to 14 million square feet, according to a January report by Morgan Stanley.
MGM Grand, Caesars Forum
The SHOT Show will occupy about 950,000 square feet by 2021, up from about 650,000 this year. The number of exhibitors is set to expand by a quarter to 2,600. The show turned away about 1,000 exhibitors this year, Dolnack said.
The SHOT Show's need to expand became obvious in 2014 as attendance hit a record of 68,000 and walking the floor became "uncomfortable," Dolnack said. The number of people employed in the firearms and ammunition industry has nearly doubled over the past decade to 311,000, according to the foundation.
Exhibitor growth is coming from cartridge, equipment and optics manufacturers as well as producers of accessories, he said. More than 400 equipment manufacturers exhibited at the show this year.
"By further diversifying the show and having a larger number of new companies, we will attract retailers every year that may currently come every other year," Dolnack said by telephone on Tuesday.
"No one ever walks into a show and says 'show me what is old.' This will give retailers the opportunity to see several hundred new companies and pick up some more products."
The SHOT Show generates an economic impact of nearly $90 million, according to the Las Vegas Convention and Visitors Authority.
The $130 million MGM Grand Conference Center is scheduled to open at the end of this year while the $375 million Caesars Forum will open in 2020. The new contracts with MGM and Caesars are for three years.
The Review-Journal is owned by the family of Las Vegas Sands Corp. Chairman and CEO Sheldon Adelson.
Contact Todd Prince at 702-383-0386 or tprince@reviewjournal.com. Follow @toddprincetv on Twitter.